Bringing STEM to the Girl Scouts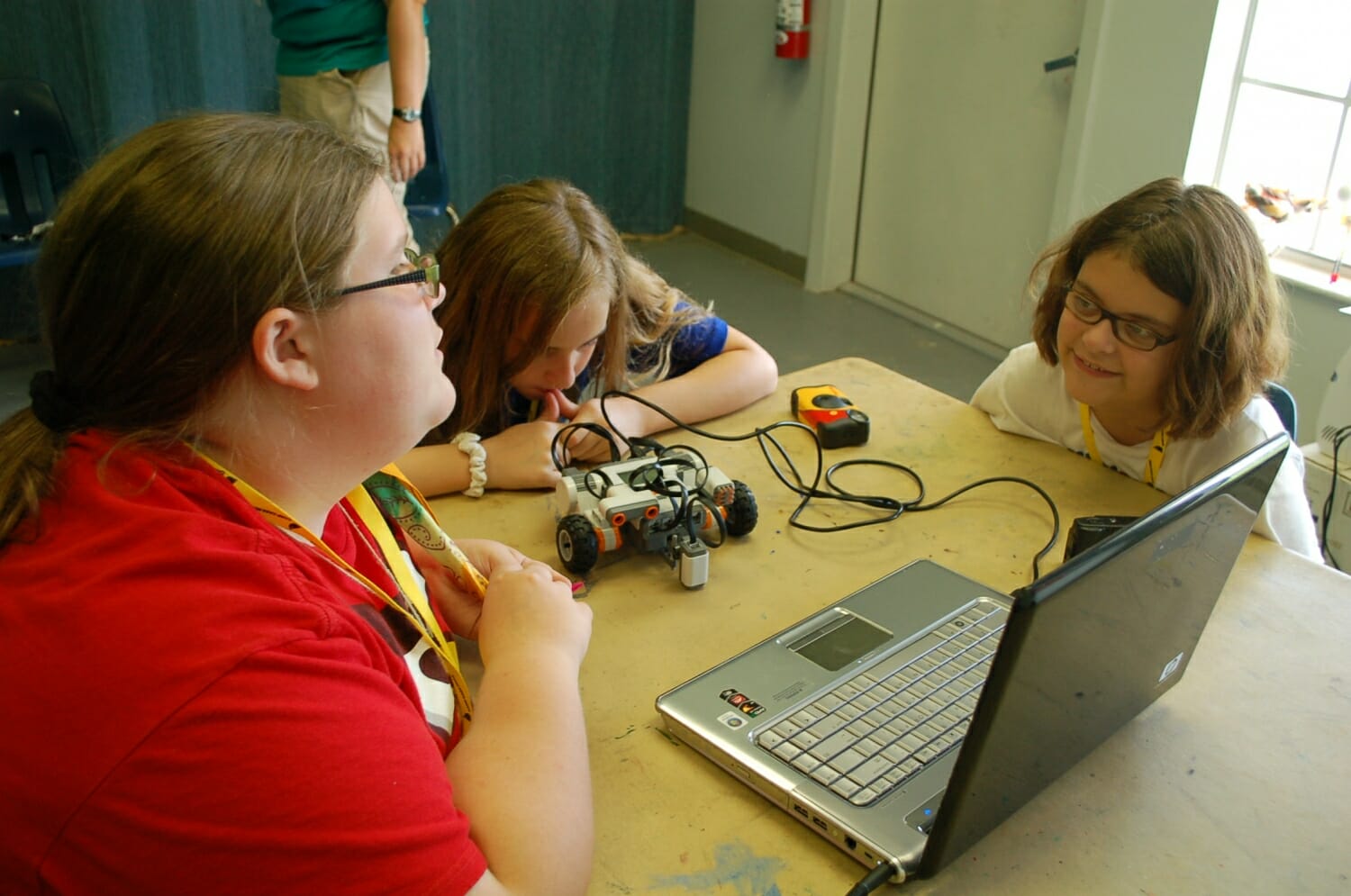 "Girl scouting builds girls of courage, confidence, and character, who make the world a better place." That is the mission of the Girl Scouts of America. Jo Blackburn, a dedicated volunteer for the Girl Scouts of San Jacinto Council in Texas says that mission is not just a tagline, but a core part of the program that she has worked to uphold as a volunteer.
"I have seen girls, whatever their interest was, that were made better people and adults more confident in their own abilities by being Girl Scouts." Jo credits her daughter, who wanted to be a Girl Scout, for her original involvement in the troop activities. She started volunteering by telling the troop leader, "I'll do whatever you need help with."
The San Jacinto area has more 60,000 girls in the program, with about 17,000 adult volunteers. As a volunteer for the San Jacinto Council for 14 years, Jo has seen some of her ideas come to fruition. She implemented the robotics program and started a Lego League to encourage young girls to develop interests in science, technology, engineering and math or STEM education.
The state of Texas is home to the Lyndon B. Johnson Space Center for human spaceflight activities and is a hub for STEM-education opportunities. In fact, more than 20 of NASA's female astronauts were once Girl Scouts.
Jo is passionate about ensuring girls have the opportunity to explore STEM education opportunities due to her own childhood. She remembers as a young girl that she wanted to be involved in science and engineering, but she was told, "No" solely because of her gender.
"I was convinced I wasn't very good at it," Jo said. "Volunteering with the Girl Scouts has given me the opportunity to reconnect with that fun of mixing baking soda and vinegar and it bubbles. It's fun whether you are in school or an adult."
Jo was inspired to start the robotics program for the San Jacinto Council after attending a seminar hosted by NASA. It was there that she learned about the For Inspiration & Recognition of Science & Technology or FIRST robotics program, which encourages young people to be science and technology leaders.
Jo immediately saw an opportunity for the Girl Scout troop she volunteered with because many of them were not encouraged to participate in school programs. "I thought, since Girl Scouts is all about safe spaces for girls to try on different interests, even to fail in a safe space, we have to start this for the girls," Jo recalled. "If you have knowledge about STEM subjects, I think it makes you a better-rounded person, whether that is your career or not. Every time you pick up your cell phone, you are touching technology. Every time you plant a tree, water your grass – there is something to do with science."
Six months after Jo attended the FIRST seminar, the Girl Scouts of San Jacinto Council started their robotics program. The FIRST Lego League (FLL) was an instant success as well. FLL teams compete by researching real world problems such as food safety, recycling or energy conservation.
They are challenged to develop a solution by designing, building and programing a robot using Lego Mindstorms technology. The San Jacinto Girl Scouts are so dedicated to the activity that they spend several hours on weekends developing their team robot.
Jo recalled that the first year the Girl Scouts participated in a competition, the team won first prize, for the best project idea. Jo made sure the girls got the opportunity to experiment with science and technology and as a result, they thrived. The memory remains one of her top highlights that stands out through her service.
The Girl Scouts of San Jacinto has opportunities for girls of all levels to participate in STEM education activities. Jo's advice to parents and guardians who want to encourage young girls in STEM education is to foster the interest and involvement in extracurricular activities, such as the Girl Scouts, to learn more.
For Jo, the most exciting part of being honored with the Daily Point of Light award is sharing her energizing experience of volunteering with the world and encouraging others to do the same.
"Number one, I get to communicate my passion for the Girl Scouts to many people, my passion for volunteering," Jo said. "If the Girl Scouts isn't your thing, get out and volunteer [elsewhere]. It will make you more connected to more people than you will ever meet though a job or neighborhood or your kids school. It will give you a passion that you did not know you had."
Share this post