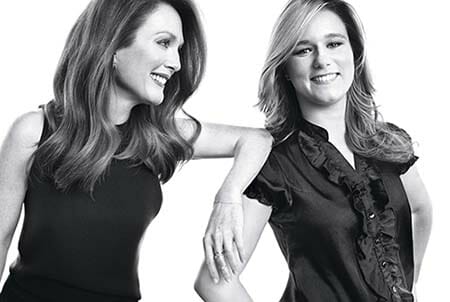 Meet Daily Point of Light Award honoree Brittany Wenger. Read her story and nominate someone you know as a Point of Light.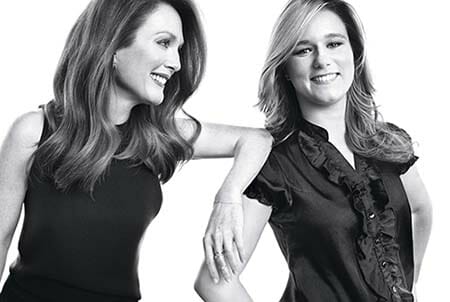 Brittany Wenger, right, gets a warm look from actress Julianne Moore during a photo shoot for L'Oreal Paris' Women of Worth, an awards program administered by Points of Light.
When Brittany Wenger was 15, her cousin was diagnosed with breast cancer. She saw firsthand the effect the disease has on a woman and her family.
"You're watching the whole process of losing hair and having to get poked 20 million times for diagnostics," she says. "And you're just thinking that there must be a better way."
Wenger set out to find that better way.
By combining medical research and a passion for computer science, she created Cloud4Cancer. The cloud-based computer program helps doctors diagnose breast cancer.
One of the goals is to make fine needle aspiration (FNA) a more viable option for breast cancer diagnosis. During that procedure, a doctor sticks a fine needle into a palpable breast mass and extracts cells for testing. The cells are stained and examined under a microscope.
But while this biopsy method is the least invasive – akin to getting blood drawn – and less expensive than more commonly used procedures, it is also the least conclusive.
"I decided I wanted to help revive the FNA and get it back into hospitals when I was 15," says Wenger, now a 19-year-old Duke University student. "Since then, I have worked tirelessly to build the software that can make this dream a reality."
Through her computer program, Wenger found a way to make fine needle aspiration a more useful diagnostic tool. Cloud4Cancer uses an artificial neural network – artificial intelligence – that can detect patterns too complex for the human brain to spot.
The more information it receives, in the form of breast tissue samples, the smarter it gets at identifying whether the cells are cancerous.
Through a series of 7.6 million trials, Wenger's program diagnosed more than 99 percent of cancer patients correctly. Today, it is being tested in hospitals, which can use the program for free.
One in eight women are diagnosed with breast cancer. Wenger says they deserve to know if a mass is cancerous quickly, accurately and with minimal invasion.
Wenger sees immense potential for computer science to further advance medical science.
And she hopes she can use her program to set an example and help attract more girls to computer programming. She volunteers with Google's Made with Code to show young women what they can do with coding.
One of the lessons she teaches: persistence.
"Most of what I built didn't work the first time," she explains. "You learn from mistakes and it makes the finished product better."
Wenger was recognized by L'Oréal Paris and Points of Light as a 2014 Woman of Worth for her extraordinary volunteer work. Nominate an inspiring woman who is creating change in her community to be one of this year's Women of Worth at www.womenofworth.com.
Share this post