Meet Daily Point of Light Award honoree Stephanie Decker. Read her story and nominate someone you know as a Point of Light.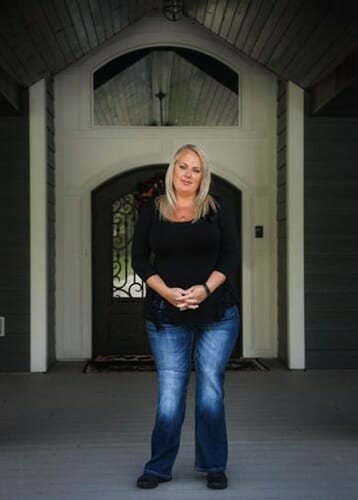 Stephanie Decker
Seeking refuge in her basement – a tornado headed toward her Henryville, Indiana, home – 37-year-old Stephanie Decker found herself in a life-changing moment.
With the foundation of her brick house disintegrating around her, she shielded her two kids from the debris.
"There was a beam that was falling, and I had to make a decision," Decker recalls. "My fear was, if I let go, they would go up in the tornado. So I let the beam fall. I knew instantly that my legs were severed."
Decker's children were unharmed in the 2012 disaster. But she had cracked ribs, a punctured lung, and her legs had to be amputated.
Drawing on the values she learned through her lifelong involvement with sports, her will to overcome and a new realization that she could make a difference – she started The Stephanie Decker Foundation. The organization supports children with prosthetics participating in sports and helps people gain access to prosthetic technology.
It also provides scholarships to send children to NubAbility Athletics camp in Illinois. The camp, for children missing limbs, provides intense athletic training in more than 10 adaptive sports, including track, soccer, football, gymnastics, wrestling, baseball and basketball.
"We can teach these kids that they can do anything in the world," Decker says. "I'm a firm believer – the only limitations that you have in life are the ones you set on yourself."
Growing up with a basketball in her hand, Decker has always found fulfillment and confidence through sports. She sees what competitive sports does for her own children and has dedicated her efforts to help young people living without limbs to experience sports.
Decker tells of one young man her foundation has helped, a quad amputee, who learned how to pitch a baseball with the aid of a special glove, bringing him an untold sense of accomplishment.
"Sports teaches you what you're made of," Decker says. "It teaches you about perseverance."
Decker has leveraged national attention she's received to advocate for amputees. Her foundation supports two major areas: bringing competitive sports to kids with prosthetics and opening access to leading-edge prosthetics for all who need them.
In 2013, Decker appeared before the Kentucky Senate to advocate for a bill requiring insurance companies to cover new and refurbished prosthetics.
Nearly 2 million Americans are amputees fitted with prosthetics. However, insurance companies are only required to pay for restored prosthetics and refitting in 20 states, according to a study by Johns Hopkins University and the Amputee Coalition.
Decker says when she awoke in an intensive care unit after being rescued from the debris in the aftermath of the tornado, she immediately understood her life would never be the same.
She asked her husband to begin researching her options to become ambulatory. At the same time, she realized that, borne out of a disaster, she was going to help others.
"As much as losing my legs is a tragedy, it could have been a lot worse," she says. "I was being given a second chance. It was time to make a difference and create a ripple effect that could help other people."
Decker was recognized by L'Oréal Paris and Points of Light as a 2014 Woman of Worth for her extraordinary volunteer work. Nominate an inspiring woman who is creating change in her community to be one of this year's Women of Worth at www.womenofworth.com.
Share this post