Building a Culture of Service, Marlins Exec Leads Team of Volunteers With 'Marlins Ayudan' Community Initiative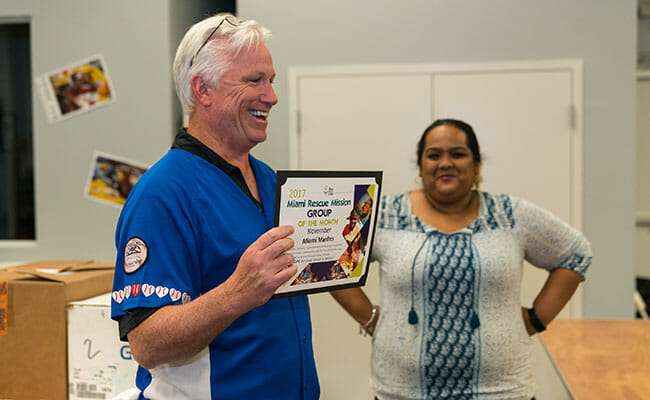 In 2010, the Miami Marlins launched a community initiative called Marlins Ayudan ("help" in Spanish). Through the program, 230 front office employees have served more than 48,000 hours, donning blue shirts and volunteering in teams throughout the community – beautifying the Miami River, picking up trash along South Florida beaches, or taking underprivileged youth on field trips to local museums and attractions. Claude Delorme, executive vice president of operations and events, has helped establish this rich culture of service by leading a Marlins Ayudan team each year.
For the last three years Claude's team, "The Voice," have committed the most hours to Marlins Ayudan, dedicating themselves to helping Miami's youth and homeless population. In 2014, the team started mentoring special-needs students at Citrus Grove Middle School, visiting once a month. Before every visit, Claude adapted lesson plans to make sure they were appropriate for the group. He also organized an end of year field trip for the students at a bowling alley to celebrate the end of the mentoring season.
The Voice also volunteers with the Miami Rescue Mission, which transforms the lives of homeless men, women and children through comprehensive residential rehabilitation programs. In addition to service meals with the team, Claude raises money as the chairperson of the men's shelter committee, Home Run for the Homeless.
We spoke with Claude about Marlins Ayudan, his passion for helping the community, and his approach to building relationships and continuity to deepen the impact of the Marlins' corporate social responsibility.
When did you first get involved with Marlins Ayudan and what inspired you to get involved?
The program started in 2010 when the organization participated in dedicating full days in the community (Thanksgiving, Christmas toy drives, Give Miami Day, etc.). In addition, each member of the organization was assigned to a team of 12 to 15 people, and we attended monthly outings in the community. I quickly realized the value and benefits to the community, the difference we could make to their lives by showing we cared and having some continuity to our programs on an ongoing basis. The more we connected with them, the more impact on them and personal satisfaction to me and the team members.
In your own words, describe Marlins Ayudan.
Integrating ourselves in the community by giving our time and services to local charities and nonprofit organizations. We are very fortunate to be members of the Marlins family, and this allows us to connect with the community on an ongoing basis.
What is your favorite memory from your work with Marlins Ayudan?
The first year we held the graduation of Miami Rescue Mission at Marlins Park was my highlight. They were so appreciative that the Marlins would donate the facility for [participants of the rehabilitation program] to graduate in a professional sports setting. They were proud of what they accomplished and felt supported by the Marlins organization. Their families attended and watched from the seating bowl as their loved one was called to the stage. It was truly a magical moment. They remind me of this moment every time that I attend an event at the mission. It was very rewarding and priceless.
What have you learned through your experience with Marlins Ayudan?
I wish that I would have been exposed to it earlier in my career, as it allows us to take a step back and realize the corporate social responsibility we all have. We can make a difference in the community and make their lives better. We cannot fake caring for others and getting involved. What a great message for an organization to extend to their community. As we mentor our interns, it is a great way for them to realize the value of this responsibility.
Why do you think it is important for others to get involved and make a difference in their community?
Mostly that as an organization, we can make a difference in the community. Each person's role and touch points can change lives and motivate people to change or stay focused on their new path. We have met several people who have dealt with more hardship than they deserve or made mistakes in their lives, but their kindness and dedication to change is worthy of a second chance.
Share this post