California Teen Fights Mental Health Stigma and Supports Those in Crisis with Helpful Resources
Meet Daily Point of Light Award honoree Niku Sedarat. Read her story, and nominate an outstanding volunteer or family as a Daily Point of Light.
Addressing mental health has become a prevalent topic of discussion over the years, and Niku Sedarat is prepared to dedicate her life to making sure that dialogue continues. At just 17 years old, she has decided to major in psychology when she goes off to college next year but has already gotten a head start. As a participant in the Middle College Program, she is finishing out the second half of high school at a local college, exploring the types of psychology courses she hopes to pursue.
Three years ago, after recognizing mental health needs amongst her peers, she trained to be a volunteer crisis counselor at the California Coalition for Youth. During her weekly four-hour shifts, she supports young people in distress who reach out on the California Youth Crisis Line. In addition, she founded Unité, an organization that destigmatizes mental health and fosters emotional resilience in youth.
With 2000+ active online followers and more than 165 volunteers across 20 states, Niku is well on her way to making a lasting impact.
What inspires you to volunteer?
We really need it in the community in the current state of our nation. We're in a youth mental health crisis. What better way to support people than through volunteering in a way that's really meaningful, especially with the California Youth Crisis Line? It's beautiful that you get to help people who are struggling but reaching out with hope and to be able to turn that hope into something that's worth living for.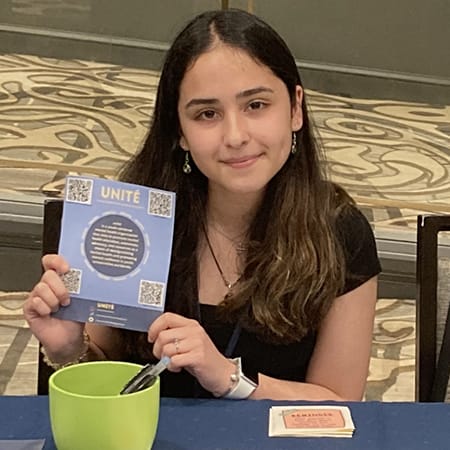 Tell us about your volunteer role with California Coalition for Youth and Unité.
The California Coalition for Youth has a youth crisis line for mental health. You can contact us when you're in a mental health crisis or struggling with other issues. I've been volunteering weekly as a crisis counselor for the past three years or so. It's online. I just hop on the chats and calls and support people who are reaching out. We had 52 hours of training on things like suicide prevention and other mental health challenges, as well as how to support someone going through them.
I started Unité three years ago to destigmatize mental health issues, put out educational resources and boost awareness in order to help those who are struggling. Some examples of things we've done: partnered with a local pet shelter where I led de-stressing activities alongside cats and have launched a monthly mindfulness journaling challenge to promote self-care. I've used my crisis counselor training to write articles and make infographics. It has also translated to my daily life helping my peers, family members and friends navigate their own struggles.
What are your long-term plans or goals for the organization?
I'm always thinking of things to incorporate to better help the youth that we're trying to serve. At Unité, we're trying to make our articles and infographics more culturally inclusive by providing translated versions. Right now, we have six different languages, but I see that growing in the future.
What's been the most rewarding part of your work?
With the crisis line, the most rewarding thing is when people consistently use it. I take weekly shifts, so if there's ever a person who's texting the crisis line every time I have a shift, that's amazing. It feels great knowing people are putting in an active effort to better their mental health and overall wellbeing.
For Unité, it's the community we've been able to build with youth from different states. It's cool to not really know people in person but still be united in passion and purpose. Also, just having people read those articles and use those resources. Occasionally, we'll get messages on Instagram asking about posting an article about certain topics. I find that amazing that we can engage with the community and provide the support that they're asking for.
What have you learned through your experiences as a volunteer?
One of the main things is trusting that people know themselves best. When we think of people volunteering on crisis lines, we think of them actively providing advice, and that's just not the case. It's hard to refrain from giving direct advice and allowing the person to steer the wheel of their own life, but I've been able to practice during my time on the crisis line. The art of listening and being reflective while still supporting someone was challenging at first, but it's a skill that I've found to be really helpful.
Tell us about future partnerships, programs or events that you are excited about.
We're currently doing a Send Hope postcard challenge campaign for Unité where we create cards with positive messages to distribute to hospitals and psychiatric units across the nation. I've been working with a couple of hospitals and getting schools and organizations to band together and create cards. The goal is to spark hope on other people's mental health journeys.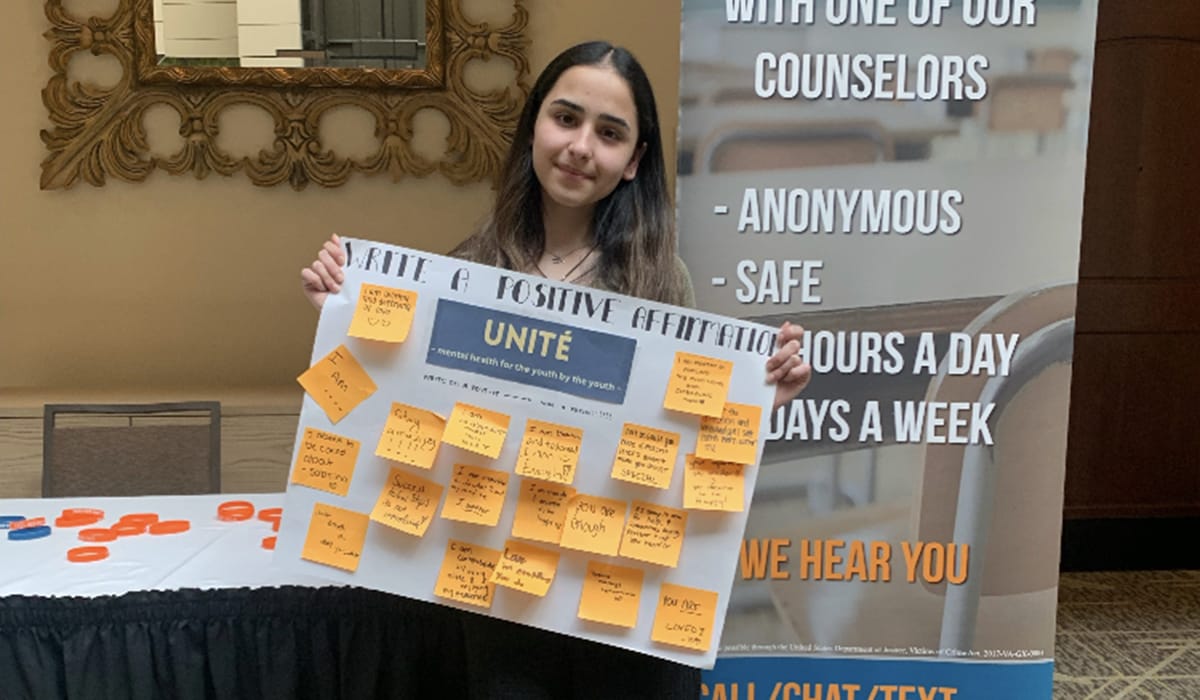 Why is it important for others to get involved with causes they care about?
It's very rewarding to know that you're helping people and supporting their lives in a way that will equip them with an experience that they can carry throughout the rest of their lives and look back on with a smile. But it's also important for all of us to volunteer. Volunteering is a great way to build community. It brings people together and creates unity. That's the main reason I do it and encourage others to as well.
Any advice for people who want to start volunteering?
If you're a student, take advantage of school clubs. Often, they're connected to bigger organizations, so that's a great way to get involved. Otherwise, reach out to organizations like the National Alliance of Mental Illness or Active Minds. The first step before doing anything is just educating yourself and building awareness. That's the most important step, and it's super accessible to do a Google search.
What do you want people to learn from your story?
If you see an issue in the community you want to change, you can be that change. You don't have to wait for someone else to do it. It's possible. Just take it step by step.
Do you want to make a difference in your community like Niku? Find local volunteer opportunities.
Share this post