Florida Dad Vows to Help 1 Million Special Needs Kids
Meet Daily Point of Light Award honoree Keith Gilkes. Read his story, and nominate an outstanding volunteer or family as a Daily Point of Light.
Keith and his wife Rosario have two sons, Conner and Cristian. An avid golfer, Keith hosts golf tournaments for charitable causes, volunteers with Keys to Kindness at its annual Kind Camp for special needs children and devotes a significant amount of his free time to making sure that special needs children can have fun and enjoy life, just like anyone else.
What inspires you to volunteer with Keys to Kindness?
When our son Cristian was 14 months old, my wife and I noticed that our son was not progressing in the way we thought he should be. By 20 months, Cristian had been diagnosed with several Autism Spectrum labels. The diagnosis made our heads spin, since he was diagnosed with Asperger's, Autism, Apraxia of Speech and many more disorders.
We had been participating in golf tournaments in years past for The Children's Dream Fund, which helps fulfill the dreams of children with life-threatening illnesses. When Cristian was 5 or 6, it became apparent to us that Cristian and the other children in the special needs program really just wanted to be "normal" and have fun like their peers.
This inspired us to dedicate ourselves to raising money and awareness for several Exceptional Student (ESE) programs at local public elementary schools over the next several years. At one particular school, we raised enough funds to install "smart boards" for that school's ESE classrooms, and a second golf tournament that funded an ESE playground that was geared toward the safety and enjoyment of special needs children.
Then we raised funds for another school that had zero funding for their ESE department over a 50-year span. We raised enough funds to enrich the lives of the 175 ESE children through augmented reality and sensory specific educational tools. Sharri, the founder of Keys to Kindness, approached us to thank us for raising funds for schools our children didn't even attend. Something resonated with me. A few weeks later, I reached out to Sharri and said I wanted to be part of her organization.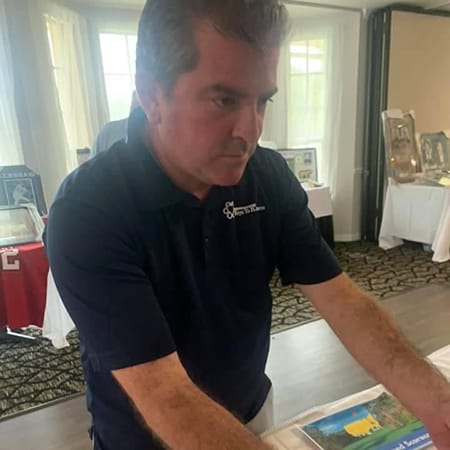 These multiple projects made us realize that these tournaments were an effective way to raise funds for special needs children. I believe that if you have a disability, you should be allowed to do everything else that other children can do. This has become my life mission, to enrich the lives of special needs children that don't get the support they need, either at school or at home.
Tell us about your volunteer role with Keys to Kindness.
I am the vice president of Keys to Kindness. Every year we host Kind Camp, which is a camp for children with special needs, foster children and children who are battling life-threatening diseases, among typical peers. During camp, the children have a lot of fun. They also do meaningful activities such as care packages for pediatric cancer patients as well as wounded veterans.
I assist with training the camp counselors. The counselors are usually high school volunteers, and it takes a lot of training to get them ready for Kind Camp. I participate in the camp itself as well, overseeing logistics to help keep the camp running smoothly. Kind Camp runs anywhere from one to four weeks, and it's an intense and enriching time for all of the volunteers.
I also volunteer with community give-backs. If there's a family with a pediatric cancer patient or a family that has lost a child for example, my family and I volunteer to offer them comfort and support in this difficult time.
I spend at least one hour a day planning and organizing our golf tournaments. This is a year-round effort that ensures that the tournament runs smoothly and raises enough money to cover every initiative.
I also meet with community members and professionals to put together resources for families with special needs children and to provide scholarships for high school students who have volunteered at Kind Camp.
What are your long-term plans or goals for the organization?
My personal goal for Keys to Kindness and our Instagram page, Hope on the Spectrum, is to enrich the lives of at least one million special needs children. I don't see a reason why we cannot take this into a more national association. I envision something as big as Tim Tebow's foundation. Tim Tebow partners with people of influence who have been touched by special needs in their lives to raise money and change kids' lives.
What's been the most rewarding part of your work?
I am, to a fault, a very emotional person. When we repurposed the playground for one of the schools, we were sent a picture of 5- or 6-year old twins with ASD who had never, not once, smiled in their entire lives. The picture showed them smiling. They were on the slide, on the playground, with huge smiles from ear to ear. The teacher told me, "You made these children smile for the first time in their life." You can bet I cried tears of joy.
When we raised enough funds to provide smart boards for this same school, the teacher said, "You realize you give voices to the voiceless." That was another tearful moment. Smart boards are similar to a 60" tablet that children can write on and use to communicate. They also use the boards to learn to read and write. The boards help nonverbal kids verbalize their thoughts and feelings. Each classroom received a smart board. We raised enough money to provide six.
Our latest Kind Camp was held at a local church. All of the counselors line up at the front doors to greet the campers as they come in with their parents. Each "Little Buddy" is assigned a "Big Buddy." The high school counselors can get a bit rambunctious and ESE children can be very sensitive to loud sounds, so I asked the counselors to be extra calm. At the end of the day, the grandmother of one camper, a severely autistic 15-year-old girl with the brain of a 6-year-old, approached me. Her granddaughter was very shy at first. By the end of the day, this girl, who is largely nonverbal, said to her grandmother, "This is heaven, Grandma." That's the first thing she had said all day.
Our son Cristian , now 14, is now a counselor at Kind Camp. Cristian is a freshman in high school, an almost-A student, and he's trying out for varsity wrestling. He's our miracle child, there's no doubt about it. It has taken many years of hard work, and part of his success comes from the fact that we never took no for an answer. We advocated for him, and he blossomed. Cristian even inspired me to start an Instagram page called Hope on the Spectrum. Cristian and I do videos, and people reach out to us for support. It's become something much bigger than I thought it could be!
What have you learned through your experiences as a volunteer?
I couldn't do everything I do without the support of my wife. I learned through volunteering and raising money never to ask anyone for a thank you. Never expect a thank you. And never brag about what you do and how you help people. When you volunteer your time or money, don't brag about it. It's about how you make people feel.
As I became involved with Keys to Kindness, I realized just how big of an impact the organization has, and how much it could grow. Our last camp had 70 campers and about 80 volunteers. Nearly 30% of the campers can't afford the camp, so we fund their tuition through golf tournaments.
I feel like a speck on the planet. Ours is a great organization on a small scale, but I don't see a reason why this can't go more national. The kids we serve, I call them "Earth Changers." This is what makes me excited to get out of bed in the morning.
Tell us about future partnerships, programs or events that you are excited about.
We have another golf tournament coming up on November 11, 2023. I am also excited for Kind Camp next year. We're already getting sign-ups for next year's camps. I'm excited about building a platform with the scholarship process, which are corporate sponsorships giving back to support the teens who selflessly help with Kind Camp. We also have a fundraiser coming up for pediatric cancer patients. One of my big personal goals is to write a book about Cristian in 2024.
Why is it important for others to get involved with causes they care about?
Volunteering builds character. It fulfills and feeds the heart more than any amount of money. Some people will find their actual purpose in life through volunteering. It happened to me. Many people are attached to a biweekly paycheck, shackled to a job and living a mundane life. Volunteering will take you out of that. Volunteering has taken me out of my comfort zone and made me do things beyond my own needs. Once you do it you realize how fulfilling it is, you just don't want to stop.
Any advice for people who want to start volunteering?
Find something you're extremely passionate about, something that's near and dear to your heart and put your heart and soul into it. Let your passion fuel your efforts. It shows.
What do you want people to learn from your story?
Never, ever, EVER quit. Never take no for an answer. Never underestimate the strength of someone's will to persevere and drive through adversity. They will always impress you. Two years ago, Cristian couldn't do a single pushup. Today, he's a freshman trying out for varsity wrestling. Last year he was second in the state in his weight and age division and he's in all honors classes.
Do you want to make a difference in your community like Keith? Find local volunteer opportunities.
Share this post