California Teen Volunteer Promotes STEM Tutoring for Students
Meet Daily Point of Light Award honoree Anchal Bhardwaj. Read her story and nominate an outstanding volunteer or family as a Daily Point of Light. 
15-year-old Anchal Bhardwaj says when she realized kids didn't have much to do during the COVID-19 pandemic, she decided offering access to STEM-related tutoring would help to fill in education gaps. 
After more than a year of volunteerism with STEMATICS, Anchal, a San Jose, California high school sophomore, has connected with more than 500 students in seven countries around the world. Providing students with the opportunity to learn more about computer science and math concepts, Anchal is also empowering high school students to give back, as they serve as tutors and instructors.  
What inspires you to volunteer?
I didn't really have a lot of STEM resources in elementary or middle school, a lot of resources are guided towards older students. By volunteering, I wanted to see how kids could re-imagine their own education through the field. I'm inspired to volunteer to help people find that feeling of learning. 
Describe your volunteerism with STEMATICS.
As founder and director, I tutor students and teach free classes. I create all curriculum for classes, and manage our 15-20 student volunteers. In addition, we host monthly panels, post resources on social media and I manage class communications. Outside of the classes and tutoring we offer, we host AstraHacks, the world's first hackathon available for elementary and middle school students. We rely on grants to support our classes, and also accept donations from participants, of which we've donated around $7,000 to local charities thus far, including to FISH Food Bank and UNICEF. In addition to my volunteerism with STEMATICS, I volunteer at Destination Science and participate in hackathons with projects to help the community. 
Share one personal story with me from your volunteerism. 
The first class I taught was a Python programming class. Two kids in our neighborhood participated, and after the session, they dropped a card and chocolate bar at my house as a thank you. I still have the card, it's up on my wall. Everybody wants to know they've made a beneficial impact in some way or another. It makes me feel really proud having someone acknowledge that impact, and it really drives me.  
Why do you think it's important for others to give back?
Everyone's had that person in their life who has sacrificed for them. It's up to you to make sure other people have that person who gives back. As soon as everyone has that person, that lighthouse, it's going to be a lot easier to create change in our world.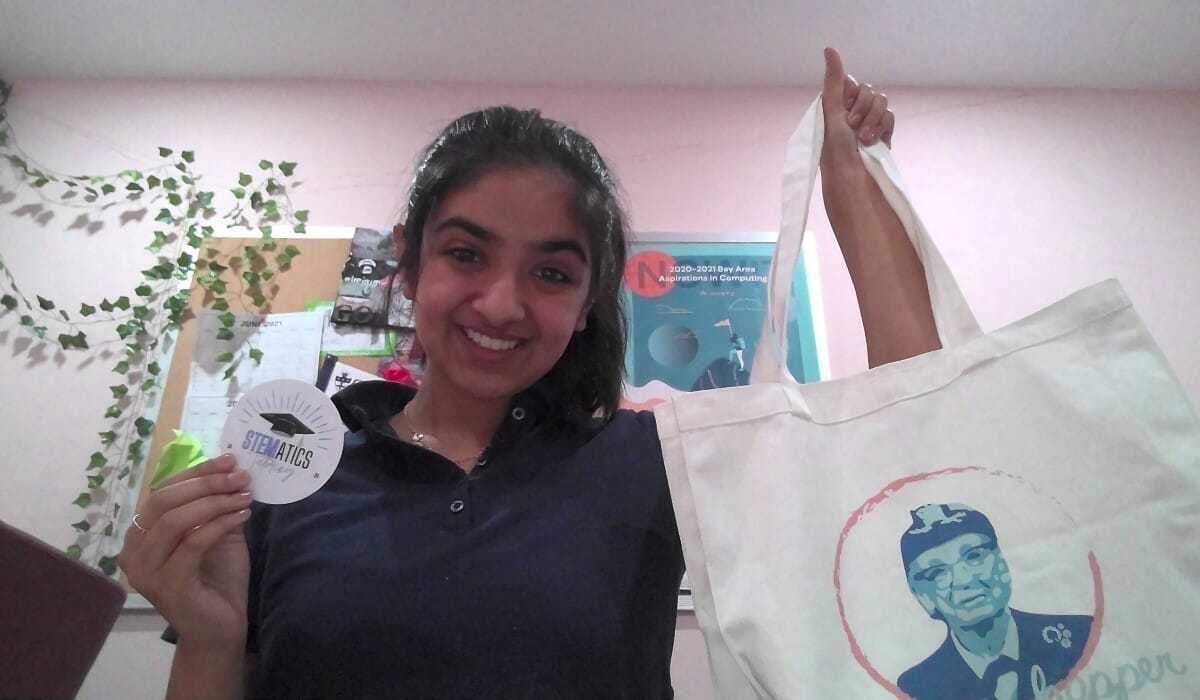 How have you continued to volunteer throughout the pandemic?
We started STEMATICS in the middle of the pandemic because kids didn't have much to do at home. Our virtual format helped because we haven't had facility costs, and also, we could reach students in different countries. Teaching doesn't have to be in-person to be impactful, you can also have experiences online. 
What do you want people to learn from your story?
Don't underestimate the impact of very small decisions. Even if it's just holding the door for someone or teaching a person a skill you have, service can be very beneficial in a person's life.  
In one word, what does volunteering mean to you?
Community. You build community and you help your community. Volunteering is all about your community, whether it's small or big.  
When you're not busy with volunteering or school, what do you do for fun?
I'm in debate. That's what I love doing. I participate in the national circuit as a public forum debater. I'm also a Boba tea connoisseur.  
How can readers help?
Please visit our website for more information about how you can help. 
Do you want to make a difference in your community like Anchal Bhardwaj? Find local volunteer opportunities. 
Share this post