California volunteer breaks the barrier between the Deaf and hearing by teaching sign language to his community
Meet Daily Point of Light Award honoree Michael Agyin. Read his story and nominate an outstanding volunteer or family as a Daily Point of Light.
Michael Agyin was dealt with what he described as a "double whammy" in life. He's Black, and he's also Deaf – a one-two punch that made the Compton native feel invisible while growing up.
Michael's parents, immigrants from Ghana, treated him equally to how they treated his hearing siblings. But still, Michael always knew that he was different.
"I had no one to guide me or lead me," Michael said in a TEDx talk he gave last year. "I lacked sound and I lacked identity. I was searching for who I am, and I wanted to be a part of my community."
Unable to learn American Sign Language until he was 18, Michael wore hearing aids when he was young, for which he was bullied. He had to take speech therapy to learn how to read lips and speak. In all of these circumstances, it was ultimately Michael who had to change himself to fit into a society that wasn't accommodating to his disability.
"But being angry doesn't solve anything," the now 42-year-old told Points of Light. "So my goal has always been to be patient and be creative in problem solving on how to communicate with people."
During the global pandemic, Michael, who works as a behavioral therapist, saw that it was even more difficult for those who are hearing impaired to go about their daily lives.
"We lost access to people's facial expressions. We normally can't go through drive thrus because we're Deaf but now even when we want to order inside a restaurant, it's harder because everybody is wearing a mask due to covid," Michael said.
Believing that it was time for the city of Compton to start being more inclusive and accessible for people like him, Michael took matters into his own hands and started the Compton ASL Club in April to teach American Sign Language online to his city and beyond for free.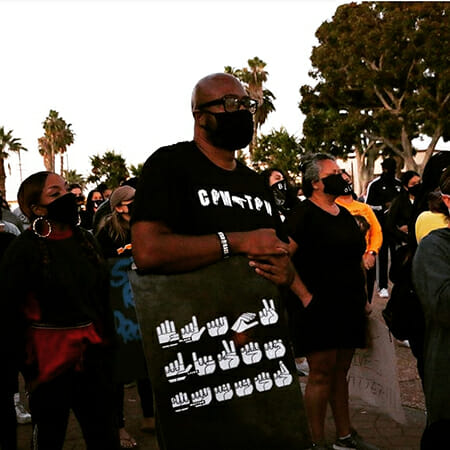 Each week, about 20-40 people join his classes held on Instagram Live. Michael teaches them how to sign basic words such as numbers, letters and colors. But he has also taught them how to sign phrases relevant to current events such as "vote" or "Black Lives Matter."
Michael also uses the platform to teach others about Deaf culture, the achievements of the community, and the need for social advocacy and accessibility. He has interviewed other people from the hearing impaired community, such as Deaf activists, who share their own stories and experiences of being Deaf.
Michael understands that a couple lessons on basic ASL signs won't make his students fluent, but he said it's not about their skill level; it's the fact that they're making an effort that makes all the difference.
"I'm so proud of them because many of them have never done it before. I give them homework to make a video of themselves signing and post it on Instagram and I love it. It makes it feel like a community experience." Michael said.
On top of his work with the Compton ASL Club, Michael has volunteered in various capacities within his community. He's organized toy drives specifically for children with disabilities and he was also active at last year's Black Lives Matter rallies, where he pushed leaders of the movement to have ASL interpreters present and Deaf activists felt heard.
While being Black and Deaf has put Michael at a major societal disadvantage, he said those traits are also what give him the unique perspective to be a force for change in both the realms of racial equality and disability rights.
"During his TED talk, Michael told us about how he was pulled over by police and he had to pull up a sign that said 'I cannot hear,'" said Veronica Clanton-Higgins, organizer and founder of TEDxComptonBlvd. "Michael has really shone a light on what life is like as a person who is Black and deaf. And his story shows people that you can do anything, that nothing is impossible."
As the Compton ASL Club grows, Michael hopes to take his classes from Instagram Live to Zoom and eventually hold in-person classes. But even if you're not in Compton to take one of Michael's ASL classes, he said everybody should strive to help people who are hearing impaired feel included.
"Deaf people can't learn to hear, but hearing people can learn to sign," Michael said. "For Deaf people, life is already a challenge, so make them feel welcome."
Do you want to make a difference in your community like Michael Agyin? Find local volunteer opportunities.
Share this post