Lifelong Volunteer Dedicates Years of Service to Greater Boston Community
Meet Daily Point of Light Award honoree Emma Lathan. Read her story and nominate an outstanding volunteer or family as a Point of Light.
Emma Lathan is the epitome of a volunteer, having dedicated her entire life to giving back to others in a myriad of ways throughout the greater Boston area. Emma, who resides in Quincy, Massachusetts, currently volunteers 20 to 40 hours a month — although she was doubling that time prior to the COVID-19 pandemic — for a variety of volunteer organizations, some of which she has been with for over two decades. Emma signed up to volunteer with Boston Cares, the largest volunteer agency in New England, on New Year's Eve 1998, after seeing their newsletter circulating in the building she worked in. She had always been active with community service, but was intrigued by their diverse assortment of volunteer opportunities.
That organization introduced her to multiple others that she continues to actively volunteer with today. Since 1999, she has served the The Greater Boston Food Bank. When Boston Cares wanted some of their volunteers trained in assisting disaster service agencies, Emma joined the Red Cross in 2013. Boston Cares also led her to the Prison Book Program, a grassroots organization that sends free books to prisoners nationwide. Not content to stop there, Emma also volunteers in numerous other capacities, including for additional volunteer agencies, a land conservation nonprofit, a bookstore that empowers youth, local academic competitions, and more.
Describe your volunteer role with Boston Cares.
I'm primarily a volunteer leader through them. They provide different volunteer opportunities under a variety of different categories, anything from sitting with animals, to sorting food at food banks, and cleanups in open spaces. Right now, the project that I'm currently able to do is sorting food at the Greater Boston Food Bank. [As volunteer leader], primarily I'm responsible for signing up people who are interested in volunteering through Boston Cares on any one of the volunteer opportunities. For example, if you were interested in sorting food at the Boston Food Bank, you would sign up. I would have a list of the people who signed up. As a group, we would go into the site and we would provide our volunteer services to the food bank. In addition to helping perform whatever task they would have for us during the day, I would also make sure the volunteers are taken care of and that they're engaged properly. If they have any questions or any issues, I could assist them with that. Also for the nonprofit that we're serving, I'm making sure we're meeting whatever goals or expectations they have for the work we do that day.
Can you expand on your work with the Boston Food Bank?
Primarily it would be through Boston Cares sorting the food. The food bank is the big repository. Organizations actually would come into the food bank, and they would order whatever types or kinds of food they would need and take it back to their places and distribute it to people. One partnership they had this summer was through the Boston Public Schools. I was able to assist them. Usually during the summertime, because children aren't in school and sometimes the meals they get at school are the only meals that they get during a day, places like the food bank have had small programs where they would provide meals to the children in the Boston Public Schools who are missing that for the normal summer vacation. With the pandemic, with many people staying at home and not being able to go to school, they started doing home deliveries of different foods and things like that. I was able to participate in that which was great, particularly at time where a lot of volunteer opportunities, due to the pandemic … didn't take place or had to figure out another way to do something.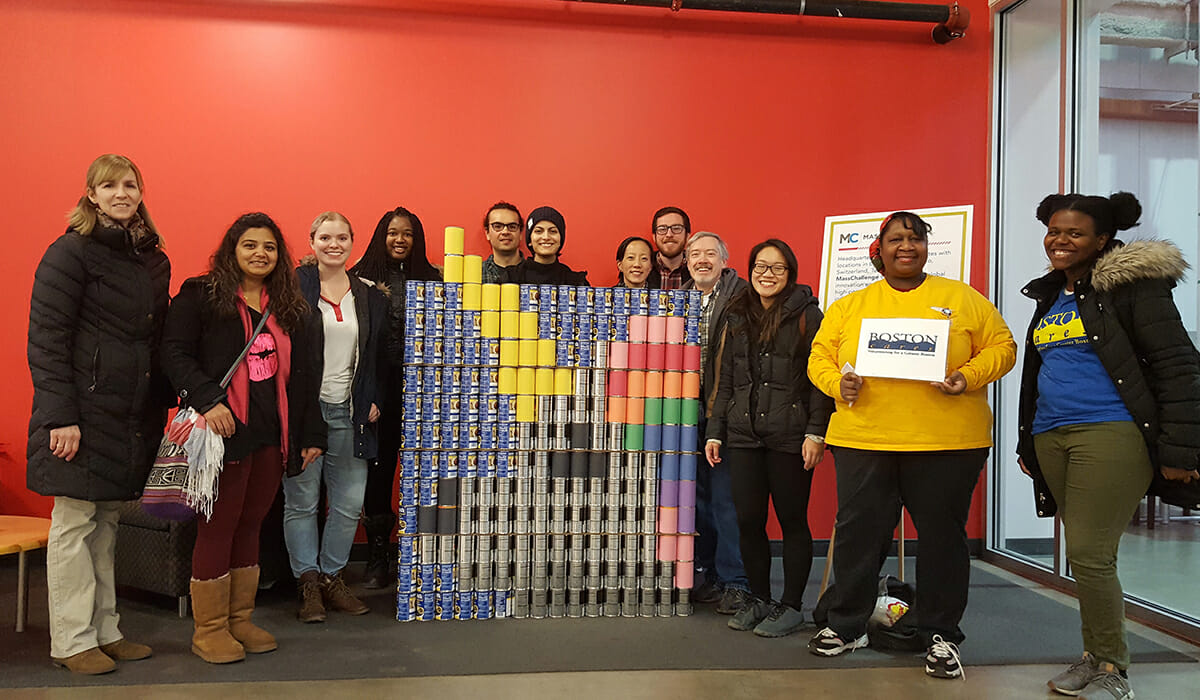 Describe your volunteer role with the Red Cross.
It's primarily working disaster services, so that can take many forms. One would be assisting with shelter management when we need to open shelters to take people in after a disaster has happened, and that can be anything from a hurricane to a home fire, [although] usually you're talking about an apartment complex [fire]. We also would provide comfort services and connect them with other agencies that might be able to assist people with starting their lives over — a place like Boston ReStore which would have furniture, the Salvation Army which might help with job and housing services, rental assistance, things like that. We also would, if necessary, assist with doing damage assessment for housing, and feeding people if there's a need. There are lots of times during individual disasters where we need to give them a hot meal for the night, if not usually a bit longer, and that's usually in conjuncture with sheltering. We've also gone virtual where we're able to provide those referral services or assess those needs, but are able to do it in a virtual environment without physically having to be there, which is great on a number of levels because it allows us to provide assistance across state lines which has been very necessary in the past few years.
Can you discuss your work with the Prison Book Program?
It's been around since 1972. It sends books to prisoners nationwide, about 44 states, at least 800 institutions, and that's federal as well as state prisons. Sometimes we will get involved in some advocacy work. Recently we testified at a public hearing concerning the Xeroxing of mail to people in prison, and concerns about tablets being introduced to prisons because of the precipitous cost and also the idea around a certain level of privacy. It's based in Quincy. Boston Cares again introduced me to that. They've been a longtime partner. Prison Book also organized a conference which brought together different books-to-prisoner programs across the state, and we were able to share best practices and find even more connections to the issue of literacy or reading in prisons and prison education. … [Due to the pandemic], we couldn't take groups of volunteers in anymore, so the people who managed Prison Book and I became that type of volunteer. We took on the delivering ourselves and distributing books to prisons, wrapping them, and doing it from our homes and so forth.
What other volunteer activities do you do?
There are quite a few. I've done it through different organizations. There's People Making a Difference, which is similar to Boston Cares but only on a very small scale. Through them, I've assisted at the Braille Press where we would assist them in putting together books for their clientele, which is people who are blind. Also assisting at the National Ocean Sciences Bowl — the Blue Lobster Bowl — which is basically an academic decathlon but with an oceanographic, geology focus. I'm assisting in judging and time keeping for that opportunity, and that's an annual thing. Helping with The Trustees with their seat gathering. They have a seat gathering conference every year, so we actually put together seats for those. There were a few times where we've done cleanup and assisted with maintaining the land for The Trustees. I've also volunteered through One Brick, which is national but there is a chapter in Boston. They have done similar things [as Boston Cares]. I've volunteered at the food bank but they've also done things such as the Boston Debate League, which is a debate league specific to Boston. The neighborhoods of Boston are represented in debating, so they need judges to help with that. I've done matches in high school, so it's always been an interesting experience to see people from the other side.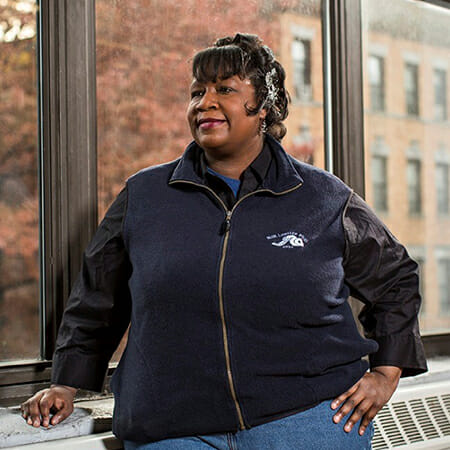 What's been the most rewarding part of your work?
Knowing that I was able to make a difference, no matter how small. That can mean anything. It doesn't have to be a big impact, because there's certain things that you're not going to see the impact immediately. You'll see it down the line. When I volunteer through Boston Cares, we had a group that assisted More Than Words, which is a bookstore that also offers job training to court-involved youth. When we started partnering with them, they were a few years into themselves, so to speak, so it wasn't at the very beginning where they had a box of books and a dream, but it was definitely a smaller program. They had one site in Waltham, and they were still working out a lot in terms of the student side. To see them go from that one small store in Waltham to the larger store they have in the south end of Boston, and to see that their online services are big and that they're able to host events, that they were able to graduate so many people, some of whom have come back and now they work in the program and they're business managers and they assist others with training; to know that you were some small part of making that happen, and we're talking seven, maybe ten years — that's rewarding just to see that, and see that progress that's been made in a place like that. Even if we want to talk about the food bank, seeing them go from what they used to do in a very small place to the big beautiful building they have now. There's also maybe a small sense of pride that when they started hosting volunteers again, they reached out to individual volunteers, and I was one of them. I was very surprised to get an email and they were like, we want to bring in people who know the program and we trust to be able to help us. Hearing that was a good feeling.
What inspires you to volunteer in so many different ways?
It has to do a lot with wanting to give back in ways that I think I'm able to give back, and being a person who wants to contribute even if it's in some small way to my community and to society. If I have the time and it's something I can do, why not? I know not everybody can, and not everybody is able to for a variety of reasons, and there's nothing wrong with that. I think of all the hours of engagement I've had, and I think "wow." Right now, even pre-pandemic, you get to a certain point in your life and you're slowing down. I don't do nearly as much as I used to, but I'm grateful I was able to [volunteer more] when I was able to do it.
What have you learned through your experiences as a volunteer?
I've learned a lot of different skills. I always describe myself as being an extroverted introvert. Even though there's times I'm very quiet, I learned how to be an extrovert when I need to and how to make connections to people and connect people with people, which are skills that a leader should have. I've learned a lot about the different issues that a lot of the organizations deal with. I definitely learned a lot about the nonprofit landscape in the state of Massachusetts, the different types of organizations, what they've had to contend with in terms of the state laws, and the difference between something like a Red Cross versus something like Prison Book. One is all volunteer run and managed, and trying to get as much in grant money and individual money as possible for it to work with very little overhead, and the Red Cross is of course more established and it's a chapter of a larger national organization, so it's a little bit different there. Also seeing some of the similarities between both organizations as well. I would probably say meeting different people has been an interesting learning experience.
What do you want people to learn from your story?
People throw around the term lately that superheroes don't wear capes, that anybody can be a hero. I would definitely amend that to say it's not about being a hero. It's about seeing a need, seeing a place where you know you have a talent, no matter what it is. You may not even think you have a talent, but you can contribute whatever to the greater good. I did a lot of hours and I've done a lot of different things, but there were also times I wasn't able to do different things. There were people I volunteered with who were only able to maybe volunteer once or give lesser hours, and I never shamed them for that because we're all trying to do the best we can in this thing called life. I think whatever you do is enough. No matter more or less, top or bottom, no matter what your background is, who you are, what you've done, as [basketball player Jim] Valvano said, everyday ordinary people do extraordinary things. It doesn't take a superhero to provide service or to support community or to make the world a better place. It just takes ordinary people providing whatever gifts they have and whatever time they have. It all works out.
Do you want to make a difference in your community like Emma? Find local volunteer opportunities.
Share this post