Activist Fights Revenge Porn Through Leading National Protests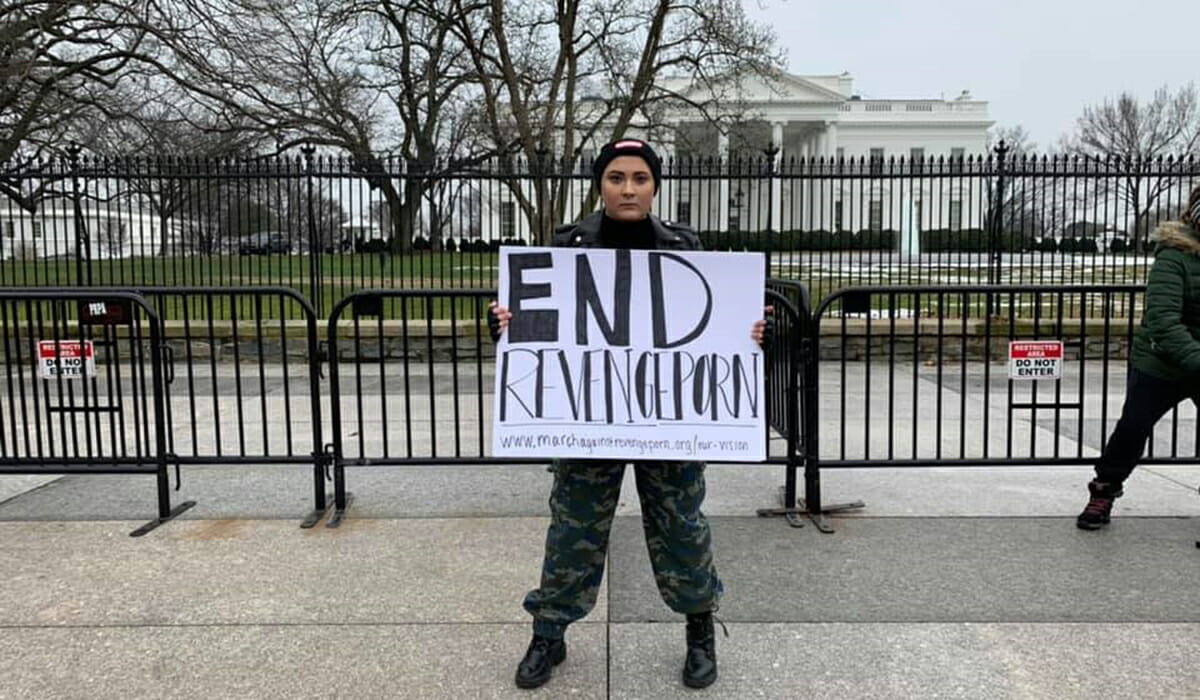 Meet Daily Point of Light Award honoree Leah Juliett, who was a 2020 L'Oréal Paris Women of Worth Awardee. Each year L'Oréal Paris and Points of Light recognize and celebrate Women of Worth who make a beautiful difference in their communities. Ten honorees each receive a $20,000 grant to support their most cherished cause, and an online vote determines one honoree who will receive an additional $25,000 grant. Nominations for 2021 are now open! If you know a woman who works to create lasting and significant change in her community, nominate her to be one of the 2021 Women of Worth.
When Leah Juliett searched about revenge porn online after becoming a victim of the crime at age 14, all they found was information on victims committing suicide, losing their jobs, or facing further forms of injustice.
Now a decade later, when you enter revenge porn into a search engine, you instead receive resources — including those provided by March Against Revenge Porn, the nonprofit Leah started as a way to take back their story.
As the founder and executive director of March Against Revenge Porn, Leah is organizing revenge porn victims and allies to help eradicate and combat tech-based sexual abuse and image abuse. The nonprofit leads protest marches across the country, advocates for legislation that criminalizes revenge porn, and maintains a legal defense fund to provide mini-grants to help victims pay their legal fees.
March Against Revenge Porn first started in 2016 when Leah was just 19-years-old as a way to tell their own story of being victimized by revenge porn. When they were in high school, Leah's nude photos were posted on a global anonymous image board. They struggled to get the photos taken down and said they felt shame for years. When Leah later found out the man who shared their nude photos went on to sexually assault a minor, it spurred them to take action.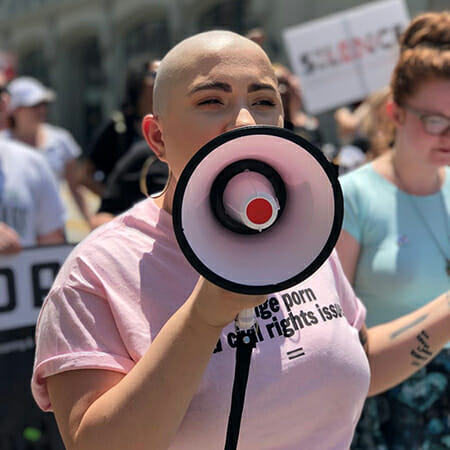 "It helped me to realize that when someone isn't held accountable for violence that they commit against you, they will continue to commit violence against other people," Leah said. "So I started March Against Revenge Porn to tell my story but also in the process tell the story of others, and to change laws and change mindsets around the crime that first victimized me."
March Against Revenge Porn's slogan is to "reclaim shame." Leah said that when they first started to share their story, they wanted to be shameless. They've since realized that everyone has shame, and wants to emphasize to victims that it's ok to feel that way.
"It's about taking our shame, reclaiming it, recycling it, and using that power and that energy to be a force for social good and be a force to change the world," Leah said.
According to data shared by March Against Revenge Porn, an estimated 10 million Internet users are victimized by revenge porn in the United States, and international data indicates that one in three are victims worldwide. The nonprofit emphasizes that 17% of lesbian, gay, and bisexual people are victimized by revenge porn in comparison to only 2% of heterosexual people. Revenge porn also disproportionately effects Black and Brown people, as well as women and those who are low-income and financially insecure. March Against Revenge Porn is currently engaging in both external research and their own research into how revenge porn effects the transgender community as well.
March Against Revenge Porn Associate Director BeLinda Berry, who joined the nonprofit in 2018 after partnering with Leah to plan a march in Pittsburgh, said it has been particularly heartening to work with someone who wants to lift the voices of the LGBTQ community.
"They're a passionate and dedicated and hardworking person who is really out to make changes and to amplify voices," BeLinda said, "and really just willing to talk about the hard-to-talk-about issues."
One of the biggest aspects of March Against Revenge Porn is its protest marches, which have taken place in Orlando, Boston, Pittsburgh, and across the Brooklyn Bridge. Depending on the location, the marches usually see between 50 and 100 people attending, while their viral video campaigns around the marches have generated an audience of millions.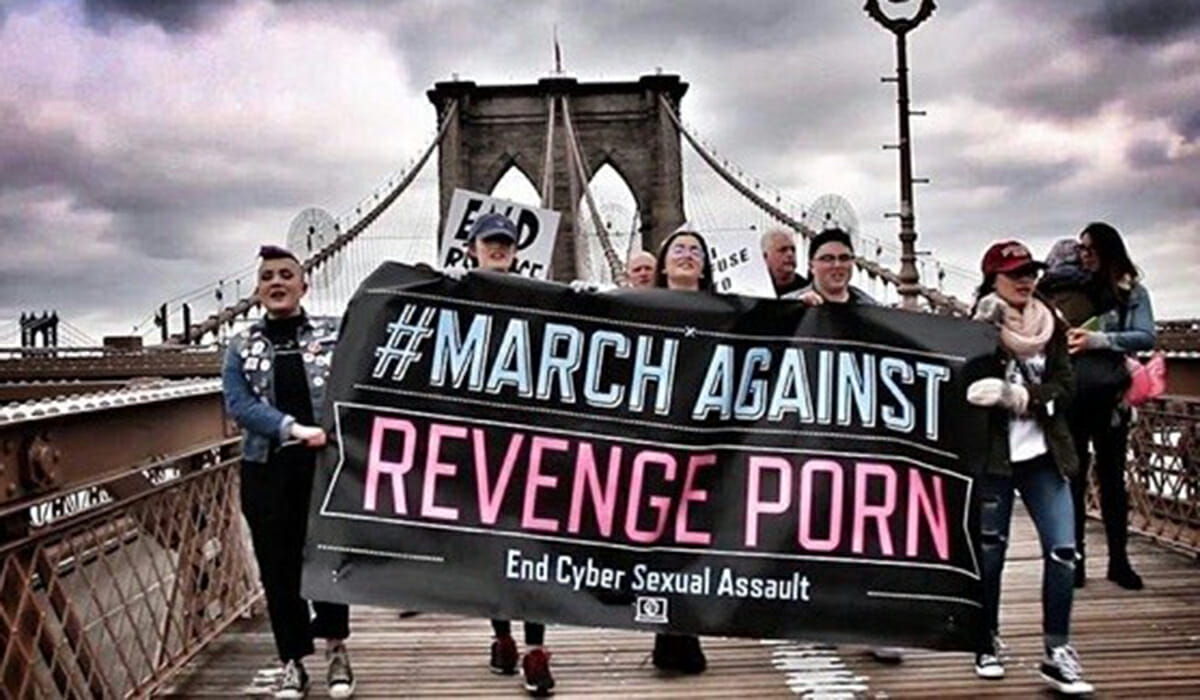 "It's really a big physical act of taking back the image that was taken from us," Leah said of the marches, "so instead of only being recognizable as a naked body, we're now recognizable as an active, boots-on-the-ground protestor."
When physical marches had to be put on hold in 2020 due to the COVID-19 pandemic, the nonprofit held a digital march instead by starting the podcast "March Across America," an interview series that aims to share the story of a revenge porn victim from all 50 states. Physical marches will resume this year in Los Angeles, Minneapolis, and Washington, DC.
Leah said the nonprofit has marched with strangers across cities who have described having their voices amplified in such a way as an affirming and life-saving experience for them. Leah added that they receive letters, emails, and messages from people who said March Against Revenge Porn made them realize they aren't alone and that they have resources to continue fighting. They emphasized that the nonprofit is open 24/7 to victims, who can direct message or email them at any time for advice or for a listening ear.
For Leah, the most rewarding part of the work they're doing is that young people today don't have to experience a world without access to resources or justice for this crime.
"I'm always honoring my younger self who didn't have a voice, and who was victimized and exploited but didn't have anywhere to turn," Leah said. "I'm doing my work on behalf of that version of myself who was trapped online."
Do you want to make a difference in your community like Leah? Find local volunteer opportunities.
Share this post