California Woman Uses Her Quilting Skills to Offer Warmth and Thanks to Veterans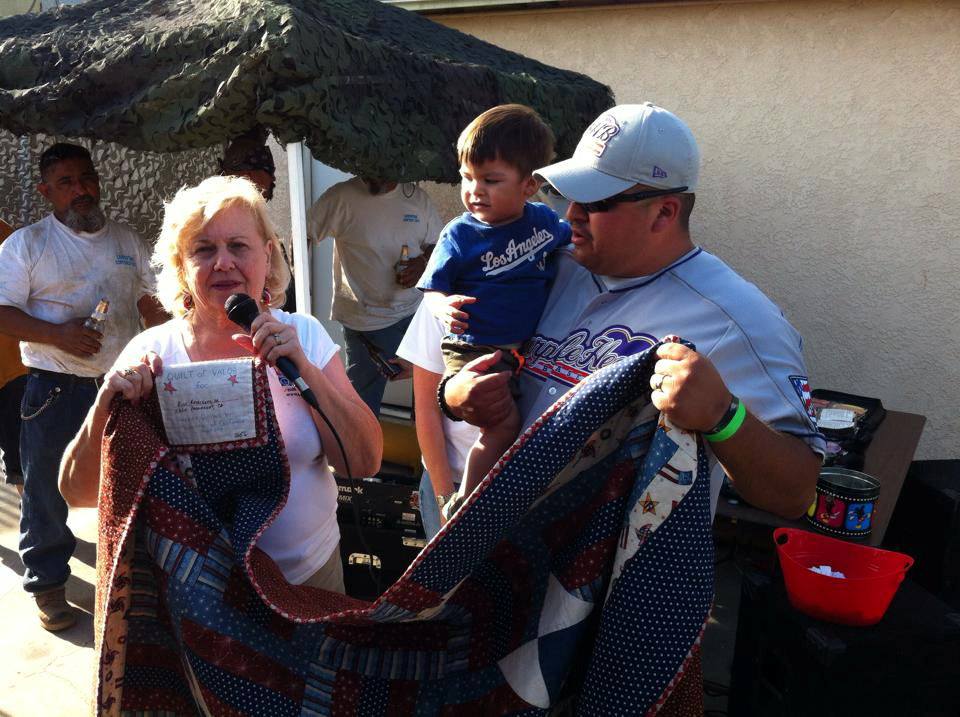 A stitch in time can make all the difference. Just ask Barbara Winkler, who heads up a group called SoCal Quilts of Valor, a Long Beach, California-based nonprofit that makes and presents quilts to U.S. service veterans.
Inspired to show these service men and women a tangible sign of thanks, Winkler has singlehandedly sewn some 600 quilts. She didn't come to quilting by way of family tradition, at least that's what she thought until a few years ago, when several long forgotten quilts were discovered in storage made by her aunt and grandmother. Despite some health challenges, Winkler remains active in the group, which has made more than 4,400 quilts to date, presenting 651 to returning veterans last year.
What inspires you to volunteer?
The smiles and appreciation from the veterans who receive our quilts and get a 'Welcome Home" along with our thanks for their service.
Describe your volunteer role with SoCal Quilts of Valor?
I am the organizer as well as do most of the presenting of quilts. Today we awarded the 355th so far this year. I handle all the requests and scheduling as well as storing fabric, kits, quilts to be quilted and the finished product waiting to be awarded. I find quilters to volunteer and make arrangements to get the quilts delivered or shipped to them to do their magic. I actually make quilts, too. I am working on my 50th quilt this year (more than one per week), even though I had shoulder surgery in February. I orchestrate our sew days and bring supplies for everyone. I also got us authorized through the Long Beach Unified School District to have students work with us to earn community service hours. I work with the Long Beach VA to provide quilts for the veterans in various programs. One of my volunteers has now taken over my job of cutting kits, so those who have trouble choosing colors or cutting properly can just sit down and sew.
Why is it important to you to support your community in this way?
Our veterans put their lives on hold and put their life on the line; they take time away from school, jobs and family to serve our country. It's the least we can do to say thanks in our small way. As they use their quilt they can 'feel' the love we stitch in.
What's the most challenging aspect of your volunteer service?
Finding sponsors and finding volunteer long-arm quilters.
What do you think it means to these veterans to get a quilt from your organization?
We had a Korean veteran who told us he had waited 62 years for someone to say thanks. Then there was the Vietnam veteran who was disgruntled about the way he was treated when he returned home and held a grudge because the new veterans were being treated better. He said after receiving our quilt he was able to let go of the anger he held for 50 years! We've heard that medals are manufactured and only sit on a shelf, where our quilts can be used and cuddled and are handmade with love.
Why do you think it's important to give back?
If we don't, who will?
What's been the most rewarding part of your work?
Running into a previous recipient who says that they use their quilt daily and love to show it off to visitors.
What do you want people to learn from your story?
Anyone can volunteer, no matter what their skill set, no matter what their age. Many of my volunteers come for the camaraderie as well as the focus of our project. Many who said they were quilters or seamstresses when they started with me have learned new things, which keeps us seniors on our toes. There are so many steps needed in making a quilt, even if you don't sew, you can assist. There are Quilts of Valor groups nationwide and worldwide. Go to the national website www.QOVF.org to find a location near you, If there isn't one, start one like I did.
Share this post