Cambodian Refugee and Doctor Volunteers Supporting Veterans, Low-Income Patients in Her Community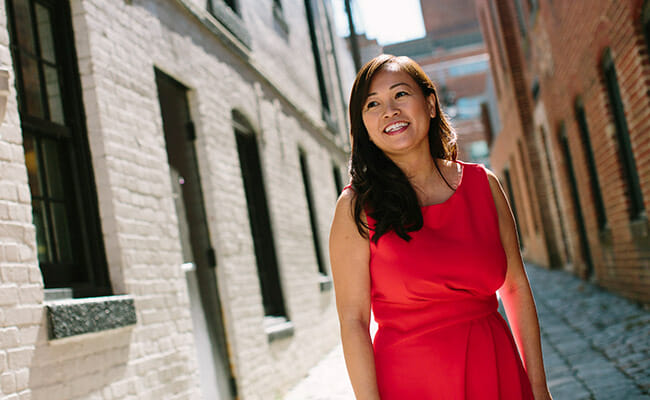 Meet Daily Point of Light Award honoree SreyRam Kuy, who was a Top 10 finalist for the L'Oréal Paris Women of Worth Award in 2017. Each year L'Oréal Paris and Points of Light recognize and celebrate Women of Worth who make a beautiful difference in their communities. Ten honorees each receive a $10,000 grant to support their most cherished cause, and an online vote determines one honoree who will receive an additional $25,000 grant. Nominations for 2018 are now open! If you know a woman who works to create lasting and significant change in her community, nominate her to be one of the 2018 Women of Worth.
SreyRam Kuy was barely 2 years old when she was injured during a bombing that took place as her family fled Cambodia during the horrific genocide carried out by the Khmer Rouge regime. Luckily, a volunteer Red Cross surgeon was able to save her life, and SreyRam made it safely to the United States with her family. Inspired by this experience, she pursued a career in medicine and eventually became the first female Cambodian refugee to work as a surgeon in the United States.
Today, whenever possible, SreyRam provides free surgery to low-income patients, treating everything from breast cancer to inflamed gall bladders. She volunteers tirelessly, raising funds to support her community to help wounded veterans learn business skills, fund a traumatic brain injury center for veterans, combat human trafficking of women and girls, and build a rural community center. Her compassion for victims of combat has also led her to partner with Dog Tag Bakery, a bakery in Washington, D.C., that also provides valuable business and leadership training to combat veterans, their spouses and caretakers.
"I come from a country where people were executed for the crime of being educated, where doctors were shot while escaping from the Cambodia killing fields," said SreyRam. "I really, really value the freedom we have, and I'm very cognizant of the fact that our veterans fought for that. A volunteer surgeon saved my mother's life and saved mine. I work pro bono doing volunteer surgery for indigent patients because for me, it's really personal."
Share this post