Cancer Survivor Brings Joy To Pediatric Cancer Patients With Homemade Pillowcases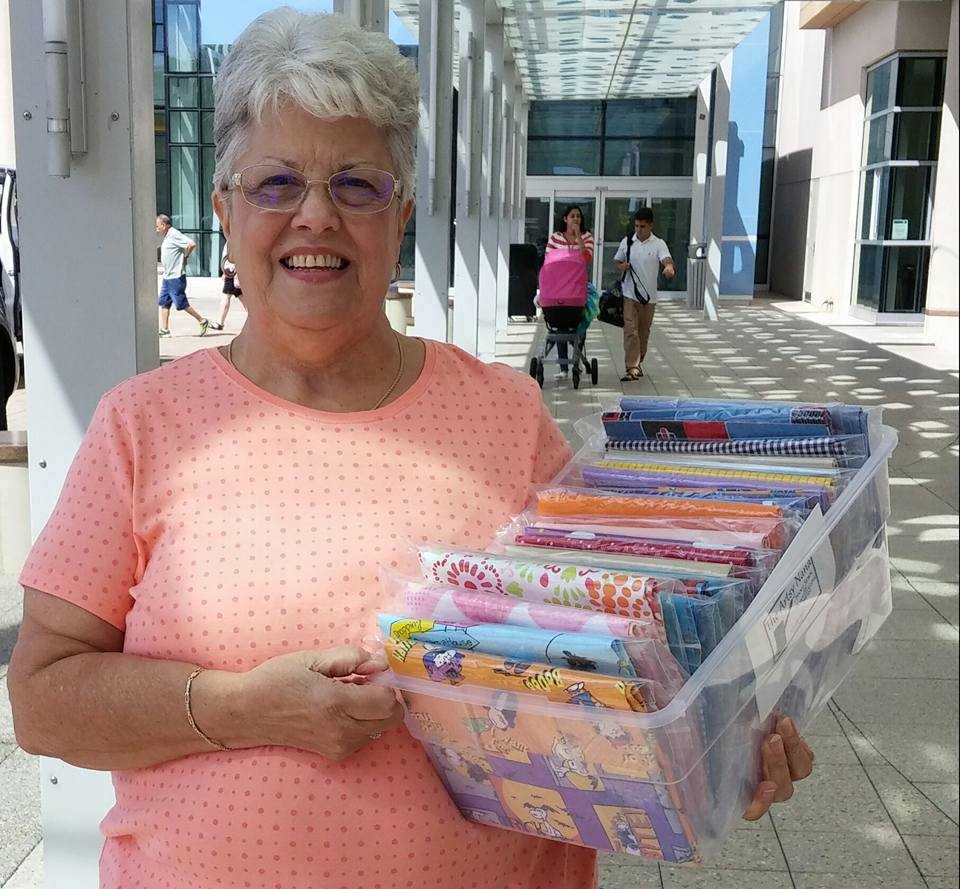 Around her hometown of St. Cloud, Florida, Toni Casto is affectionately known as The Pillowcase Lady. While receiving radiation therapy for vocal cord cancer, the now-81-year-old Toni noticed that there were many infants and children around the hospital waiting to receive treatment for their own cancers. The children always brought a smile to Toni's face during a difficult time, and she promised herself that once she recovered it would be her turn to bring a smile to their faces.
After finishing treatment, Toni began making pillowcases covered in cheerful patterns such as Superman or Hello Kitty to send to pediatric cancer patients. Because of their weakened immune systems, these children usually cannot bring their own stuffed animals or favorite blankets from home to cheer them up. Toni sews each pillowcase by hand using fabric donated by her friends and family, and, to ensure that they are sterile, steams each pillowcase and seals them in a plastic bag. Since retiring in 2014, she has sent over 2300 pillowcases to patients at Nemours Children's Hospital, putting a smile on the face of countless children. Toni is making a difference in her community, and is today's Daily Point of Light Award honoree. Points of Light spoke with Toni to learn more about her work.
What has been the most rewarding part of your work?
Hearing from so many people how their Children loved the pillowcase I made. The hospital even gives them a pillow to take home in case Mom doesn't have an extra pillow for their case. I pray they get well while I am sewing their pillowcase. The hospital pinned the Halloween Cases I made to their hospital gowns so they could have a Halloween Parade in the hospital.
What have you learned through your experiences as a volunteer?
That there are so many wonderful people who volunteer to help others. I hope I too can inspire many others to volunteer to help someone, somewhere.
Are there any future partnerships, programs, or events that you are excited about?
I hope God keeps me well, long enough to let me keep sewing pillowcases for all these sick children.
Why do you think it is important for others to give back?
First, it sets an example for all the young people around to see you showing kindness and helping others. Second, God made me well for a reason and you need to help others to thank God and hope it makes others better people.
What do you want people to learn from your story?
I hope they learn to help anyone that could use their help. Not everyone sews, but they can read a story to a child or help an older person to walk up the stairs. There are so many things that people can do to help others every day. When you have the time, all hospitals can use volunteers.
Do you want to make a difference in your community like Toni Casto? Visit All For Good for local volunteer opportunities.
Share this post