After Mother's Death, Illinois Woman Champions Brain Cancer Awareness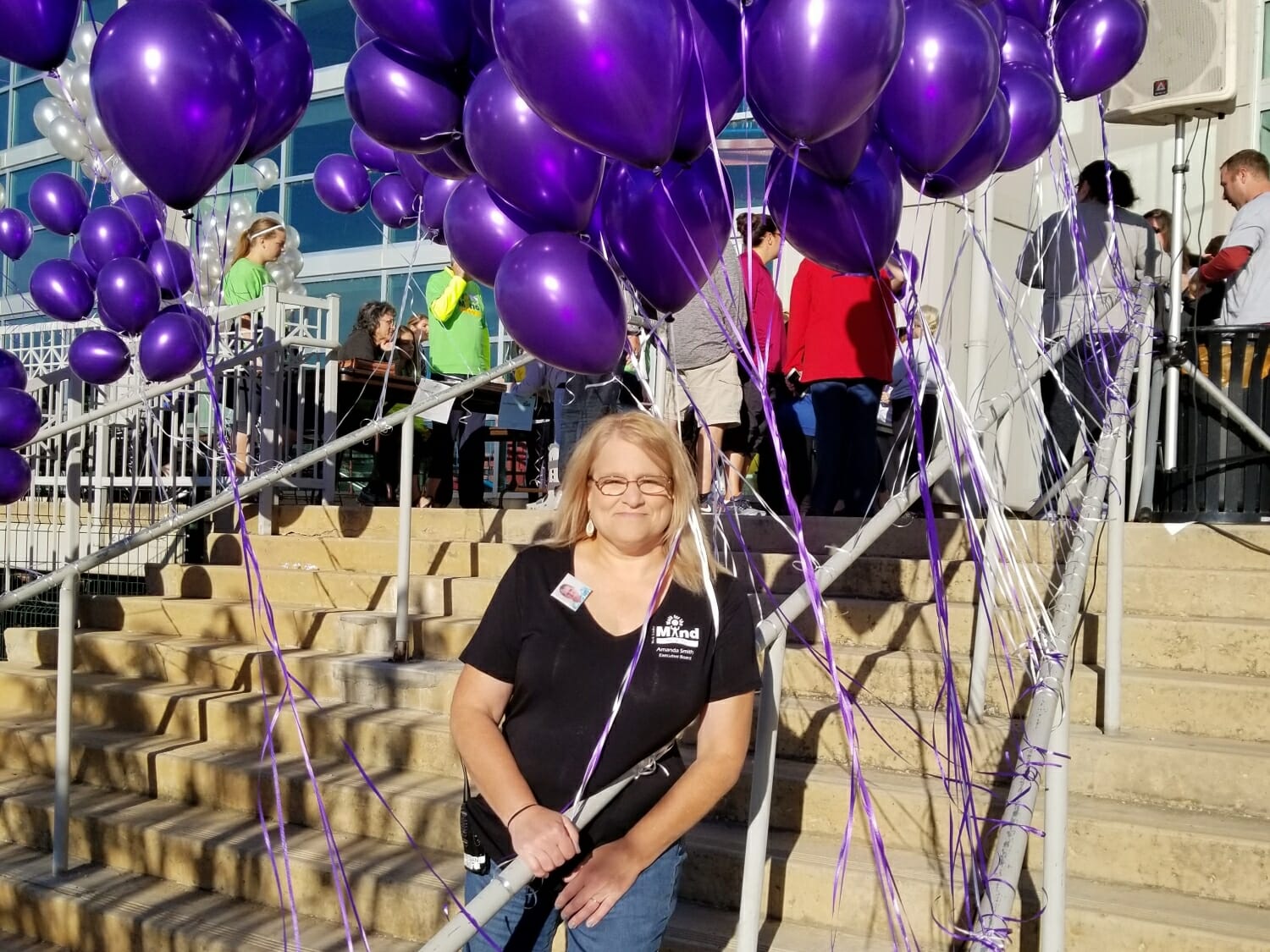 Amanda Smith was told on April Fools' Day that her mother was sick, but it wasn't a joke. She remembers the call to this day, learning that her mom was forgetting where things were. At first, the family thought her mother had suffered a stroke. Later, they received the devastating diagnosis, that doctors had found a gioblastoma multiforme brain tumor in her head the size of a golf ball. Doctors did their best, but even after treatment, her mother's health declined, and Amanda's mom passed away at the age of 64-years-old.
Amanda says she attended her first Mark Linder Walk for the Mind, an annual walk held in Peoria, Illinois which raises awareness of and supports brain tumor research, but she'd felt incredibly alone during her mother's battle with cancer. Never wanting another person to feel as isolated as she had, Amanda powered through her grief, and joined the Mark Linder Walk for the Mind community.
Putting in at least 40 hours the week of the event and helping the Mark Linder Walk for the Mind raise over half-a-milliondollars for brain tumor research, Amanda is committed to serving as a support system for others battling brain tumors and cancer, and is today's Daily Point of Light award honoree. Points of Light spoke to Amanda to learn more about her work with Mark Linder Walk for the Mind.
What inspires you to volunteer?
So that people don't have to go through what we did with my mom, that's what keeps us going each day. Right now, there's not much treatment available for brain tumors – it's basically either radiation or chemotherapy – but these therapies really just prolong your life. Your chances of survival are low, and the quality of life isn't the greatest while you're undergoing treatment. I'm that person a patient or their family can just talk to, because I've been on the journey they are now on.
Describe your volunteer role with Mark Linder Walk for the Mind.
This is a bare-boned operation. We really had to sit there and learn how to build things ourselves, we didn't have money to pay people to do things for us. I taught myself how to build our online presence, I'm currently updating and upgrading the website. I manage our social media sites, and also answer questions that come in to the organization. I maintain our sponsors database, and I'm on the executive board.
What would your Mom say to you, if she was here to see all of your service?
I know she would be proud of me. My dad tells me that every day. She knew I would be doing something to help in the fight against brain cancer. I couldn't just stand by and not help all these people who were just like my mom. When there's a need, the organization knows they can turn to me.
What's been the most rewarding part of your work?
I enjoy talking and listening to people. Last year, I was on vacation in Texas, and I took two phone calls from people who were referred to me through the organization. We were on the phone for a few hours (laughs). Some on our committee are survivors – I usually talk to the parents, moms, wives, because I know what they're going through.
Do you have any future events that you are excited about?
The 16th annual Mark Linder Walk for the Mind is this September 29, 2018. Please check our website for more information about how you can help.
What have you learned through your experiences as a volunteer?
I know I've changed. When I first started, I didn't think I was able, or could do much to help this cause. I was a stay-at-home mom before I got involved with the organization. When I first joined, they asked if I could come up with children's activities for the walk. The activities went well and we're still doing them. I pushed myself to learn things, like web design and graphics for our website, because someone needed to get it done.
Why do you think it's important for others to give back?
If we weren't raising awareness and fundraising, we'd be back at square one. The walk is named after a man named Mark Linder, who founded the walk in 2003 as a brain tumor survivor. Mark lost his battle in 2005, but thought he was alone at the time. There was no walk in the area, and he took it upon himself to bring awareness to brain tumor research. Now that we are all fighting together, people know where to go for help. We're a community.
What do you want people to learn from your story?
Take that first step and ask somebody if you can help. At first, after my mother's death, I was very shy and didn't want to go outward to help. You don't realize most of these groups can use more help and volunteers. Even if you don't have a lot of time to give, your time will be put to good use.
Do you want to make a difference in your community like Amanda Smith? Visit All For Good for local volunteer opportunities.
Post written by Marlena Militana.
Share this post