Capt. Alisa Sieber-Johnson & LT Shawn Johnson
With so many troops often deployed to far and foreign lands, have you ever taken the time to ponder what happens to their pets when they leave? For those active in the military, their tour of duty is usually so long and requires so much travel that they are forced to give their pet dogs away. With the help of Dogs on Deployment, there is now hope that these brave men and women will be reunited with their furry friends.

Started in 2011 by pet lovers Capt. Alisa Seiber-Johnson and her husband LT. Shawn Johnson, DoD was created out of necessity. DoD connects members of the military with individuals who are willing to care for their pet until they return from active duty serving their country.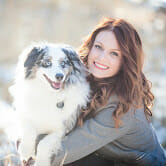 Seiber-Johnson and her furry friend
Alisa and Shawn have experienced firsthand the difficulties of finding care for their pet under tough career obligations. Being so dedicated to their careers, Alisa a Lieutenant in the Marine Corps, and Shawn a Lieutenant in the U.S. Navy, it became near impossible to care for their Australian Shepherds as they were stationed on opposite coasts. This dilemma sparked DoD.

"DoD is an organization which brings the best of America's community together; animal lovers and troop supporters," says Seiber-Johnson, "It doesn't get much better than that."

The love for animals and the support of troops seems to be the perfect combination, resulting into much success. DoD, according to the numbers, has proven to be meaningful and effective. Since its inception, the Johnsons helped raise close to $100,000 to help pet owners care for their beloved pets during difficult financial times. To this day, DoD has placed nearly 800 military pets in foster care, hoping to eventually rekindle that precious bond between pet and owner.
Share this post