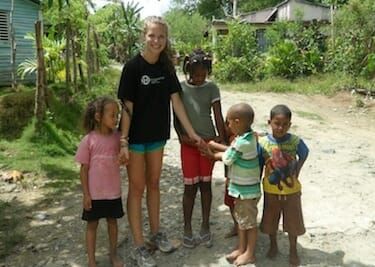 Meet Caroline Sartorius, today's Daily Point of Light Award winner. Read her story and nominate someone you know as a Daily Point of Light.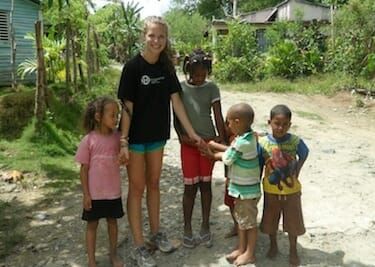 Caroline Sartorius visits with undocumented Haitian children in the Dominican Republic village of Ascension.
Most teens aren't interested in following in their parents' footsteps. "But it so happens that what they do is really cool," said Caroline Sartorius about her own parents, who run the government consulting firm Social Impact, which works in international development. Their work inspired Caroline, a senior at South Lakes High School in Reston, Va., to seek out international service projects of her own.
In 2012, Caroline joined a 10-day project in the Dominican Republic with the service program Global Leadership Adventures. There she met Megan Ratnam, a Canadian youth minister and full-time volunteer in the rural villages of Ascension and Caraballo.
Ratnam works to remove the obstacles that keep residents impoverished. Her work involves raising money to pay for documentation and uniforms required for children to attend school and secure transportation to and from school.
Most of the residents of Ascension are undocumented Haitians. Ratnam navigates through red tape and pays fees to secure birth certificates and passports for children, which allows them to attend schools and receive other benefits.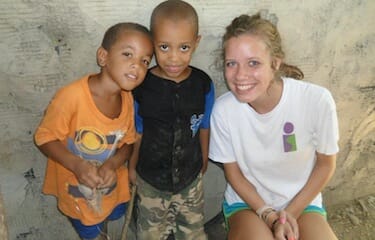 Caroline Sartorius, right, spends time with children during a trip to a Haitian village.
Caroline wanted to do more to help, so she took information about the project back to her community, where she launched a fundraising campaign. She raised $9,000, including a double matching grant from the San Francisco foundation Humanity United. The money helped pay for birth certificates and passports for about 230 people.
Caroline didn't stop there. Earlier this year, she contacted Ratnam about taking on another project: a formal assessment of the program. Caroline created an interview guide and an oral survey for different demographic groups in Ascension that have been affected by the documentation program, including students, teachers and parents.
With an interpreter, Caroline went door to door in the village. After completing interviews with about 15 households, she wrote up a report with suggestions on how to improve Ratnam's processes.
"She had her interview questions, and she had her objectives. She knew just how many people she wanted to meet with. She was so extremely organized," Ratnam said.
The report was helpful. It highlighted the fact that Ratnam was probably too dependent on a small number of people to handle some very specific jobs. Caroline suggested that Megan train other individuals in the process to expand capacity and improve sustainability of the documentation program.
"Everything she recommended was really good. She was right," Ratnam said.
Caroline says her work with Ratnam has inspired her to pursue an education in international development and political science. Now 17, Caroline is considering universities with those programs.
Caroline says she believes that making a difference at any age starts with baby steps.
"I think people don't really understand how big of a difference they can make in the world," she said. "I think once you get involved in something, you can really see how it expands from there."
Share this post