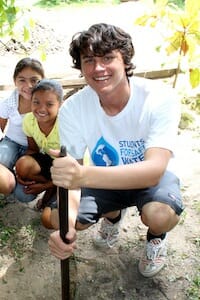 Three years ago, Carter Jimenez Jenkins' budding interest in photography led him to a far greater passion. While studying photo essays on the web, he was struck by photographs of entire communities without access to drinkable water.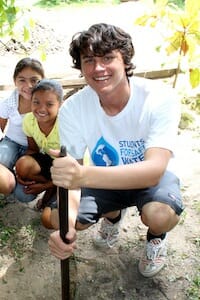 Carter, an eighth grader at the time, then learned that nearly a billion people worldwide live without clean water and that every 20 seconds, a child dies from water-related illness.
"It was hard for me to believe the problem could be as big as it was, and I wanted to help," recalls Carter, of San Juan Capistrano, Calif. "I remembered my favorite anonymous quote: 'I wondered why somebody didn't do something, and then I realized I am somebody.' That's when I decided to start Students for Safe Water."
Since 2010, Carter has built Students for Safe Water into a thriving nonprofit organization that has attracted more than 100 regular volunteers and raised $60,000. The group has paid to build latrines, potable water systems and hand-washing stations in Nicaragua and the digging of a well in Honduras.
Carter, now 16 and a junior in high school, says he was optimistic from the start about his organization because of the support he received from his middle school, St. John's Episcopal in Rancho Santa Margarita. School administrators encouraged Carter to speak to the student body about the issue of clean water and allowed him to start his first fundraising campaign: collecting spare change from students by placing empty water cooler jugs in the school.
In 2012, Students for Safe Water funded its first project – the construction of a well in Sabo, Honduras, providing clean water to 400 villagers. Major donors – including Pepsi, Disney and Hasbro – came forward with contributions for future work.
That summer, Students for Safe Water funded the construction of 22 latrines in Petaquila, Nicaragua, a village of 350. Carter, his mother and a volunteer traveled to the village to assist with the project. Carter and family members returned a year later when Students for Safe Water paid to install of taps delivering potable water to 78 homes.
On the same trip, Carter traveled to Achuapa, Nicaragua, to help build a hand-washing station and four latrines at a local school, another Students for Safe Water project. The organization is planning another mission to Nicaragua in 2014.
Carter, who has given a TEDx talk about the global water crisis, emphasizes that while corporate support has been invaluable, it often comes in the form of matching funds, and that his organization's most important financial support comes from individual donors, schools, churches and civic organizations in his community.
"We'd be nothing without our local donors," says Carter. "And we've reached those donors through the work of our committed volunteers."
Students for Safe Water volunteers have worked regularly to raise public awareness of the water crisis by sponsoring an ongoing recycling drive and a 5K run. The group also publishes children's books written by its volunteers, with all proceeds going to safe water projects.
"This work has been so important to me, I already know that I want to study social entrepreneurship in college," says Carter, who speaks at three to four schools a month about his organization's mission. "Whatever my future career is, I want it to help others as well as myself."
Share this post