Celebrating Diversity and Fighting Racism, Student Volunteer Promotes Inclusion in Community
Meet Daily Point of Light honoree Hananeel Morinville. Read her story and nominate an outstanding volunteer or family as a Daily Point of Light.
Once known to be one of the most segregated cities in the country, Kansas City, Missouri and its surrounding suburbs is increasingly becoming more diverse. Recognizing the changing face of her community, 18-year-old Hananeel Morinville is volunteering to celebrate that diversity.
Launching the Black Student Union in 2018 at her high school in the Shawnee Mission school district, the 18-year-old Overland Park, Kansas student, who is Haitian-American, is promoting inclusion and harmony to recognize students who felt like they didn't have a voice. Renaming the organization more recently to Coalition of Racial Equality (CORE) to better reflect their mission to fight racism and work towards equality for marginalized communities, Hananeel has connected with dozens as she fosters diversity amongst her peers.
What inspires you to volunteer?
My primary inspiration for volunteering is based upon my faith. Christianity teaches us to help others and promote our faith when you can. Additionally, my parents raised me to understand that when you have the means and ability to give back, it's something you should do. I'm in a position of privilege to help others, and the best way to help is by impacting their lives.
Describe your volunteerism with CORE.
As founder, I address the issues our community is facing. We still see the impact of 'redlining' and segregation in our town. The reason we decided to take action is so we could continue to be united in the fight against racism and build towards equality. I was joined by two classmates very early on, who have been critical to our efforts. CORE offers resources and also services to help marginalized populations in our community, like food and book drives. We've also sent donated books to high school students in Africa. I've also been honored with the The Princeton Price in Race Relations for my work.
Explain the impact your volunteerism is having.
We are working on a project to increase the conversation around racism in the community. After the death of George Floyd, we saw a spike in racism and discrimination in schools across our community. On the other hand, we also saw people willing to fight against this discrimination, and do something about it. This upcoming project will outline ways to increase dialogue around race relations in our community.
Share one personal story with me from your volunteerism.
During one of our food drives, we watched a family drive past our station and then turn around. It was a woman with her family, and she said she'd been up at night worrying how she was going to feed her kids. She was out on unemployment because she'd just lost her job, and she was very grateful for how we were helping her, even the impact our assistance would have in the long run. Putting food on her table meant that she wasn't going to worry about how to feed her kids for a little while, which meant she could focus on finding a job and establishing a long-term solution. Our help also meant her kids didn't have to worry about what their mother could or couldn't do for them.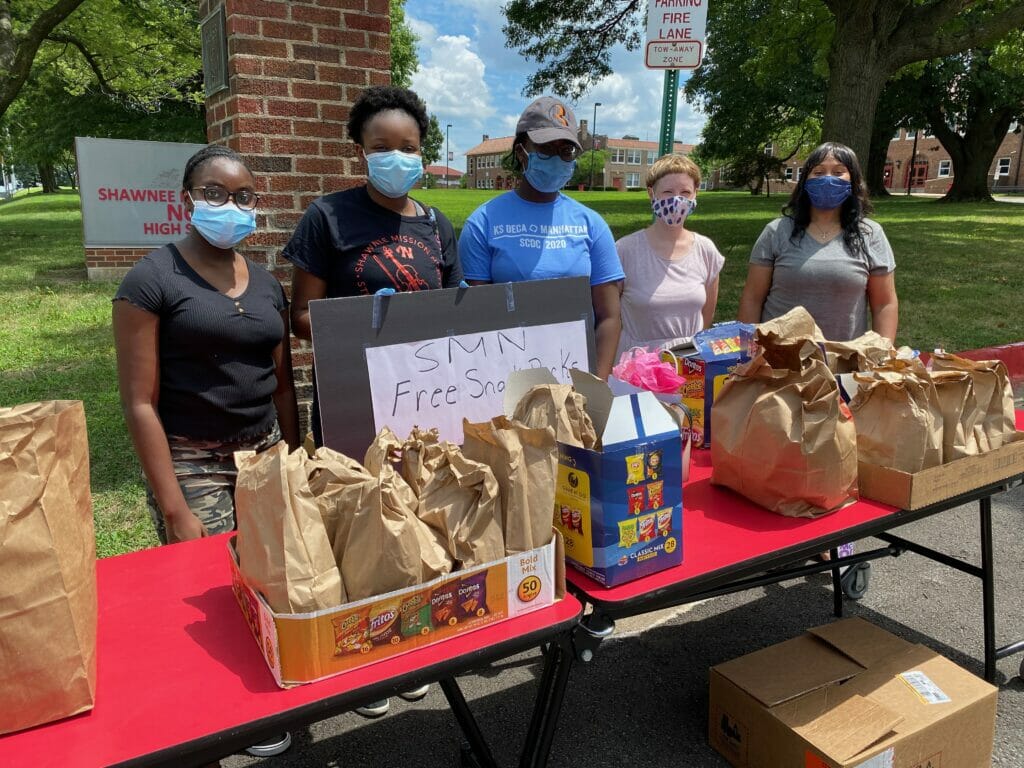 Why do you think it's important for others to give back?
We should constantly be asking ourselves something former First Lady Michelle Obama has said, 'Do we settle for the world as it is or do we work for the world as it should be?' We get so used to the world as it is, we don't look to alleviate the plight people are faced with. When it comes to giving back, we should always move forward and create the world that should exist.
How have you continued to volunteer throughout the COVID-19 pandemic?
We've conducted food drives to help families affected by coronavirus, as we were looking to address the lack of accessibility to food that people were experiencing during the pandemic. We are also planning to hold a feminine product drive in November.
In one word, what does volunteering mean to you?
Uplifting others.
When you're not busy with school or volunteering, what do you do for fun?
I like playing the piano and reading.
How can readers help?
For more information and resources please visit the Core Website. 
Do you want to make a difference in your community like Hananeel Morinville? Find Local Volunteer Opportunities.
Share this post
---