Teen Recruits Volunteers Around the World to Bring 'Sunshine' to Those Struggling with Mental Health Amidst Pandemic
Meet Daily Point of Light Award honoree Natalie Salvatierra. Read her story and nominate an outstanding volunteer or family as a Point of Light.
In less than a year's time, sixteen-year-old Natalie Salvatierra has managed to bring together hundreds of volunteers across 37 countries in order to help thousands of people struggling with mental health — and all while amidst a global pandemic. In May, the Santa Ana, Calif.-resident founded the organization Solely Sunshine, which collects letters of encouragement from people around the world and delivers them to those being treated with OCD and other mental health conditions. Solely Sunshine partners with organizations such as the Assistance League, the California Scholarship Federation, Girl Scouts, the Rotary Club of Vancouver, and Baskin Robbins in order to recruit volunteers to transcribe, handwrite, and then decorate the letters, which are mailed to mental health facilities across the world.
So far, at least 2,000 letters have been mailed, and approximately 4,500 people have been impacted by them. Natalie's goal is to mail 10,000 letters of encouragement. She has made her organization a part of her Girl Scout Gold Award project in order to help reach that number through the support of her fellow Girl Scouts. Not content with her impact on mental health stopping at Solely Sunshine, this summer Natalie also authored and illustrated the children's book "Do Not Worry, Little Donkey" in order to help kids overcome their worries and fears.
Describe what Solely Sunshine is and your role with it.
I am the founder of the mental health organization Solely Sunshine. I created the website solelysunshine.com as a way for anybody around the world to write virtual letters of encouragement for free. Once somebody writes a virtual letter of encouragement, somebody on my team transcribes the letter to paper and then I put them in an envelope and mail them to mental health facilities all across the world.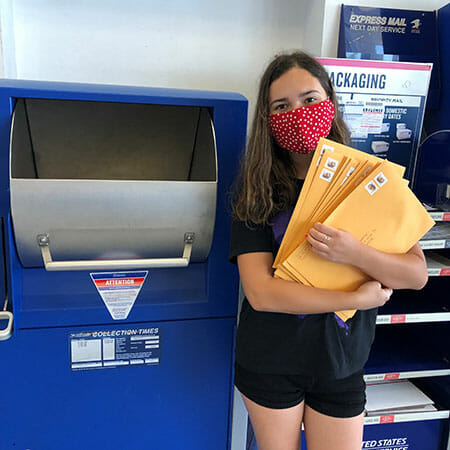 What inspired you to start this organization?
I started this in May 2020 because my mom showed me an article about somebody who had OCD, which is Obsessive Compulsive Disorder, hand-washing compulsion. They mentioned that with all the constant reminders to wash your hands because of COVID so you won't get sick, but then at the same time trying to resist that urge to learn that you won't get sick, makes things really difficult for them. I wanted to spread encouragement to those people and really anybody with a mental health condition.
Why are these letters of encouragement so helpful for those in mental health facilities?
A lot of times if you have a mental health condition, it might feel like there's a storm cloud over your head and you feel sad, and a lot of people might experience things such as panic attacks, or migraines, or a lot of anxiety and even depression. I really wanted to change all the rainclouds into sunshine and make it so that people have a bit of encouragement. While the letters don't completely solve everybody's worries or anxieties, they really help with making people smile in that moment, and then [serve] as encouragement for them to look back on and a reminder that other people are supportive of them through this tough time, and that they are doing great.
Why do you think your idea has resonated with so many people for you to have received letters from 37 countries?
I think because a lot of people either know somebody [who has a mental health condition] or they have a mental health condition. Even if you don't, everybody has experienced sadness and stress, so I think no matter what, anybody would benefit from receiving a letter of encouragement. Also, because the letters are a virtual form, I made it so anybody, no matter where you are, no matter how old you are, you can write a letter and you don't have to give away any personal information. The virtual letters I think are really cool because during COVID, a lot of volunteer opportunities had to be stopped because they were going to somewhere to help serve food or doing other things like that, which are also super important issues that need to be solved, but then also a lot of volunteer opportunities involved donating money or cans and things like that. I made it so [with] Solely Sunshine, you don't have to give anything but a little bit of time.
Why is mental health an issue that is important to you?
I just really like to help people a lot. I feel like a lot of times, people focus on other important problems in the world, and I feel like sometimes mental health can be overlooked. I really wanted to shine some light and spread encouragement to people who might not be getting encouragement and support from others usually.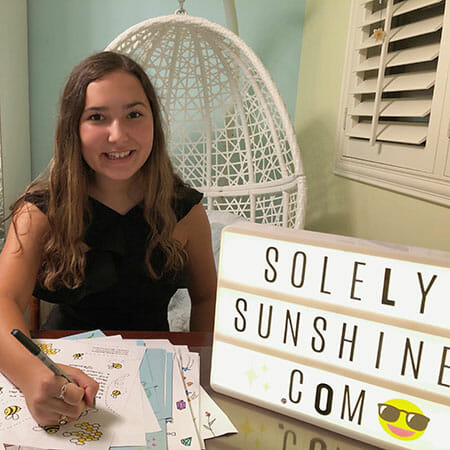 What's been the most rewarding part of your work?
I love hearing the feedback of people who have received letters and hearing their appreciation and that it made them smile. That's the whole reason I created Solely Sunshine — to spread sunshine and encouragement. Hearing those things from the people, that the kids hang them up in the room, and another mental health facility told me that because people were quarantining, receiving the letters was like something from the outside world, so that was also really neat to hear. I also love to connect with people from different states and countries and learn about where they're from, because ultimately it's like we're one community even though we're far apart.
What have you learned through your experiences as a volunteer?
I definitely on the business end have learned more about writing emails and public speaking. Then on the non-business side, I have learned a lot more about mental health conditions and ways I could help people. I think that's really cool. Hearing peoples' personal stories gives you a lot of insight in how you can help people and encourage them, so I really appreciate that.
What do you want people to learn from your story?
I think it's really important to spend a little bit of time to help people. Everybody has their own story and are experiencing different things, but together it's so important to help others. I encourage doing as much community service as possible, while still making time for yourself, too.
Why do you think it's important for others to give back?
I think it's kind of like, treat people how you would like to be treated. Anytime you're experiencing a tough situation, you would want your friends, family, and community to be there for you. I think helping others and giving back makes up for the time that you would want or need help. It also makes you feel really good to help other people. I definitely try to help other people as much as I can.
Do you want to make a difference in your community like Natalie? Find local volunteer opportunities.
Share this post