Volunteering Teen Dynamo Sews to Serve Humans & Animals
Meet Daily Point of Light Award honoree Ashley Nevison. Read her story and nominate an outstanding volunteer or family as a Daily Point of Light.
13-year-old Ashley Nevison says her pet cat, Sargeant, was always happy and loved to play. Calling the kitty a role model for her own life, when her beloved Sargeant died, Ashley decided to give back by helping animals and humans in her furry friend's memory.
Launching Sargeant's Army in 2018, the 8th-grade Phoenix, Arizona student has focused on offering hope to those in need, whether it's through her homemade cat toys and blankets which go to foster homes for cats and kittens who are waiting for their forever home, essentials for the homeless or most recently, masks for hospital personnel and essential workers. Connecting with more than 1,000 people across greater Phoenix and beyond, Ashley is following in Sargeant's footsteps, by acting as a service role model to others.
What inspires you to volunteer?
I've volunteered ever since I was 8-years-old. The feeling I get whenever I volunteer is so warming, and it makes me so grateful that I'm helping someone in need. Sometimes, volunteering means you don't know exactly what the individual needs or who you're helping, but what you are doing is making a difference.
Describe your volunteerism with Sargeant's Army.
As CEO and founder, I sew the cat toys, blankets and masks. I also create our Hope Bags, which are filled with hygiene items and distributed to homeless youth and adults across the state of Arizona. I also manage our social media accounts and produce instructional videos for Sargeant's Army on TikTok, showing people how to make cat toys. Lastly, I write grants with the help of my parents, as grants are our primary source of fundraising. I've raised over $12,000 to date.
Share one personal story with me from your volunteerism.
I was volunteering at an outreach program for homeless youth and I'd brought over 200 Hope Bags with me. It was such a rewarding experience to see their faces when they received these supplies, they were very grateful. These essentials, like toothpaste, toothbrush, soap, shampoo and comb, are items that you or I need on a daily basis to stay clean and maintain hygiene and be ready for the day. If you don't have that stuff, it's harder to start your day. Because of our service, they have more of what they need to help them get through the day. Moments like these encourage me to continue my service.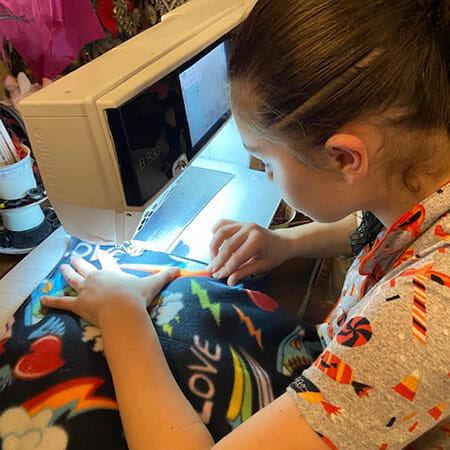 Why do you think it's important for others to give back?
If everyone volunteered, the world would be a better place. No matter what you do, if everyone gave back to their community and was grateful for what they have, everything would be much better.
How have you continued to volunteer throughout the COVID-19 pandemic?
We have multiple sewing machines at home because my mom is a costume designer, and we use her fabric scraps to make the cat toys and blankets. When COVID happened, we wanted to help healthcare workers. Since then, we've donated more than 500 masks to hospital staff and essential workers. These masks have been sent across the country including to states like Hawaii, Florida, New York. In the summer, my friend reached out saying homeless youth were in need of masks, and I realized I wanted to do more for the homeless population, so we started donating Hope Bags, and we've donated more than 1,500 just in the last few months. I've continued to make cat toys as I've had a lot more free time on my hands. I am also making Kindness Rocks to spread inspirational messages or brighten someone's day.
In one word, what does volunteering mean to you?
Hope. Whenever I'm volunteering, it's my hope that I'll put a drop in a pool, and then the droplet will make a wave around me, and everyone will be inspired to volunteer, and go on to make a bigger impact in the world, one step at a time. Also, I am serving people and animals so that they get a chance at hope for a better situation and to have everything they need.
When you're not busy volunteering or at school, what do you do for fun?
I want to be a professional ballerina when I grow up, so I dance 20 – 25 hours each week at a pre-professional program. I also enjoy traveling around the world and learning about different cultures. I am also the Royal International Miss Arizona Preteen 2020.
How can readers help?
I am currently applying for grants to build a greenhouse to grow catnip to sell and donate to cats in need, and will use extra space to grow vegetables to donate to food banks. Please visit our website for more information about how you can help.
Do you want to make a difference in your community like Ashley Nevison? Find local volunteer opportunities.
Share this post