Volunteer Supports Thousands of Families in Michigan Community
Meet Daily Point of Light Award honoree Brenda Hughes. Read her story and nominate an outstanding volunteer or family as a Point of Light.
Brenda Hughes grew up watching her mother struggle to provide for her and her siblings. But she still remembers her mother always taking care of them — sewing clothes when they had nothing to wear, and making sure they at least had something to eat, whether it just be rice and beans.
Growing up with hardship and coming out stronger on the other side is what led Brenda to want to take care of as many people as possible herself, in the form of her nonprofit, Jackson Michigan Giving Back to the Community.
Over the past ten years, the organization has helped thousands of families in the Jackson area by providing food, clothing, personal hygiene items, and other necessities, along with a friendly face to offer them comfort and an ear to listen to.
"Seeing so many beautiful faces and the experiences of what they went through in life, it makes me want to continue to go on and let them know I'm someone who you can call home," Brenda said. "Everybody can come in here. I call them family, so I treat them as though they were my family."
Brenda was first inspired to take the next step in helping her community in 1992, when she started attending the Jackson Interfaith Shelter. Her experiences volunteering there made her want to help out on her own outside of the shelter, so she started asking people to donate clothes and food for her to give out to those in need.
For years, Brenda would tell those in her community that she would one day turn her donation collections into something bigger, and even have a building of her own to run her organization out of.
"Some of them would smile," she said, "but my mother always said, 'Brenda, you can be whatever you want if you put your mind to it.'"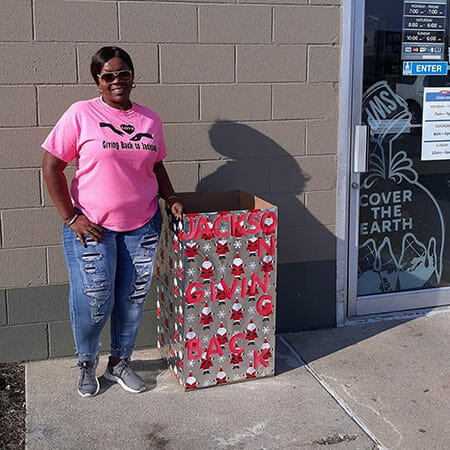 After running the nonprofit out of her basement for several years, Brenda was able to relocate Jackson Michigan Giving Back to the Community to its own building in January. Achieving this goal came at the perfect time for the community, right before the country was hit with the COVID-19 pandemic. Since the pandemic began, Brenda has helped an average of 300 families each week.
"I try to let people know that I'm here, and I continue to be here," Brenda said. "I always tell people in darkness, light always wins. I'm here and I will continue to strive to make it better for them."
Britany Marcia, the nonprofit's treasurer, said it has been amazing being able to see Brenda expand her nonprofit's reach even farther over the years. Britany said prior to having their own building, if Brenda was contacted by someone in need of food, she would go out to the grocery store to purchase the meals herself and personally deliver them.
With the renewed storage space, Brenda was able to hand out boxes of food to the community from her nonprofit's building each week. She has since partnered with the South Michigan Food Bank in order to open a full food pantry, along with giving out the boxes every Friday.
If someone is in need, Brenda will find a way to help them no matter what, Britany said, adding that they have even helped pay people's bills. She said Brenda never turns anyway away, either, and has supported people outside of Jackson who travel to Jackson Michigan Giving Back to the Community for help.
"I want people to know that she has the most amazing heart," Britany said. "She would give anybody the shirt off her back. … I feel like if people could be a little bit more like her, the world would be a better place."
Aside from offering food and clothing year-round, Jackson Michigan Giving Back to the Community also holds multiple events throughout the year. Before the start of this school year, the nonprofit held a fun event for kids, where 400 backpacks as well as outfits were given out to those in need.
Brenda's favorite event would be at Christmas, when she makes a meal for anyone in the community to come eat, and gives away gifts for kids who are less fortunate than others. She said this event particularly resonates with her due to her own experiences growing up.
"When I was younger, I went through the same things that they did," Brenda said. "I want to be able to bring joy and peace and happiness to someone else's life."
Brenda said she believes she's seen a change in her community since starting her nonprofit and providing a place for people to go when they're in need. She recalled a homeless young woman who came to Jackson Michigan Giving Back to the Community in January, looking for clothes to wear while she was trying to find work. In October, she returned to the nonprofit with a thank you card for Brenda, telling her that her kindness had changed the young woman's life. Since receiving the clothing donation, she had found a job and a place to stay.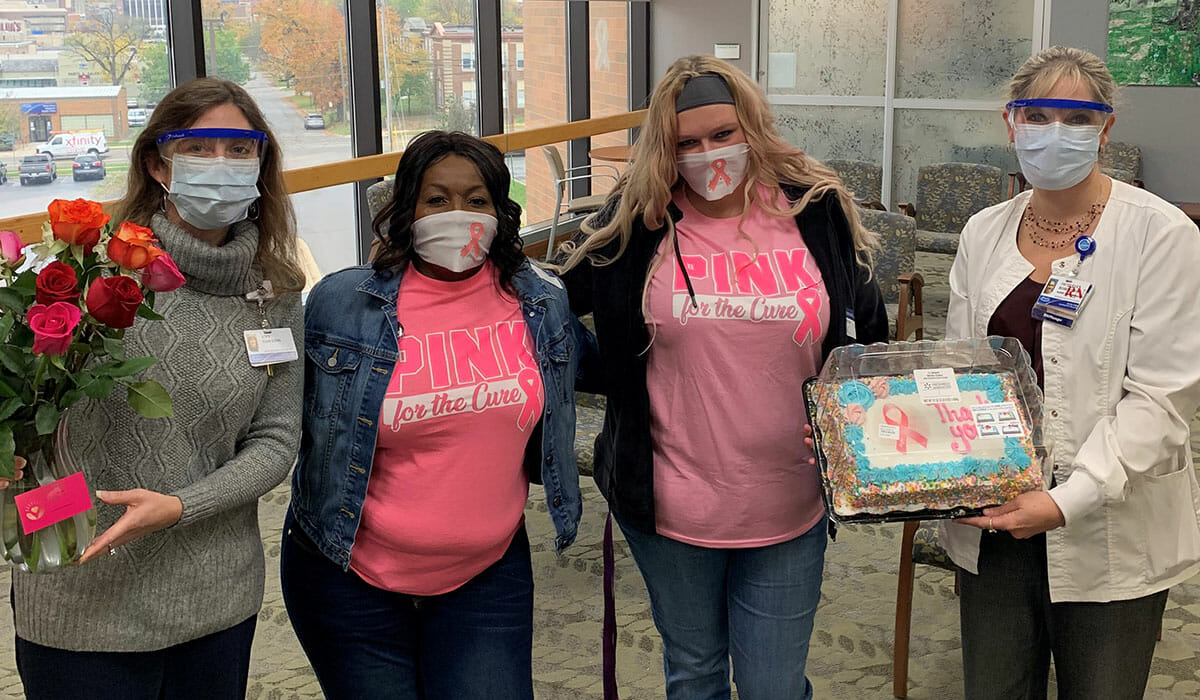 "I just cried," Brenda said. "I still have the card. I said, I'm changing lives, and it's a beautiful reward."
Brenda collects the cards she receives, as well as the paintings and drawings given to her by the children she has helped. She hangs them on her building's wall, and she said she is filled with joy when she looks at them.
As for her mother, Brenda said she is extremely happy to see what her daughter has been able to accomplish.
"She said, 'Brenda, I knew she was going to be the one to change the world,'" Brenda said. "I said, 'Yeah, Ma, I learned from your struggle, and I thank you for allowing me to go through those struggles to be where I am today.'"
Do you want to make a difference in your community like Brenda? Find local volunteer opportunities.
Share this post