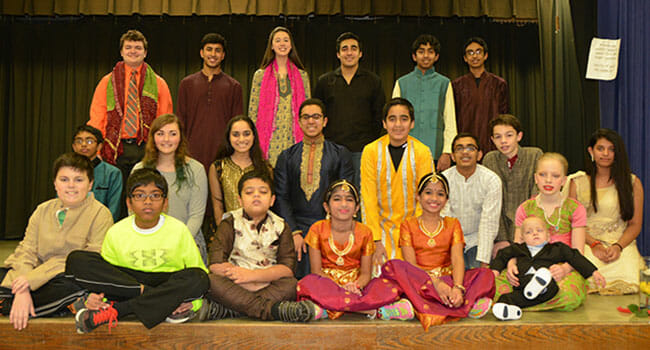 When nine-year-old Rishi Sethi started a chess club at his elementary school, he got the idea to teach the game at a nearby nursing home. Buoyed by the sense of helping others, the club branched out into other local community service projects, mostly chosen and managed by Rishi and his young classmates.
Now the club, Chess Without Borders, is about a lot more than chess. The Illinois-based club, started in 1998, has grown into an organization that helps causes around the world.
Club members have donated chess sets and textbooks to schools in the United States, as well as other nations, including in Nigeria, Sudan, India, Malaysia, Thailand, Chile, Cambodia and the Marshall Islands. Club members have done book drives for schools and raised money to buy wheelchairs for students with disabilities. Of course, the club holds chess tournaments all the time, managed by renowned chess champion Yuri Shulman, turning them into fund drives that have raised more than $125,000 for numerous charities.
Chess Without Borders is now open to kids throughout the Barrington 220 public school district, as well as nearby private schools.
One of the group's proudest efforts has been to help Meher, an impoverished little girl in India who was severely burned at age 4. Kids participating in the Chess Without Borders program raised thousands of dollars to help pay for Meher's surgeries. But the kids didn't stop there. They've continued to help Meher, now 12, and her peers, donating money for computers and other needs. Some students have even used their own birthday parties to raise money for Meher.
Many Chess Without Borders participants have been recognized for their service, with at least 100 club members and five teachers earning the President's Volunteer Service Award for the depth of their community involvement. Rishi's mother, Dr. Kiran Frey, says the President's Volunteer Service Awards have made the kids want to volunteer even more, and Chess Without Borders participates as a certifying organization to help facilitate recognition of their most committed volunteers. Volunteers have earned the awards at the bronze, silver, and gold levels; in 2016, nine volunteers have been honored.
Frey continues to serve as director of volunteers for Chess Without Borders, even though her son is now an adult. She marvels at how "volunteering, which is supposed to be about others, helps the children" who do it.
"As a psychiatrist, I always see people at the end of the problem," she says. "Here, these (positive) traits are becoming embedded into the characters of these students."
Rishi, now 27, says volunteering during childhood helps develop the self-direction prized by millennials, a generation that seeks independence and ownership of their lives.
"I think the best thing about volunteering, especially as a kid, is it's very entrepreneurial," says Rishi, who founded New York-based Method Mill, which works with businesses to compile and analyze data. "It makes you deal with a lot of different people and things. I can say with certainty that the path I'm taking right now is very non-traditional. A lot of my friends, a lot of people that worked in Chess Without Borders, have taken a non-traditional career path. I would say that's a direct result of early volunteering."
Because he can do his work remotely, without being bound to an office, Rishi takes advantage of this mobility to visit home often – and remain active in Chess Without Borders.
But how does a chess club inspire kids to think of ways to help others?
Ethan Gagliano, 12, a participant in Chess Without Borders since he was 7, explains: "When Dr. Frey's around, we really get going and we get great ideas. You know how some kids do soccer all the time? We're thinking about fundraising and chess all the time."
Gagliano came up with the idea of asking family and friends to sponsor him at chess competitions. He challenged them to donate $5 to charity for each win, and soon collected $500.
Eleanore van Marwijk Kooy, 18, who joined Chess Without Borders at age 10, says it's been especially rewarding to help Meher over the years. Eleanore and other kids gave their own outgrown clothes to Meher and her classmates in India, and were thrilled to see them being worn in videos.
"It's been incredible to see that she's at the top of her class," says Eleanore. "We've marveled at her progress. I'm very passionate about volunteering now and I'll never lose that. I tell everyone, 'If you're not a mentor, become one.'"
"Once we had a consistent humanitarian venture to follow, the children got very motivated," says Frey. "It's been interesting to me to see how children build self-esteem and emotional intelligence through supporting philanthropy."
Rishi was originally inspired by another Daily Point of Light Award honoree, Samantha Oliver, who was recognized in 1999 and is from his hometown of Barrington, Illinois – a reminder that we should take the time to share the stories of those who are making a difference in their communities, because we never know when it will inspire someone else to make a difference as well.
National Volunteer Week is a time where we celebrate people who make an extraordinary impact through service and solve problems in their communities. Nominate an outstanding volunteer, family or organization as a Point of Light!
Share this post