Tired of Food Going to Waste, She Created an App So We Can Waste Less and Feed More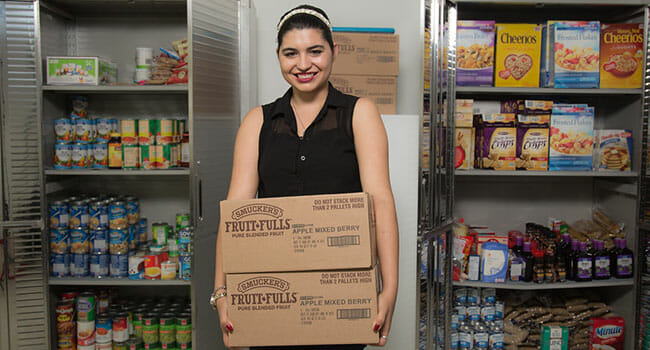 A food pantry volunteer since childhood in rural Iowa, Maria Rose Belding grew frustrated at the uneven nature of food donations. One day when Belding was 15, a well-intentioned donor gave her local food pantry a year's worth of macaroni and cheese. "They didn't ask us if we needed it," she said. "But they gave us 5 tons of it." After several months, clients at the food pantry were begging for something else, and after a year, the boxes were expiring. Belding was tasked with lugging the excess out in the snow to the dumpster. "As I did, I saw people outside, waiting in the cold for hours before we opened because they needed food so badly," says Belding. "I thought, there has to be a better way."
Belding says the need for food pantries across the United States is greater than ever. "Fifty million Americans used a food pantry last year," she says. Yet pantries and soup kitchens were forced to discard some $650 million of food. Belding conducted hundreds of informational interviews and found that people loved the concept of connecting with each other to make more efficient use of food, but no one knew how to accomplish that. Her phone calls uncovered an additional problem: directories of food banks provided by community health departments and social workers proved terribly out of date. "Half of the numbers were incorrect because nobody was updating them," Belding says.
She created the MEANS Database (Matching Excess And Need for Stability), an interactive website allows food pantries and kitchens to quickly coordinate exchanges of excess food items before those items spoil—getting it into the hands of hungry people instead of the trash.
Belding, now a 20-year-old student at American University in Washington, D.C., sought technology for her solution. She tapped other students, especially her friend Grant Nelson, 26, a law student skilled in computer coding, to build a website where retailers and donors can post whenever they have unneeded food. A pantry, soup kitchen or other emergency feeding system can instantly claim the donation. They're then given the contact information of the donor to arrange pickup.
Food pantries operate on a shoestring budget, so they often have older computers. To meet this need Belding and Nelson designed the program to be easily used on any system or smartphone. Alex Moore, chief development officer for DC Central Kitchen in Washington, says Belding's program puts unused food in the hands of food pantry staff already trained in safe handling and delivery.
"Previous attempts to coordinate distribution of unwanted food failed to solve the problem of who's going to get it," Moore says. "MEANS helps people who are donating to feel better, knowing it's going to be used well," he said. A secret among food banks all across the country is that too often food spoils before it can be distributed, he notes. "Everybody kept saying, 'If only there were an app for this."
MEANS has spread to 42 states and DC in just two years, representing more than 3,000 partner agencies. Those users served more than 69 million meals last year. The system is so efficient that it works for perishable as well as nonperishable foods.
"Because we're using the Internet, it's actually fast enough to move fresher and healthier food," says Belding. "If someone has extra bacon and eggs from a catering event, we can get those leftover bacon and eggs in the hands of homeless people who need it in less than 90 minutes."
Belding's enthusiasm for battling hunger proved contagious among others of her generation. Six more, all under the age of 26, work tirelessly to manage and improve the database. "Grant refuses to get paid," she says. "Our computer developers are willing to work for much, much less than their work is retailed at. Most programmers trained in the complex coding used by MEANS make at least $100 an hour; Our programmers are willing to work for $100, or sometimes even less, a week."
As a bonus, the MEANS Database is compiling an accurate directory of food pantries, designed to be updated regularly. "She's like a superhero, doing MEANS in her spare time, while also doing homework as a pre-med student," says Moore. "When she's not doing that, she's working at a camp for kids with diabetes, being a positive influence on their lives. She's basically the Peter Parker of fighting hunger."
Maria Rose Belding was also recognized by L'Oréal Paris and Points of Light as a 2015 Women of Worth honoree for her extraordinary efforts to cut down on food waste in the United States. If you know a woman who works to create lasting and significant change in her community, nominate her to be one of the 2016 Women of Worth.
Share this post