Chicago Woman Spreads Holiday Cheer Through Gift-Giving Program for Kids in Need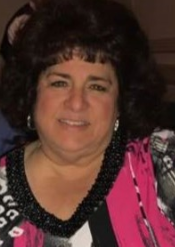 Rosanne Eiternick has dedicated the past 40 years of her life to service. She traces her passion for helping others back to watching out for her four younger brothers and their friends after the death of her father. "I was always the go-to. All the parents knew, if [the kids are] with Rosanne everything's okay. I was like the safe haven. I've just grown up my entire life doing that."
As an adult, Rosanne became involved in mentoring children after stepping in as a full-time coach at her children's school on Chicago's west side. Over fifteen years, her youth group grew to more than 250 children. But, after a move in the late 80s, her mentees dwindled from hundreds to ten students when she left the neighborhood and took a job overseeing a church youth group of high schoolers from more privileged backgrounds – far removed from the world of the lower-income kids she'd worked with before.
To teach the group about the importance of giving back, Rosanne invited a social worker to visit and share the challenges that abused kids face. "It's not that kids don't care, it's that kids aren't aware," said Rosanne. She prolonged the teachable moment by having the group "adopt" all of the kids on the social worker's caseload for Christmas, and Adopt-a-Kid was born.
Rosanne categorizes Adopt-A-Kid's work as an awareness program to show young people how they can positively impact other people's lives through acts of kindness. "The kids said 'There's nothing we can do, we can't change their lives,'" Rosanne recalled, "but I said no we can't change their lives but we can let them know somebody out there is thinking about them."
Now in its 28th year, the organization works with 15 agencies to source thousands of kids in need. Schools pick who they want to collect Christmas presents for—with choices running the gamut from organizations that service teen mothers, homeless shelters, prison ministries, and more. The gifts are screened and wrapped by children and teen volunteers, as well as adults and families, during Santa's Workshop weekend. In turn, each recipient receives two presents – one just for fun, and one practical item. Adopt-a-Kid services Chicago and Indiana, as well as some Native American reservations. Last year, 3,000 children received presents through the organization.
"If we can bring the awareness to [kids], it changes them. It has to. I've seen it. Others have seen it. You can't go backwards once you find out the truth," Rosanne said.
To find opportunities to give back in your community, visit All For Good.
Share this post