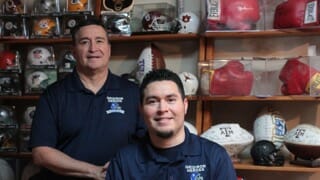 For a year after the accident that left him paralyzed in the final four minutes of his last regular season football game, Chris Canales struggled with a dark depression. "My whole life was about playing college football," he recalled. "It was a hard pill to swallow."
Then his dad took him to his first football game since the accident, Everman High School's bid for the Class 3A Division I state championship at the San Antonio Alamodome. During that game, he saw a player, Corey Fulbright, go down. "I said to my mom and dad, we have to do something, we have to help him and his family with what they're going to be dealing with," recalled Chris, now 32.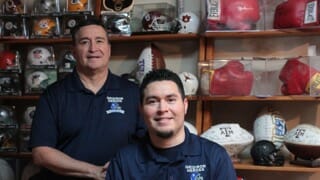 Eddie (L) and Chris (R) Canales
That shift in focus, from his own injury to the spinal injury suffered by another football player, was a turning point for Chris. It was also the genesis of The Gridiron Heroes Spinal Cord Injury Foundation, the non-profit Chris founded with his dad and caregiver, Eddie Canales.
"That first year was tough on all of us," recalled Eddie. "We'd almost lost Chris three times. We could see the depression taking over. All we could offer him is that if the lord wanted him by his side, he had three chances. He was still here for a reason. Being at that game and seeing Corey get hurt – that was the reason – to help him and his family. That's what the lord intended us to do."
It's been 14 years since that game changer for Chris. With the help of his grandfather, a retired grant writer, Gridiron Heroes was launched with $10,000 in funding. "And we've never looked back," said Eddie
Gridiron Heroes provides immediate as well as long-term resources and support to players struck down with a catastrophic spinal cord injury through activities associated with high school football. This outreach ranges from personally going to the hospital to be with the injured player and his family to providing wheelchair-accessible vans, organizing training clinics and lobbying for safer tackling techniques.
Loving the game of football isn't at cross-purposes with the work they do, explained Eddie. "We don't want to deter anyone who loves the game from playing football. There is a greater chance of being hurt in a car accident than on the football field – yet we don't keep our kids from driving. We just need to do a better job keeping the players safe on the field."
And just like on the battlefield, when a soldier's mission is to never leave a fallen comrade behind, these fallen athletes can't be forgotten, added Eddie.
"There's help for the first six months or so, but then it dwindles. Once high school is over, the families have to fight and scramble for everything they need."
To date, Gridiron Heroes has provided financial and moral support to 72 injured players around the country. Chris and Eddie drive to wherever they need to be to support the family and mentor the fallen athlete. They are always just a phone call away.
"Families need information, they need to prepare for the worst and be ready to help their son or daughter. It happens so fast. They get out of rehab and the caregivers have to deal with pressure sores and bladder control and where to get supplies. It doesn't sink in until you live it every day."
Connecting with other injured players was hard for Chris at first – "I would relive my injury all over again," he said. But as time went on, I stopped thinking about myself and started thinking about them."
Share this post