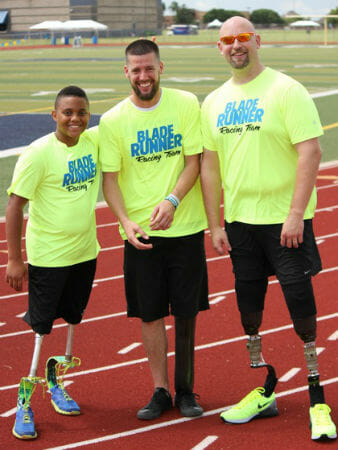 Meet Daily Point of Light Award honoree Amputee Blade Runners. Read the nonprofit's story and nominate an outstanding volunteer or organization as a Point of Light.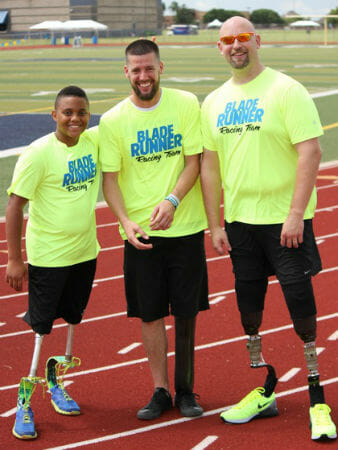 Ryan Fann, center, with other Amputee Blade Runners team members
When Ryan Fann was just 3, he lost his left leg after being hit by a truck while riding his Big Wheel tricycle. The accident didn't stop this determined little boy. By the time he was a teenager, he was playing high school football and competing in races.
But it wasn't until an interested coach and an anonymous benefactor outfitted him with a proper prosthesis designed for runners that Fann truly took off. The experience would lead him to co-found the nonprofit Amputee Blade Runners, which offers the same kind of help to other aspiring athletes.
"I had grown up using an everyday walking prosthetic (leg)," Fann, now 32, recalls. "It was all that our insurance covered, but I never let it slow me down. I attribute that to my parents, who always encouraged me to do the best I could."
The prime difference between walking and running prosthetic legs is that instead of cushiony "feet," the running version features blades that allow the user to spring with greater ease. After acquiring his advanced prosthesis, Fann went on to win medals and travel the world.
As his career as a professional runner wound down, Fann turned his attention to the field of prostheses. While finishing his coursework at Tennessee State University, he applied for an internship at The Surgical Clinic, a physicians' network in Nashville.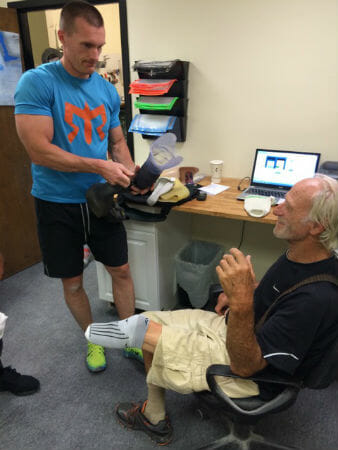 Aaron Fitzsimmons, left, does a prosthetic leg fitting for a team member from Amputee Blade Runners.
There, he impressed Aaron Fitzsimmons, the partner in charge of prostheses.
"Meeting Ryan opened my eyes to the opportunities that could unfold when someone was provided with a $5,000 piece of equipment that he couldn't otherwise afford," Fitzsimmons says.
Fitzsimmons notes that the cause behind about 80 percent of amputations is diabetes or vascular disease, and that about three-quarters of the patients affected are older than 65.
"People in Ryan's position, who are young and especially athletic and active, represent a very small percentage of the amputee population," he says.
With demand being relatively low, running prosthetics are much more expensive. And because they're not deemed medically necessary, they're not covered by insurance.
Fann and Fitzsimmons decided to get prosthetic running legs to those in need. They started with the people who came to the clinic, later creating a website so those elsewhere could apply.
Amputee Blade Runners has supported about 80 runners and introduced new products along the way. It designed a slip-on shell that covers the running blade for a young boy who had also lost his hands and couldn't use the wrench normally needed to affix the blade.
For kids who also want to play football or volleyball, it developed prostheses that resemble the standard footwear used in those sports.
Meanwhile, the organization is developing a support network around the country – so far it has outfitted athletes, who now serve as ambassadors, in 24 states.
"The young athletes that we've worked with can provide the inspiration and guidance to help others reach their goals," Fitzsimmons. "That's the real value in what we do."
Share this post