College Baseball Athlete Hangs Up His Cleats to Offer Hope to Brain Tumor Patients and Their Families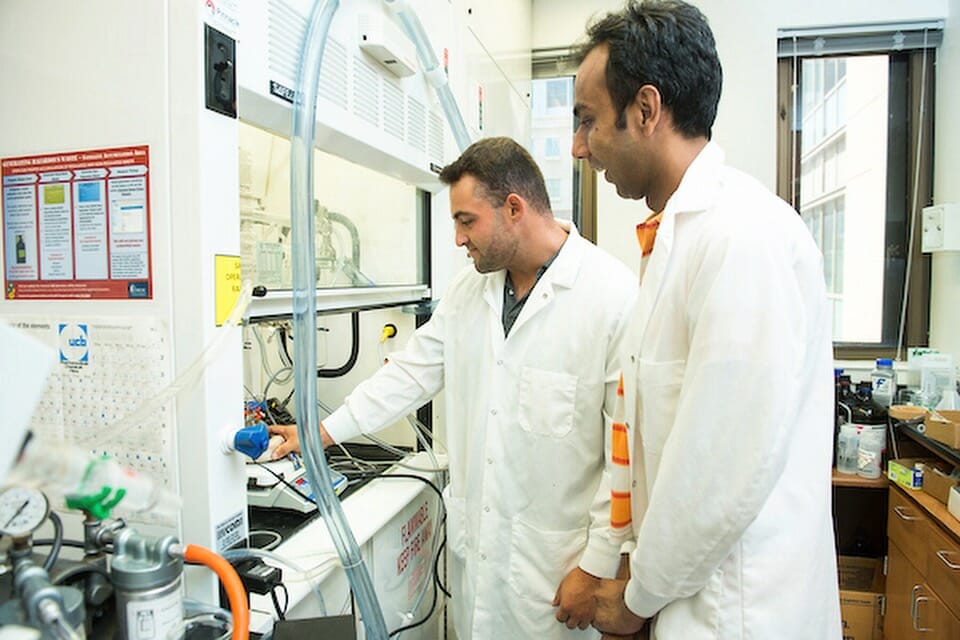 As a young boy, Stephen Frederico had dreams of being a major league baseball player. He was moving closer toward his goal when he arrived at the College of Charleston as a member of the baseball team. But, he wasn't completely satisfied.
He always had a love for science, but never felt very good at it. He decided to switch gears and major in biochemistry. Now, he spends countless volunteer hours in a Medical University of South Carolina lab researching treatments for brain tumors, as a way to give patients and their families hope.
In addition to his volunteer work at MUSC, Stephen delivers leftover baked pretzels from a local restaurant to Charleston's homeless. He walks approximately five miles passing out food to the hungry a couple times a week. He not only passes out the food, but he also has developed relationships, as he spends time talking to and getting to know them on a more personal level.
Describe your volunteer role with Medical University of South Carolina.
My volunteer role at Medical University of South Carolina is in the lab researching drug treatments for brain tumors. I am responsible for conducting experimental research that could extend the lives of patients with glioblastoma, a type of brain cancer. Currently, life expectancy with this type of cancer is 12 to 15 months.
What inspired you to volunteer at Medical University of South Carolina?
I went to the Medical University of South Carolina and bounced around different labs. It was when I met with a pediatric neuro-oncologist and witnessed her working with brain tumors that I saw how horrible a disease it is. I wanted to get in a laboratory and help. I bonded with a patient who was given about a year to live. When I first met her, she was six years old and was able to walk and talk. Through the progression of the disease, I watched her go from having the ability to walk — to a walker — to a wheelchair. Seeing her struggle and losing her made me decide volunteering with a focus on brain cancer was where I wanted to invest my time.
Why do you think it's important for others to give back?
We are making major strides in medicine. In order to continue to make progress, we need more people working to make it happen. Volunteers help push projects forward. Without volunteers, we wouldn't be where we are today.
What's been the most rewarding part of your work?
It is rewarding to go to the clinic and share with families that they are not alone. It is rewarding to share with them the research going on in the laboratory and the progress that is being made. By no means is there a cure, but you can give them hope. Giving families comfort and putting smiles on their faces is rewarding.
What have you learned through your experiences as a volunteer?
When you are first starting out, be prepared to be wrong and fail. That is how you learn. There is going to be great amount of sacrifice, but the reward is completely worth it.
Are there any future partnerships, programs, or events that you are excited about?
I will be doing a research internship at Duke University in the department of neurosurgery on the use of immunotherapy to treat different tumors.
What do you want people to learn from your story?
I want students to know that just because you come to college with one idea of what you want to do with the rest of your life, be open to opportunities. My dream was to play major league baseball and now I am working in a science laboratory. Don't be closed off.
In addition to your volunteer work at MUSC, you also deliver baked goods to the homeless in Charleston. How did you come up with this idea?
I have a friend who makes delicious pretzel rolls at a restaurant in Charleston. Every night they were throwing away the leftovers. There are a lot of homeless people in Charleston who can't afford food. I asked my friend — instead of getting rid of the pretzels that would have otherwise been thrown out, if I could distribute them to the needy? Now, twice a week, I walk five miles delivering 60 to 70 pretzels to Charleston's homeless.
How has delivering pretzels to the homeless impacted you?
The best part is talking to and listening to their stories. It is not just about the food. They are grateful someone cares and is listening to what they are going through. I have made a lot of new friends. Many of these people sit out there every day and no one stops to talk, no one cares. It helps them to have a conversation and have someone see how they are doing.
Do you want to make a difference in your community like Stephen? Visit All For Good to find local volunteer opportunities.
Share this post