Youth Group Leader Notices Hungry Teens; Leads Her to Create Mobile Food Distribution Program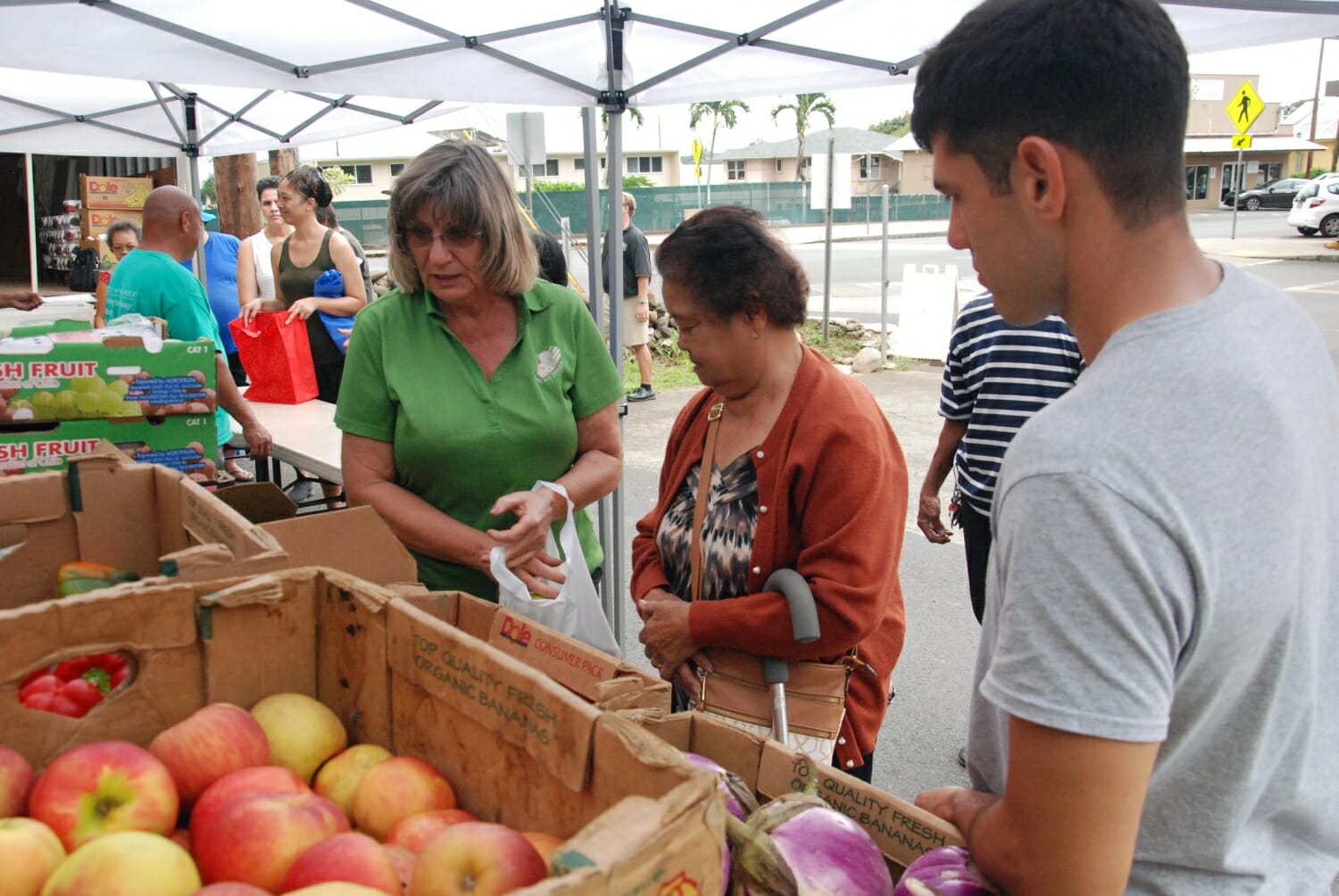 As a youth group leader in 1999, Joyce Kawakami noticed teens were coming to her youth group who were not getting enough to eat. Joyce grew up in poverty herself, so she knew she needed to help.
Every week, she would bring groceries for the teenagers to take home. As an advocate for healthy eating, she wanted to make sure they had enough nutritious foods that would keep them healthy and growing.
Word quickly spread and others started asking Joyce for help. She couldn't just turn her back, so she started finding other resources to help provide food. This developed into a regular food distribution process out of the trunk of her car. Joyce's work eventually led her to start the nonprofit, Feed My Sheep, a mobile food distribution program in the Maui area.
Now 19 years later, Feed My Sheep is a coalition of church congregations, collaborating ministries and corporate sponsors providing 69,000 half-pound meals each month. In the past year, it has given food to 3,200 people including low-income families, seniors on fixed incomes and homeless men and women. Joyce and the Feed My Sheep volunteers also offer emotional support through prayer and listening.
We caught up with Joyce to learn more about her experience as a volunteer and why she thinks it is important for others to give back.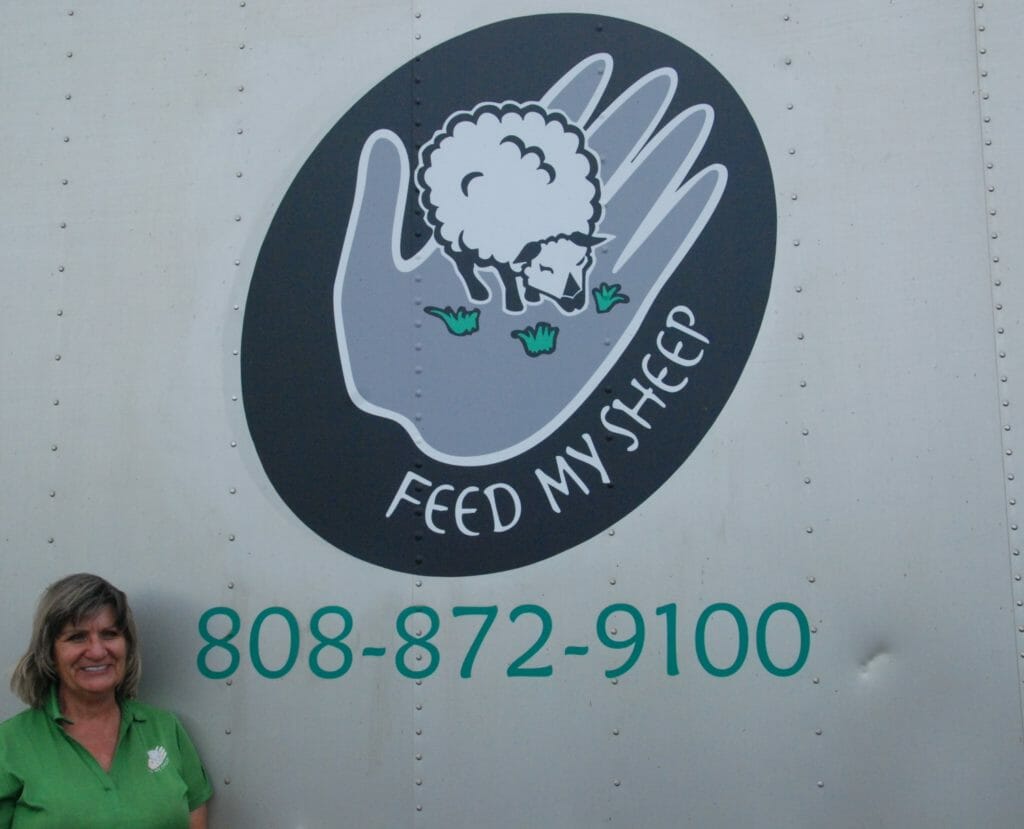 What inspired you to volunteer?
I was a youth group leader 19 years ago and had kids coming to my group who I know weren't getting enough food. I wanted to provide them with healthy nourishment to help them thrive. I knew if I didn't do it, they wouldn't survive. I couldn't ignore the problem.
Describe your volunteer role with Feed My Sheep.
I work as the executive director at Feed My Sheep. My role is to find the funding and resources to fulfill our mission. I find the farms and the produce, so we have nutritious meals to supply our families. I manage the volunteers and I also write and allocate the grants. At the end of the day, I am the final authority and act as the chief executive officer.
Why do you think it's important for others to give back?
I've never thought about it as giving back, it all just fell into place. I know there would be people suffering if we didn't have Feed My Sheep. I don't get a salary or a benefits package, but my reward is far greater than that. When you look at the faces of those you are helping — getting the hugs — that is our reward. Each person who comes to Feed My Sheep becomes a part of our family and our community.
What's been the most rewarding part of your work?
The most rewarding part of our work is knowing the people we serve are thriving and doing better. We frequently conduct surveys to test the Feed My Sheep program. Our survey results show when people get enough food, their health improves. We want them to get healthy to stay in school or hold down a job, and that is what is happening. Our friends who come to Feed My Sheep feel loved. They are doing better because we are there.
What have you learned through your experiences as a volunteer?
There is more value to human existence than making a living and paying your bills. We pray for people's spiritual connection. At Feed My Sheep, we don't have clients, we have friends. We know everyone by name. We know their kids and we know what is going on in their lives.
Are there any future partnerships, programs, or events that you are excited about?
When Hawaiian Commercial and Sugar CO. (HC&S), the last sugar cane plantation in Hawaii, owned by Alexander and Baldwin closed down, they donated 7.5 acres as the future home of our warehouse, office space and farm. They have been our landlords since 2005 in our current location and have never charged us rent. At present, we work out of shipping containers and trucks. Our immediate plans are to fix and repair the old buildings on the land. The farming will include aquaponics, fruit trees and a chicken farm for eggs.
What do you want people to learn from your story?
The rewards of volunteering are greater than you can imagine. Step up and reap those rewards.
What is a favorite memory with Feed My Sheep?
A memory that stands out is a homeless man, Johnny, who came to get food supplies weekly. He was malnourished, grumpy and a little scary. He only wanted candy, treats and snacks. In 2012, we started pushing healthier food options for him and Johnny wasn't happy about it. He decided he would stop coming because he didn't like the food we were offering. But, after a short time he returned because he was hungry and needed something even if it wasn't what he wanted. He started consuming the healthier options, which was mostly fresh produce and was surprised by how much better he started feeling once he was getting the nutrients he needed. He improved so much, it wasn't long before he was able to hold down a job. I still remember when he came in and said thank-you, gave me a hug and told me he didn't need to come anymore because he was working and living in a home.
This post was written by Karen Cohen.
Do you want to make a difference like Joyce? Check out All For Good for local volunteer opportunities.
Share this post