College Junior Transforms His Lived Experience Into Volunteerism at Free Medical Clinic
Meet Daily Point of Light Award honoree Bill Young. Read his story and nominate an outstanding volunteer or family as a Daily Point of Light.  
Bill Young, a junior at the University of Washington, has volunteered with the Puget Sound Lahai Network of Free Medical Clinics for the past two years. He has served in roles from front desk volunteer to patient navigator to Certified Nursing Assistant (CNA).  
In each role, Bill strives to provide the best care experience possible, even if that means spending extra time brewing fresh coffee for a patient in the waiting room or getting to the site early to help the clinic set up. He is an advocate for patients, whether it is following up on a social need that ancillary staff and resources can help with or speaking up for an alternative way to make a patient more comfortable. 
Read more about Bill's journey and what drives him to deliver the best-quality care he can. 
Describe your volunteer role with Puget Sound Lahai Network of Free Medical Clinics. 
The Puget Sound Lahai network of Free Medical Clinics is a free health clinic for patients unable to afford healthcare. I've been able to serve in a lot of different roles. I was a receptionist and worked at the front desk, managing intake. Then I started as a CNA, helping out physicians, taking patients' vitals, etc. A couple of months ago, I was trained as a scribe, so I've been able to see what's occurred during each visit.  
What inspires you to volunteer?
For me, it's just being able to help those in my community. I grew up coming from a disadvantaged background, so I've seen a lot of the same disparities in healthcare access. I see similarities between my stories and my patients' stories, and that's been a powerful motivator for my volunteering. That's a big reason why I continue: I see myself in these patients as if they were a mirror. I can help families like my own.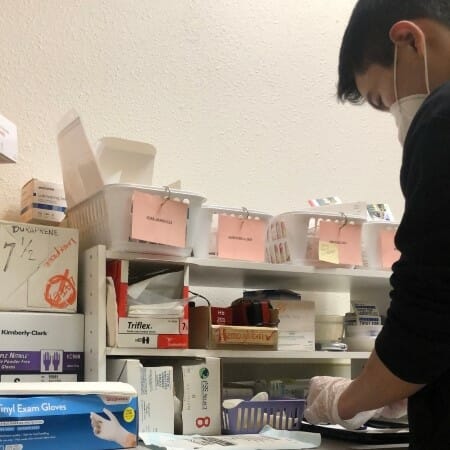 What's been the most rewarding part of your work?
The most rewarding part is being able to meet my patients where they are and fulfill unmet needs in my community. Whether it's something as simple as a prescription and seeing the relief on their faces when I can get them a discount – which happens nearly every visit – or even sometimes free supplies, like a glucose test strip or glucose monitor… this is something that's very rewarding. Being part of that change in my community and seeing those needs met.
What's your favorite part of medicine?
I really like primary care. That's something I see a lot of in my experiences. Growing up, I wasn't always able to have a wellness visit., so I always felt a little disconnected from primary care. But then I started shadowing primary care physicians, and I kind of fell in love with it.  
I think primary care offers a really unique aspect of long-term care. You get to build relationships with your patients over time, and it's unique in that it's the first line of defense in medicine. You get to meet patients on a regular basis, and when something goes wrong, you're the first one they reach out to in a time of need. 
What have you learned through your experiences?
I think I went into it just thinking the role I had would be very minimal, that I wouldn't have much interaction with patients. But being able to work as a receptionist was one of the most rewarding parts of my experience because I got to talk to patients, learn about their stories, learn about the patient populations I was working with.  
This has been an important role in my evolution of volunteering, as I've been able to immerse myself in the stories of my patients. It was eye-opening for me because I never would have expected I'd gain that level of patient interaction and understanding. 
Why do you think it's important for others to get involved with causes they care about? 
I think for me, a big part of it is part of a learning journey, encouraging myself to step outside my comfort zones in my passions. I went into volunteering with a view of quality care as comprehensive, thorough care. But as I volunteered at the clinic and shadowed physicians, I saw that care doesn't just involve comprehensive care, but really taking into account every single part of the patient, whether it's their living situation, what's going on in their household… whether it's social, emotional, mental, I saw how physicians could integrate every aspect of this into a very holistic delivery.  
So that transformed my understanding of what it means to provide quality care. Experiences like volunteering can expand and broaden your understanding and perspectives of your passions; for me that's been a shift in my perspective of quality healthcare. 
Are there any future partnerships, programs or events that you are excited about?
The clinic is open almost all the time, even throughout COVID, which was unique for a free clinic. For any patients who are under-insured or uninsured, at or below the 300% poverty level, we're open to all.  
Do you want to make a difference in your community like Bill? Find local volunteer opportunities.  
Share this post