Youth Helping Youth Toward a Better Future
Meet Daily Point of Light Award honoree Aarushi Gupta. Read her story and nominate an outstanding volunteer or family as a Daily Point of Light. 
12-year-old Aarushi Gupta is passionate about education and aspires to study Artificial Intelligence and become a software engineer. The Pleasanton, California student is already leveraging her passion for learning to make a difference in the lives of her fellow students as volunteer President and Co-Director of Operations and tutor with Edutine, a nonprofit tutoring organization that has reached over 650 students since 2020. 
What inspires you to volunteer?
Staying connected with my community is a critical reason why I am inspired to volunteer. I am connected with other people to reach a goal, which in turn forms connections with the community. 
As a student myself, I feel like I have gained more knowledge when I am tutoring another student. When I am tutoring, I am repeating the same information again, which helps my personal knowledge grow.  
Not just that, volunteering as a staff member and a tutor has helped me with my organizational skills and lesson planning. 
Describe your volunteer role with Edutine.
Founded in 2020 during the pandemic by Parul Gupta, Edutine is a 501(c)3 tutoring organization that provides free tutoring for students K-12; sometimes even college students.  
Tutors are primarily high-school students that have excelled in the subject. We do have a few middle-school tutors that assist in tutoring elementary students. We train all of our tutors, so they know how the process works. As of this date, we have over 650 students and 50+ tutors. As a team, we have collected over 8,000 hours.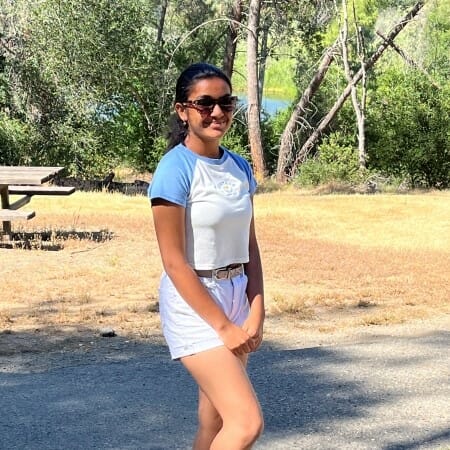 At Edutine, I am the President and Co-Director of Operations. I am also an Edutine tutor. In my role, I make sure that things are going smoothly, and both our tutors and students have a good experience. Along with that, I hire new tutors and staff and build the Edutine team, making it even stronger. I also assist tutors in earning volunteer awards and meeting their goals.
What's been the most rewarding part of your work?
The most rewarding part of my work is when a student has mastered a concept they were struggling with earlier. I feel appreciated when that happens, and I am sure other tutors do as well! Seeing a smile on your student's face is one of the most important goals for tutors, as we want our students to improve in the subject, but also not stress.  
Another rewarding part of my work has been completing our Edutine team goal of reaching 8,000 volunteer hours. We completed this goal a couple of months ago, and we are proud of all of our tutors and staff members for contributing to the community. 
I have conducted webinars and created group classes for students. Seeing the smiles on young faces, the happiness of the parents and the rewarding experience for our tutors and staff, makes me want to continue helping our community! 
What have you learned through your experiences as a volunteer?
As a tutor at Edutine, I have learned to be patient and sympathetic. At the beginning of my tutor journey, I used to get frustrated when my student would not get something correct. However, that student was only in third grade and I knew they were giving their best effort.  
As a staff member, I have learned how to deal with scenarios where the student and tutor may have an argument, or when the parent is frustrated with the tutor. 
Are there any future partnerships, programs or events that you are excited about?
I am excited about connecting Edutine with guest speakers who will motivate our students and give students advice on their future careers. This could also help the students be less stressed about school or their personal life, as they will be receiving advice to help their future endeavors.  
I am also planning an e-party celebration for Edutine's three year anniversary in April to celebrate our achievements.   
Why do you think it's important for others to get involved?  
I think it is important because it makes them have a stronger connection with their community, and know their community better.  
As a volunteer at Edutine, I meet many students, parents and tutors on a daily basis and assist them with their needs.  
Giving back to the community is also a form of kindness by making the word a better place. Not just does it make the world better, but it makes you a better person too. A simple act of kindness can make one feel so much happier and more confident.  
What do you want people to learn from your story?
I want other people to learn that when one is learning something, they do not get it on their first try. Practicing it and reinforcing the concept will help them make it stronger. For example, in the beginning, when I was learning how to be a tutor, I was learning to be sympathetic toward my students as they were struggling with understanding a concept. From a student's perspective, learning how to read takes time and practice; it was hard for us too at one point! 
Do you want to make a difference in your community like Aarushi? Find local volunteer opportunities. 
Share this post