College Student Volunteers to Change World through Peer-to-Peer Virtual Education
Meet Daily Point of Light Award honoree Divya Rath. Read her story and nominate an outstanding volunteer or family as a Daily Point of Light.
Millions sickened. Hundreds of thousands dead. While experts scramble for solutions to stem the spread of the COVID-19 pandemic, Divya Rath says the burgeoning health crisis points to the importance of greater access to education worldwide.
"Because of the pandemic, we see how important it is to have a strong knowledge base," says Divya. "Everyone from leading world experts to really well-educated scientists and humanitarian scholars are trying to come together and solve this problem. Through education, maybe you can help contribute to solving world problems."
What gives the 19-year-old Jasper, Texas teen hope? The growing numbers of students seeking access to resources she and her two sisters are making available, as the three teach children around the world.
As co-founders of Global Guru, Divya and her two younger sisters are helping K-12 students receive free virtual tutoring from peer tutors aged 13 and older in subjects ranging from math to French. The college junior says their volunteerism was inspired by her youngest sister, Krisha, who first started tutoring children in their neighborhood.
Discovering the limits of in-person tutoring because of time constraints, Divya, also the CEO of Global Guru, says the three, all 18 and under at the time, joined forces for good, starting with that one student, and growing from there. Since 2019, Global Guru has connected with hundreds of students in the United States and internationally through peer-to-peer online tutoring, making education more accessible, one student at a time.
"I envision the future of educational accessibility as one where students not only have access to supplemental education services, such as tutoring, mentorship and more, at the tip of their fingers, but also as one where they have access to the technology needed to utilize these resources. Our efforts are almost meaningless if students aren't able to use the services we aim to provide," Divya says.
Global Guru is upending the traditional model of supplemental education, where access to high-quality learning was guided by expert availability, cost and complementary resources. Global Guru is picking up where school classes leave off for the day, says Divya, as they support students to ensure they establish good study habits and build a strong academic foundation, which positively impacts their future higher education, job prospects and career success. Divya says her volunteerism is based in experience, as she struggled as a student herself to find an affordable STEM tutor.
"I decided if I was having this difficulty in college, I couldn't imagine what other students were going through. If we can help provide supplementary education to people who lack access starting from high school, we are bridging the gap in terms of education inaccessibility starting from a younger age."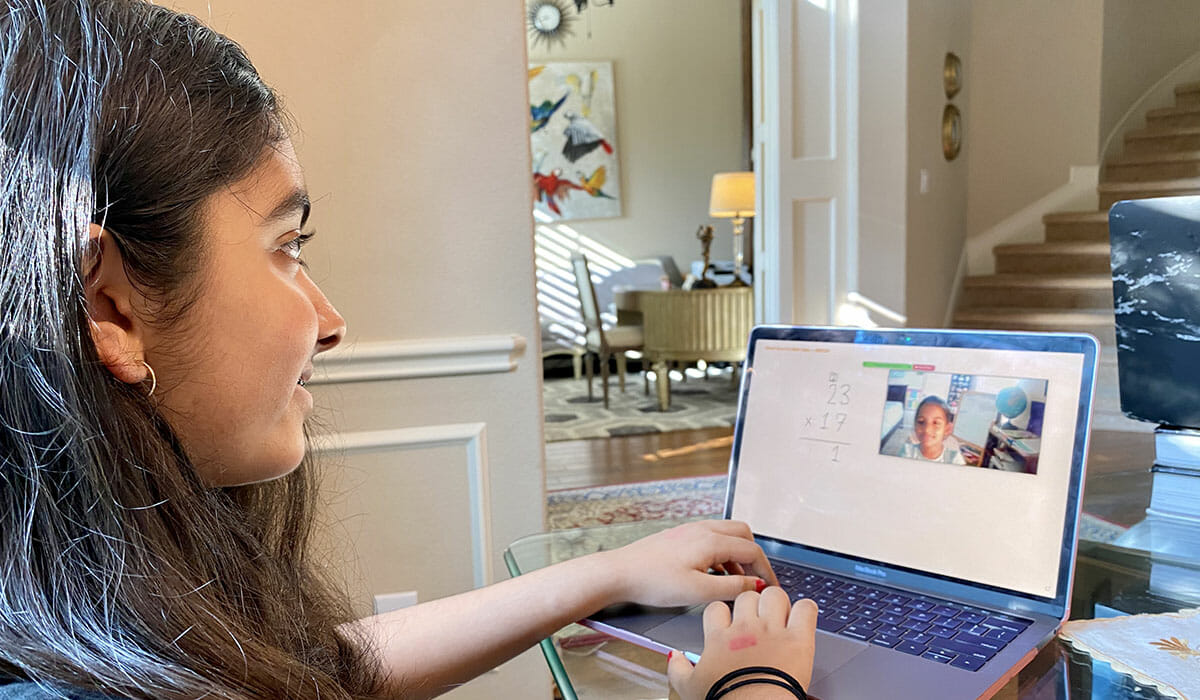 That impact of targeted skilled human interaction through an online learning network, says 14-year-old Global Guru volunteer Shilpi Bardhan, where any child can receive personalized online tutoring from a peer who is matched to them based upon subject preference and time zone, is making a difference for students who may need extra attention in a specific course. Counting close to 125 high school and college student volunteers amongst its Global Guru ranks, and student participants from rural India, China, Australia, Canada, South Korea, and ten states in the U.S., Shilpi, an Oklahoma resident, says Divya's commitment to providing free education to students is unwavering.
"Divya is very kind, caring and very determined. When we need to offer a specific program, she gets on it, tells us what we need to do and how we need to achieve it. Her effort has created a wonderful program that provides one-on-one tutoring for students, where the tutor is able to teach a subject they like."
The joy of watching learning in action is what powers Divya's service. "I'm tutoring a first grader now," says Divya. "They're very vocal about when they don't understand something. You can see on their face when (the concept) doesn't make sense. You come back and revisit that topic after you break it down step-by-step. They'll throw their hands up, their eyes get really wide. They'll say, 'Oh, I got it! I got it, this makes sense to me.' It's great to see the little gears in their heads start to turn. Even if it's just one vocabulary word, or one simple addition problem, you know you helped them with an idea they'll carry with them for the rest of their life.
Recently raising more than $1,000 in conjunction with CGI-U, Global Guru participated in a GoFundMe challenge to fundraise in order to expand their student outreach initiatives, finance their current premium Zoom accounts, and build their own tutoring platform through Amazon Web Services. Since the start of the pandemic, Global Guru's enrollment numbers have exploded, Divya explains, due to shuttered after-school resources and tutoring that would ordinarily be offered. Additionally, the sisters are preparing for a future where education may remain virtual, which makes their mission even more critical.
"We have a hand in helping to raise the future generation of world leaders. It's important to recognize that not everyone starts off on the same level playing field. I'm lucky to have parents who emphasized that education is important, and they helped me pursue that education. We are able to help, so it's just common sense that we should make sure everyone has the same opportunities we do. If we can help even one child to succeed academically, that one person could help us change tomorrow. It might be a really small contribution but at the end of the day, we're all trying to succeed."
Do you want to make a difference in your community like Divya Rath? Find local volunteer opportunities.
Share this post