Colorado Senior Ensures Teen Moms Have the Best Chance at a Bright Future
Betty Haligas isn't your average 87-year-old. For over 15 years, Betty has volunteered with the Hope House of Colorado, an organization that provides free programs to teen moms who are homeless or living in unsafe environments. They provide housing, GED, college and career programs so these young mothers have the best chance at leading a self-sufficient life for them and their children.
Betty was never in that kind of circumstance when she was a teenager, but she says that when she read the bios of these teen moms, her heart went out to them.
"I couldn't fault them from the backgrounds they came from, from the home life they came from, from drugs, abusive homes," Betty said. "One of them I read was living in a dumpster, close to a dumpster as a child."
Betty drives in every week and does whatever task is needed at Hope House, whether it's sorting through donations, sending out thank you notes, taking out the trash, or office work. She never misses a major event and even walked across the finish line in the organization's annual 5K last year.
But the task that lets Betty really connect with the teen moms is when she gets to take them out shopping for professional clothes so that they would be well-dressed for job interviews.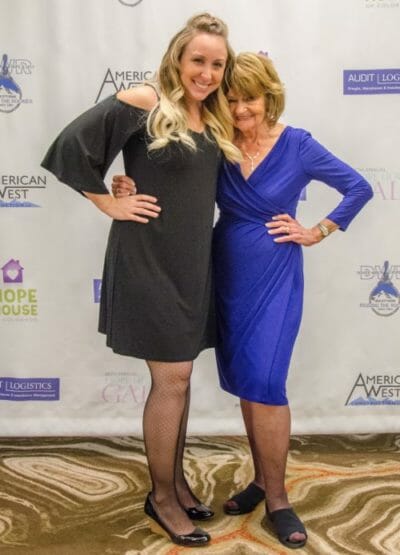 Ariel is one of these girls that Betty took out shopping, not for a professional suit, but for shoes that she could wear to the annual gala held by Hope House. Through that shopping experience, Betty was able to get close to Ariel.
Ariel dropped out of high school after her daughter came into her life, but through Hope House, Ariel received her GED. Now, she has a professional job, a car, and her own apartment. Betty and Ariel keep in touch.
"It's good to know success stories," Betty said. "It makes you feel very good that you're involved, that you're a part of it."
Betty says that it is her Christian faith that inspires her to volunteer at Hope House and now she's inspired her entire family to help support the cause. One of her grandsons is the organization's financial director, and her two daughters and son all support Hope House financially.
Hope House will be opening a new resource center soon and Betty is excited that it will allow them to triple the number of teen moms they serve each year.
Betty's humility leads her to believe that she is undeserving of this award, but if there is one thing she wants others to learn from her story it is "not to judge others and their circumstances" and to "be grateful for my blessings."
Do you want to make a difference in your community like Betty? Click here for local volunteer opportunities.
Share this post