South Carolina Couple Brings Joy and Support to Hospice Patients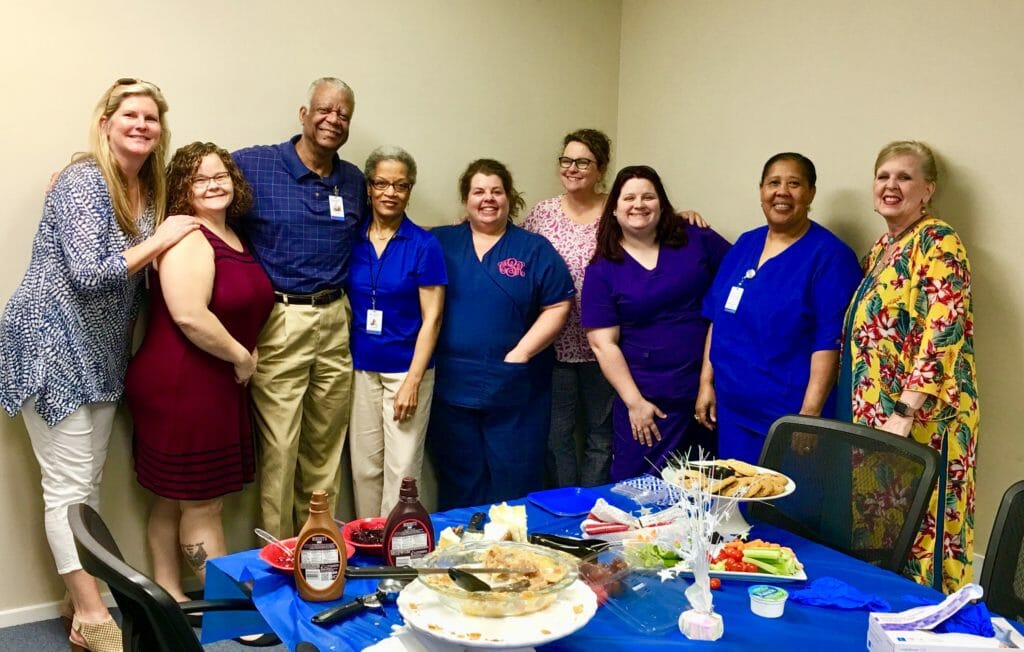 Paulette and Gene Owens first moved to South Carolina sixteen years ago, knowing no one in the area. But the couple quickly immersed themselves into their community, actively participating in their church and leading a grief ministry together. They said this naturally led to them volunteering for Encompass Hospice, beginning about five years ago. Paulette and Gene travel to the homes or nursing homes of patients nearing the end of their life to spend time with them and offer a relief to any caregivers the patient may have. The goal is to support the families of the clients as well as offer comfort, support and companionship to the clients themselves.
The couple meet with their clients once a twice a week, with Gene sometimes driving almost an hour away to meet with his. Gene has also set up a weekly bingo game at the nursing home where he visits his current patient, and helped to create a "Bingo Bucks" store where the patients playing can spend their winnings.
"We just think it's critical and it's important that we give to each other and care for each other," Gene said of their volunteer work.
For sharing their love and compassion with countless patients and families in need of support, Paulette and Gene are today's Daily Point of Light award recipients. Points of Light spoke with them to hear more about what they do with Encompass Hospice.
Describe your volunteer role with the Encompass Hospice.
Paulette: What I'm doing right now is going to a nursing home and visiting with a patient who turned 98 in April. I've been seeing her for over a year now. I basically am just sitting and talking and chatting with her and that's basically all we can do, we're not nurses or aides or anything like that, we're just volunteers. So we get to conversation and just chat and laugh a little. She has her good days and bad days. That's what I'm doing right now.
This one that I have right now is over at the nursing home, but we've gone to homes and sat with some, we've given respite for the caregiver so they can go out and do what they need to do and we sit with the client at the home. If they're talking to you, we'll talk, if not, we just make sure they're ok. I've had some that weren't really speaking or awake most of the time, so mostly just to sit and make sure everything is going ok so they won't be alone.
Gene: We've only had two cases where we've worked together. I got the first case, and it was a respite case, a lady with cancer. She was very heavily sedated but her son had quit his job and everything in Chicago and came back to Johnstown, South Carolina. I would go in and just relieve him, let him go. I would just sit with his mom. It's the first time we had ever worked in a nursing home. We have been around for quite some time because we started out with one company and its got purchased by another company and its gone through reorganizations and we've probably had five or six coordinators. We had just gone from [the patients'] home to home. You build relationships with the family, you're not only with the patient. I love that even now in the nursing home, we call [his patient] King Arthur. Arthur loves to say, 'Oh, my friend Gene is coming.' They look forward to you showing up. … They were playing bingo when I first got there and then they stopped playing, so I started I back up again, so it's not just the one client I go see. Now I see a whole bunch of them. Call them all over to bingo, they win a game and we pay them off in bingo bucks. They won the bingo bucks, but they had nothing to do with it, so people kind of fell off from that. So now I got them going again I have about ten plus folks coming back. They look forward to it on Thursdays when I roll them all up in wheelchairs. I talk with the company, and we've gotten to the point and now we're opening up a bingo bucks store and we're going to do that once a month. The employees have made contributions and the coordinator went out and got a whole bunch of stuff. We let them buy from toothpaste to combs, to brushes, mirrors, candy, cookies. Spend their bingo bucks on whatever, so it's kind of activated it all over again.
We do what we can do and it's kind of nice. I guess the families after awhile kind of suck us all in as being a part of the families. We have gone to several funerals and all, when our clients have passed. We're just there to support the family and help the transition and build relationships with those who are going through their last phases of life.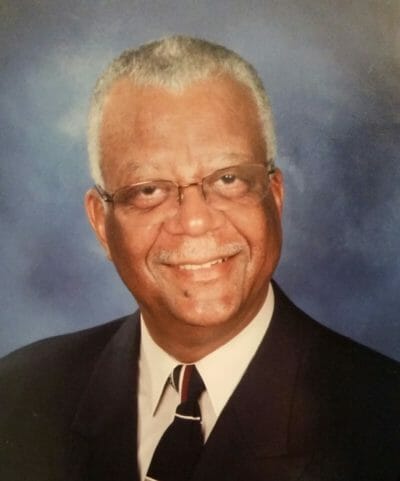 How and when did you first become involved with the hospice?
Gene: About five, six years ago. Paulette and I also co-lead the church's pastoral care or grief ministry. This just seemed like a natural take off from it. After the person dies, getting involved with helping to restore the family and getting them through, we help them with the funeral and arrangement and everything else. But now … the hospice allows us to be involved with the client, the people before they pass. So we become a part of the family and everybody looks forward to us coming in there. I guess we've been doing pastoral care at the grief ministry for our church since 2004. Then almost ten years later, you start it back up with the hospice. It just seemed so natural, like a natural extension.
Paulette: I think if we hadn't been doing the pastoral care at church, I probably wouldn't have even considered it, but that helped me to grow where I thought that I could handle being with someone that we know will ultimately pass and just try to make their time more comfortable and at ease.
How does it help those who are in their last stages of their life to have someone there to talk to and interact with them?
Gene: It takes them to a state of 'you know what, I'm going to be fine until I leave here.' … When their children come through, they're so effusive with thanks, but for the individual clients — Arthur says, 'Oh, my friend Gene is coming.' Everybody knows his friend Gene is coming, it's just the social event. It kind of distracts him from all the other thoughts. They're all on some kind of medication, they know their bodies are failing and not servicing them the way they used to. We do all kinds of things like reminisce with them. Paulette found Arthur's high school year book. He graduated the year we were born. So I just went through his yearbook, 'hey man, you know you were the most outstanding athlete?' It gives him a chance to relive, and it's conversations that folks probably wouldn't have with him. We talk about his military time, we talk about his children right down to his grandchildren. We just sit there and have general conversations with them, and sometimes we've heard the stories about six, seven, eight, nine, ten times…
Paulette: This lady that I have, I go there sometimes and she doesn't look like she wants to talk. The nurse will tell me, 'Oh, she's in a mood today,' stuff like that. I kind of tiptoe in and I can see she's looking kinda like maybe she doesn't want anybody there. But I talk with her sometimes and she starts to perk up and starts speaking and we talk about her family and when she was young. A lot of times lately, I noticed she doesn't realize she's in a nursing home because she got quiet and said, 'Oh, you're still here, you could go to the other room and lay down for a little bit if you want.' And I say, 'Oh, do you know where you are my dear?' First she said 'home,' and I say, 'Are you home?' She looks around and said, 'Oh, no I'm not, I guess you can't go down to the other room to lay down.' So she repeats herself a lot, but it's all new to me. Yesterday I was surprised, I told her a couple funny little stories about when I was young and doing crazy stuff, and we get talking about that and she'd giggle. Then we changed the subject and then a few minutes she starts giggling again and says 'Oh, I can just see you doing so and so,' because of what I had told her. It stayed on her mind somehow and she would go back to it and just laugh and laugh and laugh. And those times are really good. … She doesn't remember my name, but she said 'I knew my friend was going to come back and water my plants.' She has a plant that I bought her and the flowers are all gone but the greenery is really growing nice. She said, 'I knew you would be coming in to water and take care of my plant and it looks so beautiful.' She says, 'I may not go home but that's ok, that's alright.' So it's times like that where you enjoy the company and know that you were kinda helping them along. That's the kind of satisfaction I get from doing it. I know there's another one we talked about trying to do in the same facility but he was one who did not want anybody. I went in there and I said, 'How are you doing, I just thought I would come and check on you.' He said, 'I really don't want anybody here, I just want to be left alone so I can die, please go.' He wasn't really accepting the way he was then, and I believe he died a couple days later. It's bittersweet sometimes when you know you really can't help someone in that final stage of their life. But the rewards are greater.
Gene: We only knew [one patient] for less than a week. That was one we did jointly. … He ate all the spicy food, and then he would top it off with some ice cream and be like, 'You all want some of this? Just make yourself at home.' He was so funny. Then his sister and his wife and his children came in and we all stayed around and had a wonderful time with him. We told him we would see him the following week and then we got a phone call about three days later that he had passed. But I will never forget, his son followed us out to the car and he goes, 'Where do they find people like you?' He was just so happy we had given his dad a great time. It's not about them focusing on the end of life. There's a lot of good memories and a lot of good things we reminisce through and put them at ease and it's kinda like, I don't have to focus on death, I can focus on life. Let's talk about life and living and the lives we've lived. That's very different than being morose and focused and being like the gentleman you were talking about, Paulette, 'I don't want anybody, just let me die.' It doesn't seem quite right for the way to leave. We all know we're going to come to an end but folks are kind of giving us some comfort. And I guess still keep us connected because so often the family members are with the workers, all they ever see is a doctor or a nurse or an attendant, but where's the relationships? I think that's what we do.
What's been the most rewarding part of your work?
Paulette: Seeing that somebody who supposedly is getting ready to leave this world is able to smile and still relate to us in a positive way. This lady that I see right now is like, 'Yeah, God's will, whatever happens.' She would still be talking about going home to her house, which she'll never do, but she says 'That's ok, that's ok.' … So it's rewarding to know that they're coping. They're not just wanting to lay down and just die. They're living the best they can in the position they are in, and accepting visits and talking, and even if they don't want to talk, they'll listen.
Gene: It's like not being forgotten. And I'm sure in a lot of cases, family members are working. A lady, she's not even a client of ours, but she comes in and she asks me every week, 'Do you know my son? He teaches school.' And every week I have to say, 'No, ma'am, I don't think I know him.' … But I've never seen her son, and so many folks, you don't see their relatives very often. And most of the workers that come through don't have a lot of time to spend with them. … The difference is the relationships you build with not only the folks we go to be with, but their children and sometimes grandchildren. You build a relationship with them and it seems like they're even more relieved knowing that their parents, even when they passed, were feeling more fulfilled, not lost or destitute. It is surprising when you come and meet the family members and you know they've had a conversation about you, like 'You know my friend Gene who comes? He's a reverend.' It's just a relationship that they need, that I think everybody needs. You never want to feel alone. Especially at those moments.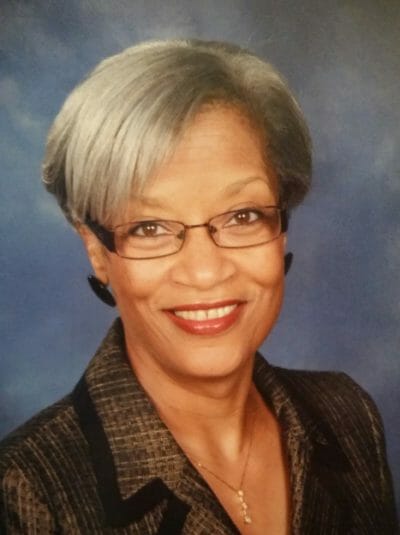 What do you want people to learn from your story?
Paulette: Learn that it's where your heart is, as far as trying to decide if you want to be in hospice or not. We think about one day we'll be there, one way or another. How would we want to be treated? Would we want someone who is willing to give up some time to sit with them and seems like they enjoy it? But we do need a lot more people to be able to do stuff like this. There are a lot of people that don't have family to come see them. If they are in a [nursing] home, they have their own little room and they may not be able to have company where they are. So I just want people to know that this is a need and they should search their hearts and see if this is something they can do.
Gene: Mine would be spiritual. Galatians 6:2 — 'Carry one another's burdens and in doing so, you will fulfill the law of Christ Jesus.' I know we get really involved in our own selves, but give, give to others. It just seems like a natural outreach. You hear stories enough about folks feeling destitute and left alone.
Paulette: And also being mistreated. Being mistreated because no one is there checking on them to make sure they're being treated well.
Why do you think it's important for others to give back to their community?
Gene: You just used the right word, community. [If] you're not giving back, what community is there? We're all individuals, we already knew that. But the fellowship, the giving back, is what binds and ties what's really called a community.
Paulette: 'I'm my brothers keeper' is another thing you hear. We are, and we should care for one another, giving back to the community and those in need. Some you may see often, some you may not, but you know that they're there. We need to let people know that we care about them. I think that would create a community of love which is needed so badly. With this technology stuff going on, we don't even look at one another passing on the street. We don't even converse with one another because we're so into the technology, the smart phones and all the stuff they have created right now. So it's a lot less community going on than ever before because of this technology. So it's really, really important we connect with one another.
Do you want to make a difference in your community like Paulette and Gene? Click here for local volunteer opportunities.
Share this post