Washington Woman Disrupts Service Dog Training to Improve Lives for Owner, Companion
A well-trained service dog can make a true difference in the life of a disabled individual, but according to Jennifer Kolar, there are too few service dogs available, lacking quality training, to serve the many who qualify under the Americans with Disabilities Act to obtain a certified assistance dog.
Co-founding Atlas Assistance Dogs in 2016, the 46-year-old Seattle, Washington resident helps individuals who want to play an active role in training their service dog, a four-legged friend who often becomes one of the most important partners in their lives. Working against challenges like waiting lists and too few resources, Jennifer assists clients, including military veterans, through training their own dog, teaching specific service dog skills to mitigate the client's disabilities and in the future hopes to gain accreditation through Assistance Dogs International (ADI).
Volunteering up to 20 hours each week to implement programs and operations that build critical relationships between disabled individuals and their service dogs, Jennifer is helping to transform lives through ethical, positive training of service dogs, and is today's Daily Point of Light award honoree. Points of Light spoke to Jennifer to learn more about her volunteerism with Atlas Assistance Dogs.
What inspires you to volunteer?
As children, we were always taking care of animals and working to support our neighbors. I've been a volunteer with many different organizations including literacy, STEM, education, animals, people with disabilities. It's part of what I believe in. I make my living doing something that I know does no harm, and then I feed my soul doing something I know makes the world a better place.
Describe your role with Atlas Assistance Dogs.
I am vice president and a founding board member at Atlas. Day to day, I recruit and motivate people as the chief trainer, working alongside our 58 volunteers. I am responsible for all curriculum development for clients, volunteers and trainers. I'm also responsible for all of our technology in the program.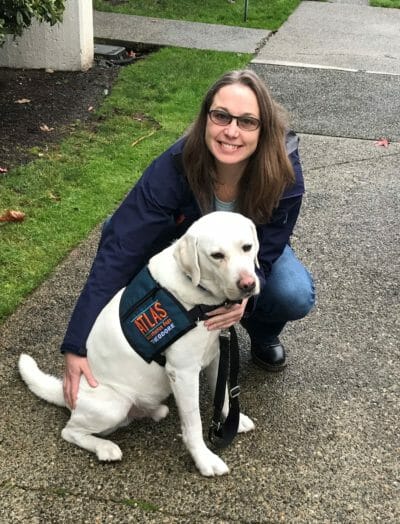 What's your life motto?
Do no harm.
What have you learned through your experiences as a volunteer?
It's really humbling to have the trust of these individuals, and to see how much they're willing to open up because of the relationship we're forming with them. People always think volunteers are giving so much, but we get so much back.
Share one personal story with me from your volunteerism.
My first client was a retired Army colonel who had served in Vietnam. He had suffered physical injuries and was exposed to Agent Orange. We've remained friends after I worked with him to train a dog, and the relationship we formed has opened my mind to the absolute intense power, resilience and determination that these military veterans with disabilities manage, and the stigmatism that exists in the military of having a psychiatric disability or PTSD.
Explain how volunteerism with service dogs makes you feel.
Within owner-based training, you're not just handing them a tool, you're helping them form a bond and partnership with the skills to carry forward on their own. One of the wonderful things about service dogs is that they're dogs. They're playful companions who are your teammates. It's the best friend that licks your face and plays ball. You can see the absolute joy and happiness in the training, reminding people that they get to play with and love their dog. It's great therapy.
What do you want people to learn from your story?
Disabilities aren't something to be ashamed of. Recognize that people don't live in spite of their disabilities, they thrive as a result of them. It's part of who they are. I'd like people to shift their notions and recognize how much strength we all have, collectively.
How can readers help?
Atlas Assistance Dogs will host a local event in October 2019, and we are continually fundraising through an ongoing CrowdRise campaign. Please check out our website for more information and how you can help: https://www.atlasdog.org/.
Do you want to make a difference in your community like Jennifer Kolar? Click here for local volunteer opportunities.
Share this post