Teen Tech Star Democratizes Technology for All Through Volunteerism
An emerging tech wiz, Zahra Baxi is sharing her passion with others in her community, committed to making technology more user-friendly and accessible to people of all ages.
Launching the Davis Teen Animators Club in 2016, the now 16-year-old Davis, California resident is teaching young children how to use their imaginations and make animation in simple ways, but her service doesn't stop there. Opening up a new world to many in her community, Zahra serves as a co-facilitator at the Davis Girls Who Code Club, a volunteer at Davis Media Access and a tech tutor at Connections Café at the Davis Senior Center.
Identifying and developing ways to make it easier for people of ages to use technology effectively, Zahra is using her skills to enhance the lives of others, and is today's Daily Point of Light award honoree. Points of Light spoke to Zahra to learn more about her volunteerism.
Describe your role with Davis Teen Animators Club.
I'm the founder and president of the club, which is for local teens. I develop the curriculum, run workshops, and help participants submit to nearby competitions to improve their skills. I've volunteered hundreds of hours to the club, where we've assisted a couple dozen teens to help them work with media and technology. The Davis Teen Animators Club is operated through Davis Media Access, where I've also volunteered as a teaching assistant at their Summer Youth Media Camps.
What's your life motto?
'Don't give up.' Before committing to this volunteerism, if I got into a corner that I didn't know how to get out of, I used to stop and give up. Now with the skills I've acquired, I've learned to keep on going and trying, a spirit exemplified through my volunteerism. For example, as a co-facilitator for the Davis Girls Who Code Club, I'm teaching groups of elementary school girls how to code, and encouraging the expansion of a field that has historically been male-dominated.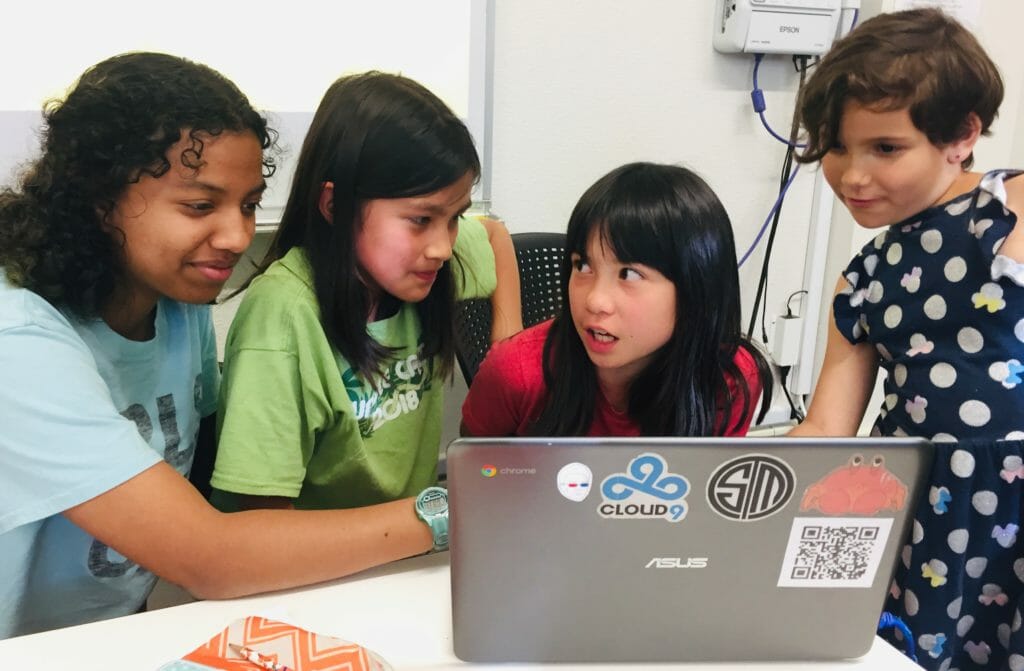 What have you learned through your experiences as a volunteer?
I have learned how to interact with different types of people and learn new skills. I'm also proud that I'm able to teach someone something new, because they're receiving information they need.
Share one personal story with me from your volunteerism.
I'm a tech tutor at Connections Café at the Davis Senior Center, where I assist seniors in understanding technology, mobile devices, social media, and basic internet safety. I've been able to help over 100 seniors as a tech tutor thus far. One time a woman came up to me, she had a brand new device, but had no idea how to use it. Each time I volunteered at the senior center, we'd sit down together, and I helped teach her how to use the device. She told the organization that I was a 'life saver'. I felt happy that someone thought I was helping them in a really positive way.
How do you spend your free time when you're not busy with school or volunteering?
I like to draw, I also take photos. I work with my hands a lot and create things for myself or for friends. I also like to travel to new places with my family. I also like to code, and create my own websites. One day, I hope to pursue a career that revolves around digital media, web, graphic or video game design.
What do you want people to learn from your story?
You don't have to volunteer with an already existing, established organization. You can give back in your own community in a way that you feel passionate about. As a teen, I didn't want to just follow what everyone else did. I was able to find my own way to give back, in a really meaningful way.
How can readers help?
Please check the Davis Media Access website for more information about how you can help, and get involved: https://davismedia.org/.
Do you want to make a difference in your community like Zahra Baxi? Click here for local volunteer opportunities.
Share this post