Changing Babies and Changing Lives, Washington D.C. Woman Helps Families Thrive Through Diaper Donations
As an ambassador and advocate for the Greater DC Diaper Bank, Rachel Vladimer helps to provide diapers to families that need them most.
Through the Greater DC Diaper Bank, an average of 175,000 diapers are distributed to 4,000 families each month via social service organizations throughout Washington, D.C., Maryland and Virginia, and Rachel's volunteerism is a vital part of that effort. Serving as a leader for volunteer efforts in addition to designating her home as a diaper drop-off site, Rachel, who works full-time in the financial industry, dedicates up to ten hours each month to benefit infants, babies and families in need.
Providing families with essentials to thrive, Rachel is changing babies and changing lives, and is today's Daily Point of Light award honoree. Points of Light spoke to Rachel to learn more about her volunteerism.
What inspires you to volunteer?
When I moved to Washington D.C., I knew I could make a difference in my community, and where I live. I'm actively involved in volunteering for four organizations in my community, including Greater DC Diaper Bank, and volunteer up to 25 hours each month in total.
Describe your volunteer roles.
I have many roles across the organizations I volunteer for, including:
● Greater DC Diaper Bank: I solicit diaper donations at my home, and then drop the donations off at the diaper bank. In addition to being an ambassador and advocate for the organization, I'm also a leader at the diaper bank, where we'll get together in a group and bundle diapers, organize inventory and then send the bundles off. In one volunteer session, we can bundle over 10,000 diapers!
● Everyone Home DC: I volunteer with this organization twice a month, and do homeless outreach. Everyone Home D.C.'s mission is to support the holistic needs of individuals and families at risk of, or experiencing, homelessness.
● Martha's Table: This organization provides meals for homeless and low-income families, and I volunteer here as often as I am able. In 2018, Martha's Table distributed over 1.6 million meals through healthy food markets.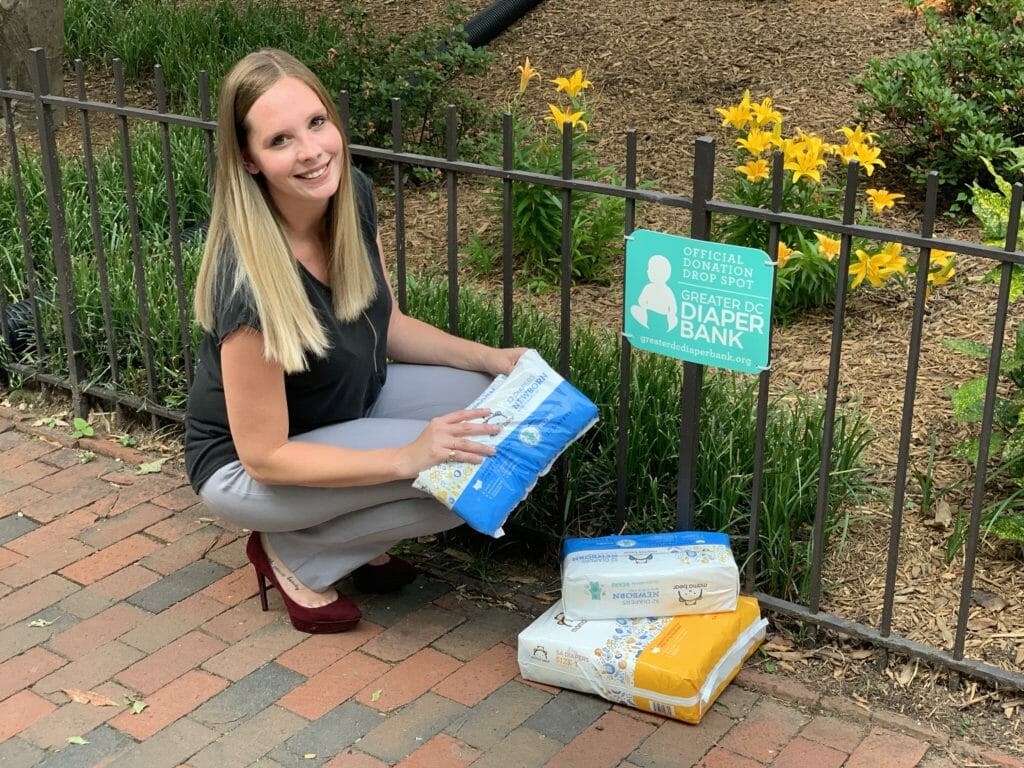 You're helping families in your own backyard. What drives your service?
My mom died in December. These last few months have just been a whirlwind of me trying to deal with that loss. My mom was always so proud of me for my volunteering, she would always ask me about it. I keep her in my thoughts throughout my volunteering, because this is for her now. Everything I do is for a reason, and I'm volunteering just to be a better person, because I know it all leads to the greater good.
What have you learned through your experiences as a volunteer?
How willing people are to help once you give them a chance to pitch in. I have friends that are interested in volunteering because they know I volunteer. People love to help, and seeing them care about giving back has meant more to me than I ever realized it would.
What does it mean to know that you are helping families, and the littlest ones amongst us?
I've seen the impact of living below the poverty level with friends and family members, they need the help. Being able to make a difference in my neighbors' lives means a lot to me.
Share one personal story with me from your volunteerism.
As a volunteer with Everyone Home DC, I'm seeing the people I'm helping. There was one man I would see each time I volunteered, but one day, he was gone. I mentioned his absence to the organization, and asked where he was. Turns out, he was off the streets, and he had gotten a home. That was the biggest moment where I was like, 'wow,' it was really good to see that I made a direct difference in someone's life. I volunteer in the same neighborhood I live in, and it felt really good to see how he'd been helped.
What do you want people to learn from your story?
Any small gesture or good deed makes a difference. General awareness of the challenges others face is so important. Smiling at the person on the street instead of ignoring them like you don't hear them makes their day. Bringing someone a coffee makes their day. Realizing how expensive diapers are, and that not all families can afford diapers. You can get others involved in service, too. Take your family to the diaper bank and teach your children about the importance of volunteering.
How can readers help?
Greater DC Diaper Bank is always looking for more help. Please check their website for more information: https://greaterdcdiaperbank.org/diaper-distribution-network/
Do you want to make a difference in your community like Rachel Vladimer? Click here for local volunteer opportunities.
Share this post