North Carolina Teen Helps Those in Need with "Care" and "Blessings"
Kena Vaughn-Grindstaff says the unwavering commitment Mother Teresa devoted to others in need has served as the wellspring for her own desire to serve people in her community.
What started as a project inspired by the Roman Catholic nun and missionary's work for her high school world history class has turned into an organization called Kena's Care Bags and Blessings Box, dedicated to providing essentials to the homeless, those battling substance abuse issues, the elderly and children and families in need. Blending this assistance with compassion, the 15-year-old Andrews, North Carolina teen personally hands these items out to those in need, and facilitates conversations and relationships with individuals so that they know she cares.
Making a difference in her community through care and compassion, Kena is today's Daily Point of Light award honoree. Points of Light spoke to Kena to learn more about her volunteerism with Kena's Care Bags and Blessings Box.
What inspires you to volunteer?
I get a really good feeling from volunteering, and I'm humbled by it. I'm helping people who sometimes feel left out, and may feel like no one cares about them. It makes me feel good to let them know that I care, I love knowing I made someone's day better.
Explain why you selected Mother Teresa for your school project.
My mother always looked up to Mother Teresa. When I was younger, she'd tell me about sacrifices Mother Teresa had made. When we were working on our class projects, our teacher gave us a list of notable figures in history that influenced the world, and I realized that Mother Teresa was the inspirational figure that I wanted to be like. Most of my classmates stuck with more traditional creative projects for the assignment, but since Mother Teresa helped people, I decided I wanted to help people too. That is how Kena's Care Bags and Blessings Box began.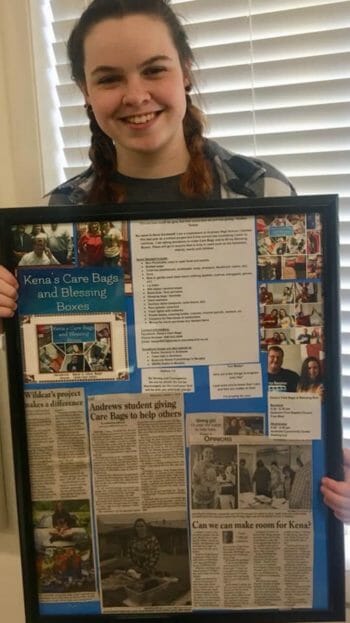 Describe your role with Kena's Care Bags and Blessings Box.
Day to day, I work on collecting supplies, both purchased and donated, and I hand out Care Bags about once a week. Care Bags can be handed out to groups in need, whether it's at our local church, or other places in surrounding communities. I also reach out to local businesses for donations, and I have donation boxes set up around the community.
Tell me more about your Care Bags and Blessings Boxes.
We fill the bags with non-perishable food and snacks, hygiene and essential items. Some items include first aid supplies, band-aids, toothbrushes, deodorant, shampoo and conditioner. During the winter we hand out warmer clothes, and in the summer, we'll provide shorts and tank tops. I've handed out several hundred bags thus far. We've set up a handful of Blessings Boxes around schools in our community, and they are filled with supplies for students in need: clothes by season and snacks for children that are hungry.
Is there a saying that you live your life by?
Mother Teresa once said, 'It's not how much we give but how much love we put into giving.' This belief stays with me a lot.
What have you learned through your experiences as a volunteer?
Oh man, I've learned a lot. I've learned not to judge others on their appearances. A lot of the people that I help may look like somebody that my mother wouldn't want me to be around, but because of my service, I am able to walk up to these people, give them hugs, and help them. Drug use and homelessness is a real problem around our community, but since starting this organization, I've started to see a real change in our community. The people I meet are almost always the sweetest people, and I truly hope that if the roles were reversed, there would be someone helping me in a time of need.
Share one personal story with me from your volunteerism.
An older lady approached me once as I was handing out items, and as we had a conversation, she told me her feet hurt because she walks everywhere she goes. I asked her what size shoe she wore, and she happened to be the same size shoe as a pair of Nikes I'd just received as a donation. The next time I saw her, she told me how well they fit, and she broke down in tears, explaining how helpful the shoes were and how her feet didn't hurt anymore. It was something little to give her those shoes, but their impact has stuck in my mind.
What do you want people to learn from your story?
I want people to learn that life isn't all about yourself, and you need to help others while you can.
You're a rising high school junior. What do you do in your free time, when you're not in school or volunteering?
I don't have much free time but whenever I do, I work on playing volleyball. I also enjoy rock and heavy metal music, so whenever I have the opportunity, I go to concerts and music festivals.
How can readers help?
Please check my Facebook page for more information about how you can help our cause and give back: https://www.facebook.com/Kenas-Care-Bags-2419162511646887/.
Do you want to make a difference in your community like Kena Vaughn-Grindstaff? Click here for local volunteer opportunities.
Share this post