Youth Scientist Brings Hope to the Next Generation through Education, Science Kits and Fun
Meet Daily Point of Light Award honoree Angelica Krubeck. Read her story and nominate an outstanding volunteer or family as a Daily Point of Light.
Angelica Krubeck is no ordinary 12-year-old. She is on a mission to show kids that they have power within themselves, and to empower at risk youth around the world, using the field of science to inspire them to shoot for the stars. At the age of eight, Angelica was asked what kind of nonprofit she would create if given the chance. She knew it would be science related, but the bigger idea was to get kids and teens to believe in themselves. She wanted to create a ripple effect of inspiration and education, so one year later at the age of nine, Angelica created Super Science Kids.
Angelica and her team of volunteers provide materials in the fields of mathematics, engineering and science to kids across communities in the United States and abroad. Angelica partners with science professionals, mentors, organizations, universities and teachers, and has impacted more than 3,500 youth with Super Science Kids. From foster children, refugees, kids that live in low-income housing, children of immigrants and kids that live in shelters, Angelica inspires youth to search for their passion, and believe that they are worthy of turning their dream into a reality.
How did you become passionate about using science for good through Super Science Kids?
When I was younger, a friend opened up to me about how she lived in a shelter and how hard every day was. I wanted to help people like her in some way, but I wasn't sure how. One day I was talking with my grandpa about wanting to help people, and he challenged me with the question, "If you were able to create a nonprofit, what would it be about?" I knew that I wanted to combine science and helping kids, and decided that day that we should make it a reality.
I came up with the idea of Super Science Kids when I was eight-years-old and the idea became a nonprofit when I was nine with the help from my family. At Super Science Kids, we create kits that have instructional pamphlets, activities for kids and creative ways for kids to understand different types of science. We also host science station events where six to eight stations are set up for kids, and at each station there are volunteers who help groups of participants learn. We provide backpacks and other fun things to the kids so they have a place to put everything they create with the science kits.
How has Super Science Kids evolved over time?
It really was just an idea and a small, local service project. Four years have passed and I'm now focused on the organization's main goal of inspiring youth to learn more about science, and discover that they can do whatever they put their minds to.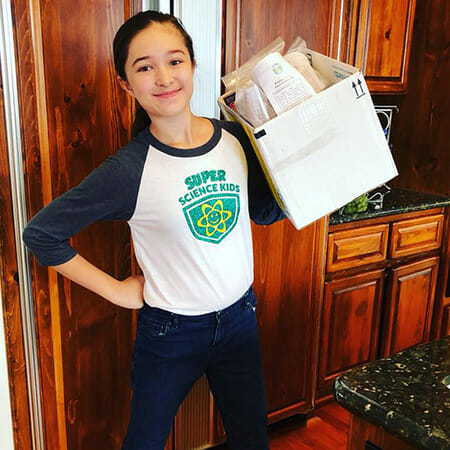 Describe how your nonprofit has reached youth on an international scale.
We have a network of other nonprofits and volunteers here in Cumming, Georgia, which we activate and team up with, to find contacts who do work outside of the country. We were able to host a science class for youth in China over Skype, and hosted lessons for them once a week. If we find an organization we want to partner with, but can't reach them online, we send boxes of science kits to them.
Do you have any favorite memories from creating Super Science Kids?
Yes, our very first science station event! We handed out science kits and a little girl came up to me because she needed help creating her sound sandwich project. Once we finished her project, her eyes were huge because she actually completed it. She knew she could build whatever she wanted, and this is how kids figure out that they can do amazing things.
What's been the most rewarding part of your work?
I think being able to give these kids an escape from whatever hard time they're going through. I love getting to see them smile. At one after school program that we participated in, we were warned that one kid in particular was having a hard time and that he most likely would not engage in our activities. We started an activity with hot wheel race cars and race tracks, and his face lit up. We get to give kids like him an escape and see them smile.
Why do you think it's important for others to give back?
It's important for all of us to work together and help the community. The people we are helping, and the people that others will help because of volunteering, may not have many opportunities to learn. You can give them the hope that they can also do amazing things.
What do you want people to learn from your story?
I want people to know that no matter what your age is or where you come from, you should always believe in yourself. Push through the hard times and try to keep a smile on your face because you can do amazing things.
Do you want to make a difference in your community like Angelica? Click here for local volunteer opportunities.
Share this post