Connecticut Resident Helps Support Local Senior Community
Meet Daily Point of Light Award Honoree Debra Franceschini-Gatje. Read her story and nominate an outstanding volunteer or family as a Point of Light.
If she hadn't retired early due to a medical issue a few years ago, Debra Franceschini-Gatje said she likely would still be working full-time. Instead, her retirement led her down a road of service for her Ridgefield, Conn. community, where she works tirelessly to support those in need, particularly local senior citizens.
"I guess everything happens for a reason, so I think it was God's way to say 'Hey, I think your services are needed elsewhere,'" Debra said.
Three years ago, Debra joined Meals on Wheels of Ridgefield to lead their outreach and events. In that time, Debra has helped to triple the nonprofit's client list, going from providing about 10,000 meals a year to 30,000. From there, she joined the Ridgefield Commission on Aging, whose mission is to represent the community's seniors and provide them with information and support. She represents both organizations on the Senior Positive Initiative Forum, a town committee that works to meet the needs of local seniors. Debra is also a part of the local Salvation Army, where she works to raise money for the town and to further assist seniors.
Debra has taken her service even farther. Prior to their services being paused due to COVID-19, she volunteered for a monthly pop-up food pantry and for a monthly food truck, helping to distribute food to those in need. During the summer, Debra and her daughter volunteered to go food shopping for seniors uncomfortable leaving their homes during the pandemic. Along with a friend, Debra started a Ridgefield Connecticut Seniors Facebook page in order to keep the senior community aware of COVID-related information, free Zoom classes being offered, and local resources. Debra said it has always been in her nature to help those in need, as well as advocate for seniors.
Describe your volunteer role with Meals on Wheels of Ridgefield.
We help provide meals to folks who can't cook for themselves or who have a disability. A situation we just had recently was a family of four. Suddenly their son got sick and the mother had to be in the city everyday for chemo treatments, so the other young man in the family was being left alone without being fed, if you will. I reached out to them to ask them if we could help them with some of the stress by providing family meals. We also help folks who have knee surgeries or hip replacement surgeries, so short-term and long-term [help].
I am in charge of outreach and events. … Ever since I started three years ago, my main responsibility has been to make folks aware of Meals on Wheels and how we help the community, and help take away the stigma that this is just for the elderly people and disabled people. I would attend and secure meetings with local organizations like Lions Club and the Mens' Club. The Founders Hall in our town is a big senior center, so we did a presentation there. We do a presentation in school for the kids so they can talk about it with their parents. We have these white bags that we put our meals in, so I go in and talk to the kids about Meals on Wheels and they would get a bag so they can color. We deliver all our meals to clients in these colored bags to make it a special day. They always write really cute things, the kids, very kind words.
Since then, our client list has tripled. We were doing about 10,000 meals a year when I started, and now we're doing 30,000 meals a year. Obviously COVID definitely had an increase in that this year, but even before that happened, we were well beyond tracking last year's numbers in terms of clients and how many meals we served. We also offer meals to folks who can't afford it. Sometimes we'll get calls from social services about people who are in need. We offer them complimentary meals or discounted meals. Because of COVID this year, we couldn't do it, but I put together a luncheon for our 150 volunteers every year at this retreat house that one of our benefactors lets us use free of charge every year. It's a beautiful place. That's always a lot of fun. We also do a fundraiser night. We call it a Bartender Night. Unfortunately, we couldn't do that this year because of the COVID situation. A lot of the stuff I do now is online, trying to reach to people and make them aware of things online as opposed to the live things I would do.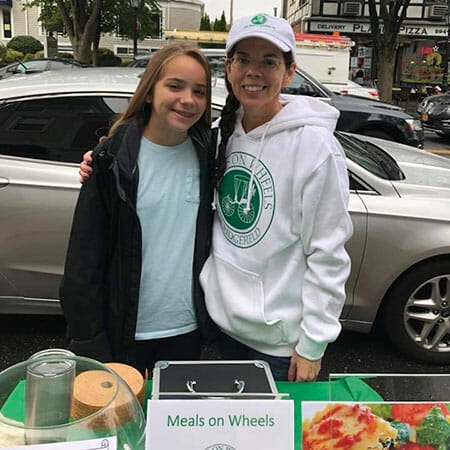 Describe your volunteer role with the Ridgefield Commission on Aging.
It's mission is to speak for and represent the seniors in the community who can't speak for themselves, and also find out information to benefit the older population. For example, before the COVID situation happened, we would have meetings to inform the senior population on things like Medicare enrollments coming up. We would bring in a nutritionist to show them how to eat for longevity. We try to educate them and also support them and be their advocates. There have been a couple of times where we've had to advocate in the housing complex for them. Oftentimes the seniors are afraid to speak up because they feel they'll be kicked out of their apartment or a rent increase will happen. That's just some of the main things we do on the commission.
Can you discuss the Senior Positive Initiative Forum?
The Senior Positive Initiative Forum is a town committee that consists of all the town stakeholders. For example, the Ridgefield [Visiting Nurse Association] has a big presence in town. Founders Hall is another big one that always attends. They're a big senior center in town where people who are 60 or older can go and take advantage of the facilities, playing bridge, working out, taking yoga, activities, cooking classes. It's really a great place. We also have the Ridgefield Library as part of the committee, and the rec center in our town where people go to work out of all ages. We also have Rides of Ridgefield, which is an organization that gives free rides to seniors who need transportation to things like doctor appointments or going to the store. Social Services is also on that call to talk about what they're doing. It's a culmination of all the town stakeholders and we share information on what we're doing. Oftentimes we'll be like, "That's a great idea, we should do that," or "This is a great idea, let's do this." It's kind of like a meeting of the minds of all the folks who have a stake in the community to help different populations.
How do you volunteer for the Salvation Army?
I am part of the town Salvation Army team, so I work with the Salvation Army here to help raise money for our town. We've used it last year to provide a senior getaway at the Salvation Army camp. It's a full, five-connection-type building. It has beautiful grounds and lots of activities and there's a beautiful pond. We were able to send seniors up to enjoy a free week of being in a resort that they normally wouldn't be able to go to or afford on their own.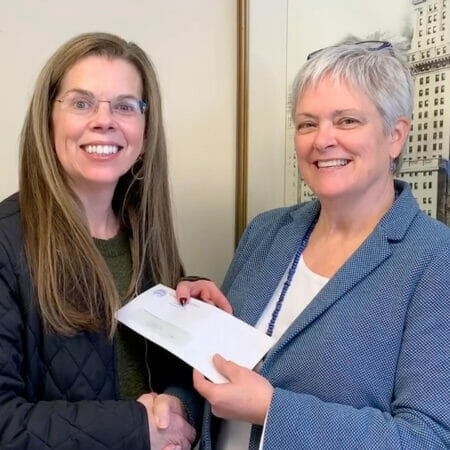 Are there any future partnerships, programs, or events that you are excited about?
I started a Ridgefield Connecticut Seniors Facebook page with a friend of mine. The goal of the page is to keep people advised of COVID-related information, and also keep them advised of all these Zoom-type free classes they could take part in. It's a small little group, only about 600 people, that we started in March when this whole thing started. I update that on a regular basis with my partner. That's one of the things I've personally done to try to keep up communication with the senior population. I also hear from people that need help with certain things from the Aging Commission. People will sometimes email me directly or message me on Facebook and I'll help people that way. If they're having an issue with a landlord, for example, oftentimes I'll step in as an advocate to go with them and speak with them, or just send a note to a town member asking a question as opposed to that person being afraid of asking the question. I've always been a senior advocate. My mom lives in Florida and she's very far away and I pray that somebody like me is taking care of her. I do it because I grew up with nothing and know what it's like to have nothing, so I try to help the people who have nothing because it means a lot personally.
What's been the most rewarding part of your work?
I think just getting to know all the people I know. If I hadn't stepped in to my first role at Meals on Wheels, I wouldn't have met all the great people I've met. Meals on Wheels led to the Commission on Aging, the Commission on Aging led to the Senior Positive Initiative Forum, then that led to the Salvation Army, so I've gotten to know so many great people in town. It's been so rewarding and I feel lucky. I feel like people know me and they know who to contact when they need a person who can help them do this and that. Oftentimes I get messages from people out of the blue just saying, "Hey, can you send me the link to this thing you posted?" It's really about meeting all the people and kind of feeling like I'm making a difference. I do feel like I make a difference.
What do you want people to learn from your story?
Never assume that people are OK. There's always people out there that need help in one way or another. We all live in this cute little suburb and we think that things like homelessness doesn't go on, and things like hunger and food insecurity don't go on, but it does. There's so many things that go on that people don't know. It's off their radar, and I try to keep it on the radar and the people I work with are the same. I think it's important to keep people educated on all the resources available as a town, whether it's in good times or bad times.
Why do you think it's important for others to give back?
Because I find that a lot of the volunteers that I work with are on the senior side, and sooner or later, those people aren't going to always be here to be able to volunteer. Younger folks need to step up and be in a position to take over their roles, otherwise these groups won't survive. It's important that people of all ages get involved so these great programs that we have can continue on from generation to generation.
Do you want to make a difference in your community like Debra? Find local volunteer opportunities.
Share this post