Texas Child Strengthens Community Ties to Police Officers Through Volunteerism
Meet Daily Point of Light Award honoree Khloe Joiner. Read her story and nominate an outstanding volunteer or family as a Daily Point of Light.
She's just 8-years-old, but Khloe Joiner has made a big impression on her community through service, showing that any act of kindness, small or large, can make a difference.
Leveraging books as a tool to both strengthen community ties and help underprivileged children, Khloe's project, A Book and a Smile, has donated more than 6,000 books to groups and organizations across greater Houston thus far. Serving to put a smile on the faces of as many children as possible, Khloe's volunteerism has continued during the pandemic, helping many children who have lost access to important reading resources at school.
Points of Light spoke with Khloe and her grandmother, Billye Moutra, about her volunteerism.
What inspires you to volunteer?
Khloe: It makes me feel good to see kids when they first open the book (we donate to them) and start reading it. They automatically get a smile on their face. That makes me happy. Some people don't have enough money to buy books, everybody should have at least ten books. I want them to have even more than that.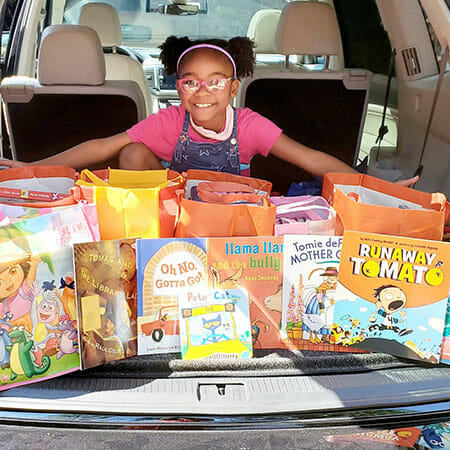 Describe your volunteerism with A Book and a Smile.
Billye: Founding A Book and a Smile when she was just 4-years-old, Khloe's service began as part of an effort to strengthen relations between our community and police officers. One day, we were going to pick her sister up at school and Khloe saw a police officer on a motorcycle. She told me she was afraid to say hello, and I told her she shouldn't be afraid. I followed up with the Missouri City, Texas Police Department because I was determined to get this officer's name, and once I did, the two of us got to work figuring out how to help children be more comfortable with police officers. Police Officer Jessica Berry suggested something to calm kids down, like a book, could be helpful for police to hand out at community events and emergency scenes. Khloe took her life savings, more than $141 in coins, and spent all of it on books to donate to the police department. After people started hearing about Khloe's story, the donations started pouring in.
Share one personal story with me from your volunteerism.
Khloe: When we do our book giveaways at schools, I'll see the kids walk up and get their books. As they walk off with their parents, you can see they are smiling. People all over should have books. Books make them happy, and I like seeing people happy. I really do.
Why do you think it's important for others to give back?
Khloe: When you volunteer, you are helping people. At my school, my grandma volunteers for the PTO, she brings them snacks and crafts supplies for kids to make art projects.
What's been the most rewarding part of service for Khloe?
Billye: The feeling, the look on Khloe's face when she receives book donations, or when she purchases more books, and the ultimate gift – giving books to a child in need. I'm a big volunteer, and we have a kindness tree in our home. We document each act of kindness with a hand cut-out. I teach the children that service doesn't have to always cost something, you can open the door for someone, or say good morning, how are you? This is our reminder that we'd have a much better world if we were all kind to each other.
What's your favorite book?
Khloe: (Giggles) The 'Junie B. Jones' series, written by Barbara Park.
Khloe's service has had a ripple effect in the community. Explain.
Billye: Khloe donated books to a local underprivileged school, and a student at that school was having a hard time making friends and participating in class. The student received one of Khloe's donated books, and with the encouragement of a teacher, started a book club. Khloe's book donation is supporting this book club, and is helping this student make friends and talk about their love for reading.
How have you continued to volunteer throughout the COVID-19 pandemic?
Billye: Since the pandemic started, Khloe wanted to do something special for other children, and has donated books to a local middle school, to homeless children at Star of Hope Mission and held a drive-by book parade in lieu of having a party for her birthday, where she handed out free books to children. Also, Disney recently donated 1,000 books to support A Book and a Smile.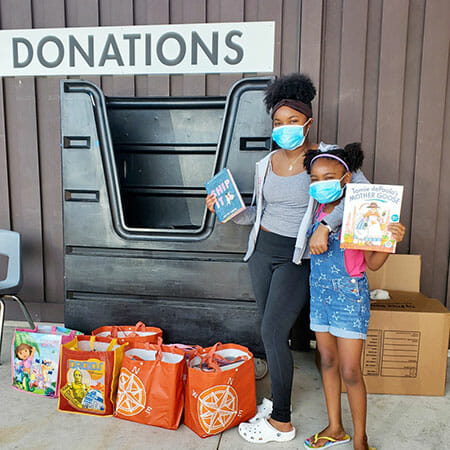 When you're not busy with school or volunteering, what do you do for fun?
Khloe: I like reading. I read about four books per week (laughs). I read chapter books a lot. I started reading chapter books when I was in 1st grade.
In one word, what does volunteering mean to you?
Khloe: Helping. Helping people.
How can readers help?
Please follow Khloe's grandma, Billye, on Twitter and Instagram for more information about how you can help.
Do you want to make a difference in your community like Khloe Joiner? Find local volunteer opportunities. 
Share this post