Continuing a Lifetime of Service, Math Teacher Spends Retirement Tutoring Students
Meet Daily Point of Light Award honoree Carl Wheeler. Read his story and nominate an outstanding volunteer or family as a Daily Point of Light.
Carl Wheeler has been a volunteer for almost his entire life, first starting when he was a Boy Scout collecting materials for the war effort during World War II. During his over 40-years-long career as a math teacher, Carl started volunteering for the Oahu Math League, a math competition among high schools on the island of Oahu. He served the League for 35 years and ultimately became its President. He also spent a decade volunteering with Teachers Across Borders – Southern Africa, traveling to the country each summer to help support the teachers there and build up the math programs in rural schools, where math education had been virtually nonexistent under apartheid.
Today, the 87-year-old Honolulu resident spends his time tutoring math at Kapiolani Community College's Study Hub, where he has volunteered for the past 15 years. For the past five years, he has also dedicated his time to the Hawaii State Library for the Blind and Physically Handicapped, where he records library materials for local residents who are housebound.
Describe your volunteer role as a tutor at Kapiolani Community College.
[Kapiolani] runs what they call a Study Hub at the community college, which is where the students who need help in math or writing come in and we try to get them help. I've been doing that now, until they shut us down [due to COVID-19], since 2005.
There are others who are doing this, some of whom are students and some of whom are faculty members who also come in occasionally. [The organizer has] a schedule and I plug into the schedule where she wants me. … It's varied a great deal over the 15 years that I've been doing that, so it's tough to describe [tutoring] individually. In the last year, I've been going in once or twice a week. That's all the need there was.
How did you start tutoring?
I was a teacher for over 40 years teaching math. I retired and my eye sight started going. I had a congenital disease. I was legally blind so for a period of time in the early 2000s, I was not very helpful in much of anything. A good friend of mine and former colleague, who was an instructor at the college, asked me in I think it was around 2003, 2002 — [they] said "Hey, we need help, why don't you come help us with tutoring?" And I said, "Well, if you get my eye sight fixed, I'll help you." After a lot of research, I found a doctor in Portland, Ore. who changed my life. He corrected my vision and I became a new person, so to speak, and then I went to my friend and said, "OK, I told you, if I got my eye sight fixed I'd help you out." So in 2005, that's when I started working at the college.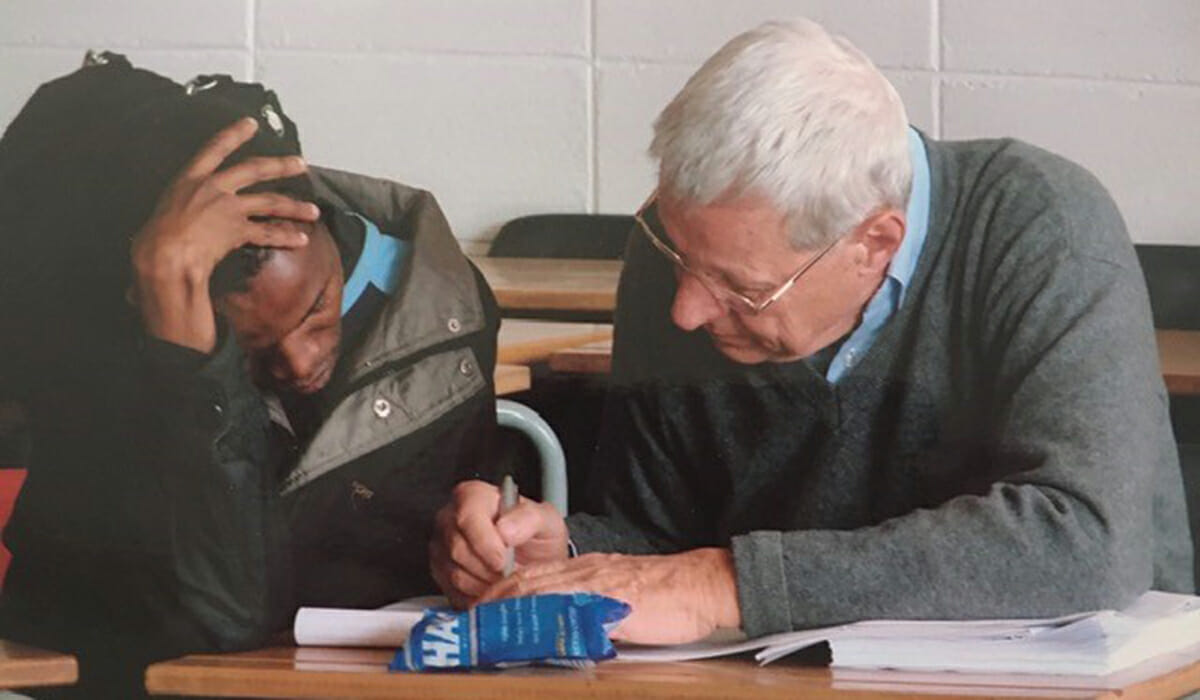 What is it like for you to work and interact with the students?
It's interesting because in a community college, you get a huge variety of students of all ethnicities and ages. It is interesting to work with, particularly the international students. You work one-on-one and you help them at whatever level they are, whether they're fresh out of high school or moving on. There's kind of two levels at the college. There's a level where people are dead end, they aren't going to go very far in the world of mathematics, and then there's the other track where they're going to go on and perhaps take calculus. All my work was pretty much precalculus. Occasionally I would do some calculus, but there's a STEM sector at the college that handles the upper-level stuff. So we were dealing with mostly precalc stuff. Some folks came in with virtually no background in math whatsoever and they're doing very basic stuff. Then you have some recently-out-of-high school kids who have taken a couple of math courses and they want to do some precalculus stuff so you're teaching trig or something. There's a huge variety of people you work with, which helps keep it interesting.
Can you describe your volunteer work with the Library for the Blind and Physically Handicapped?
This was a library that was founded by Congress in 1931. I got recruited by a lady I know who said we need help here. Up until a few months ago, when they closed that down too [because of COVID-19], I had been working there for the past five years. Initially I was recording for the library materials. They'll take books in print and record them, because the clientele are mostly housebound. They're either blind or they're physically handicapped. I would record materials that had been written. More recently, they have their own radio network, so I've been doing some readings over the radio, things such as the morning news and obituaries, store ads, stuff for folks who are housebound.
What have you learned through your experiences as a volunteer?
I've learned a lot. Particularly when I was dealing with international students, I must admit during some of those tutoring periods, we would spend 45 minutes on math and then I would engage them in conversation for say over an hour. When you're talking to somebody from Romania or Swaziland — the majority of them were actually usually from China or Japan, but we had them from all over the world, literally — part of it was actually talking to those people and learning something about their background.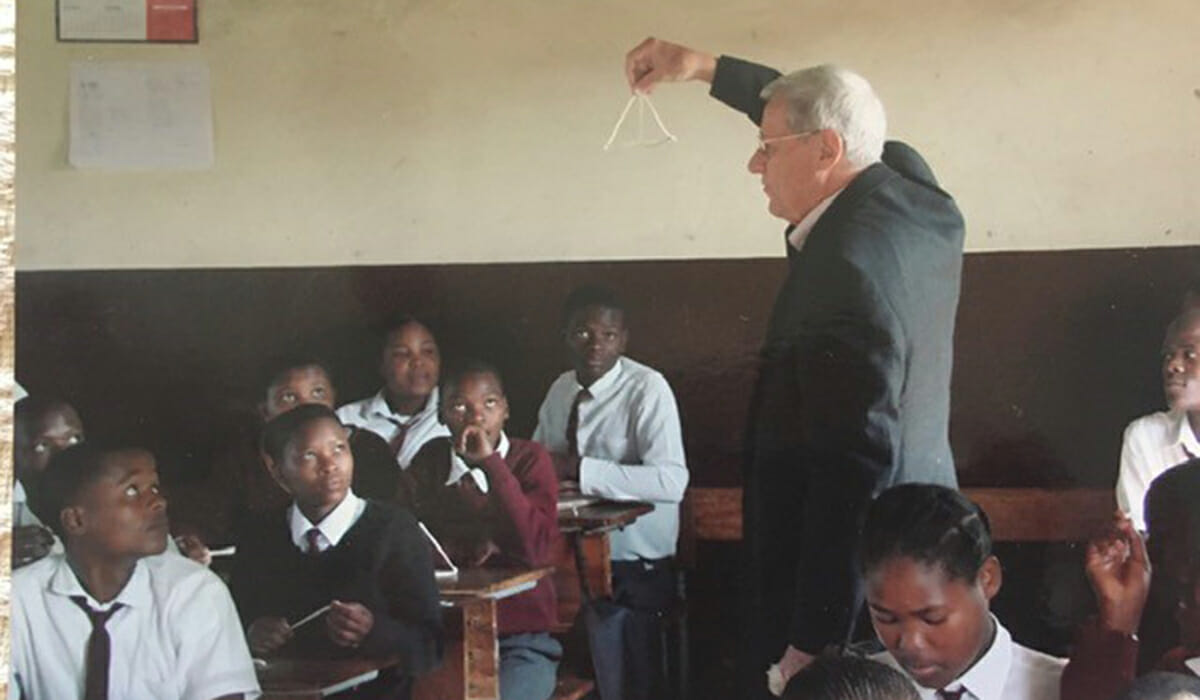 What's been the most rewarding part of your work?
The feeling that you're helping people. You have something to give and they have a need to get. That's a reward to me, that I can offer something. I grew up in central western New York in a small town and I was a volunteer when I was doing the Boy Scouts during the second World War — I go back that far — going around on trucks picking up stuff for the war effort. Later on, I became a volunteer fireman. We had no professional fire department in this town so everybody was a volunteer. I was a volunteer fireman for several years. It's been in my blood, if you will.
Why do you think it's important for others to give back?
All of these places where I've worked, there have been many others who have been doing some of the same kind of a thing. I think particularly nowadays, even more so with this coronavirus stuff, you've got all these volunteers doing food banks and all these things. If people weren't volunteering doing this, the world couldn't move. You're a tiny part of a big bunch of people who are helping to keep the world going.
What do you want people to learn from your story?
Go out and help. We all have talents. We all have some abilities. Take what abilities you have and go out and use them.
Do you want to make a difference in your community like Carl? Find local volunteer opportunities.
Share this post