Couple Has So Much More Than Puppy Love for Raising Guide and Service Dogs
Meet Daily Point of Light Award honorees Eric Newton and Holly Eschrich. Read their story and nominate an outstanding volunteer or family as a Daily Point of Light. 
What started as Eric Newton's grand plan to lure Holly Eschrich to move across the country, quickly turned into a life so much more rewarding than they could have imagined. In 2016, the couple saw an advertisement in Baltimore, where Eric lived, by the Guide Dog Foundation calling for local puppy raisers. A puppy raiser's role is to take an 8-week-old puppy and teach them basic obedience, house manners and give them life experiences to prepare the puppies for more rigorous training to become certified service animals. The dogs will then be placed by the Guide Dog Foundation or America's VetDogs for those who are visually impaired, a veteran or first responder in need. 
Eric has always had a love for animals, but Holly specifically has dreamed of raising a guide dog since she was young. At an early age she remembers reading the book, "Follow My Leader," about a character's life who is made whole by a guide dog, and ever since then Holly has wanted to help raise a dog for that purpose. So, she decided she would move from Los Angeles to Baltimore with Eric, and only 2 months later they got their first puppy together. 
"We learned a lot with our first puppy," Eric says. The couple admits that they didn't know much about raising a puppy, especially one who was one day going to be a service animal. Luckily, the Guide Dog Foundation requires monthly training classes to support families who are raising the puppies. It is mandatory for each puppy to attend 2 training classes a month. "In the beginning I think we were going to 10 classes a month," says Eric.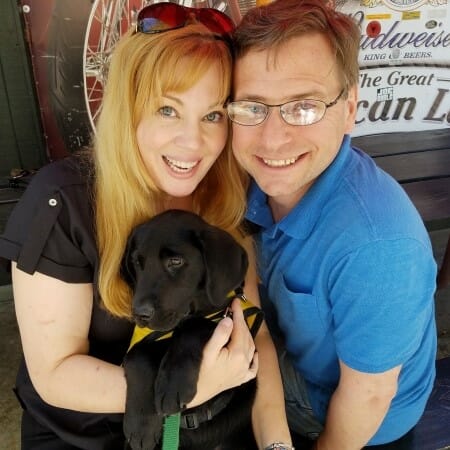 Flash forward to today, Eric and Holly are on puppy number seven, and are now area coordinators for the Guide Dog Foundation. As area coordinators, they have additional responsibilities such as helping encourage people to volunteer and providing assistance to those who have any training or environmental challenges with their puppies. Holly also helps transport puppies from breeders, families and to training facilities.  
Plus, they play key roles in raising awareness in the area. Eric and Holly bring puppies in training to Washington, D.C. and walk the halls of Capitol Hill to tell congress members about the importance of America's VetDogs. Currently the organization is looking for congressional support on the Working Dog Commemorative Coin Act, a bill that would mint a three-coin commemorative series to raise funds to provide service dogs to veterans and first responders at no cost.  
Also, the local television station, WBAL-TV, has sponsored puppies alongside local organizations, such as the Baltimore Orioles or and the Baltimore Ravens, through a segment the station calls, Puppy with a Purpose. Eric and Holly will raise the puppies, and then Holly appears on the segment to talk about the puppy's progress, and the Guide Dog Foundation and America's VetDogs as a whole.  
The best part about raising puppies? "New puppy smell!" Holly says. But beyond that, Holly has found that volunteering helped her create a new community after her move. "Everyone I meet through this program are wonderful, loving, supportive people that I like to hang out with," Holly says. "Especially in my fifties and being from California where I had my core group of friends for the last 30 years, when I moved here, I don't know anybody." Through the puppy classes and play dates, Holly met other like-minded people with shared interests and now has a very strong network. "We can call anybody at any time if somebody needs help, it's like a family –I know that sounds cliché– but it truly is like a family here."  
It doesn't hurt that Eric and Holly are now pros at raising puppies. "When we first got our first puppy, it took us maybe a week to get the puppy to be able to sit on command, and now we can do it in like four hours," Eric says.  
Other Guide Dog Foundation volunteers are quick to sing the couple's praises. "From day one they've been so willing to help, so willing to learn, drive puppies to classes, doing puppy transport – whatever we need," says Melissa Harrington, a Puppy Program Rep for the DC metro area. "Whether it's attending some of these functions either at on Capitol Hill or smaller ones, like a school who needs someone to come there and talk about guide dogs or service dogs, they just raise their hand and they're always there to help."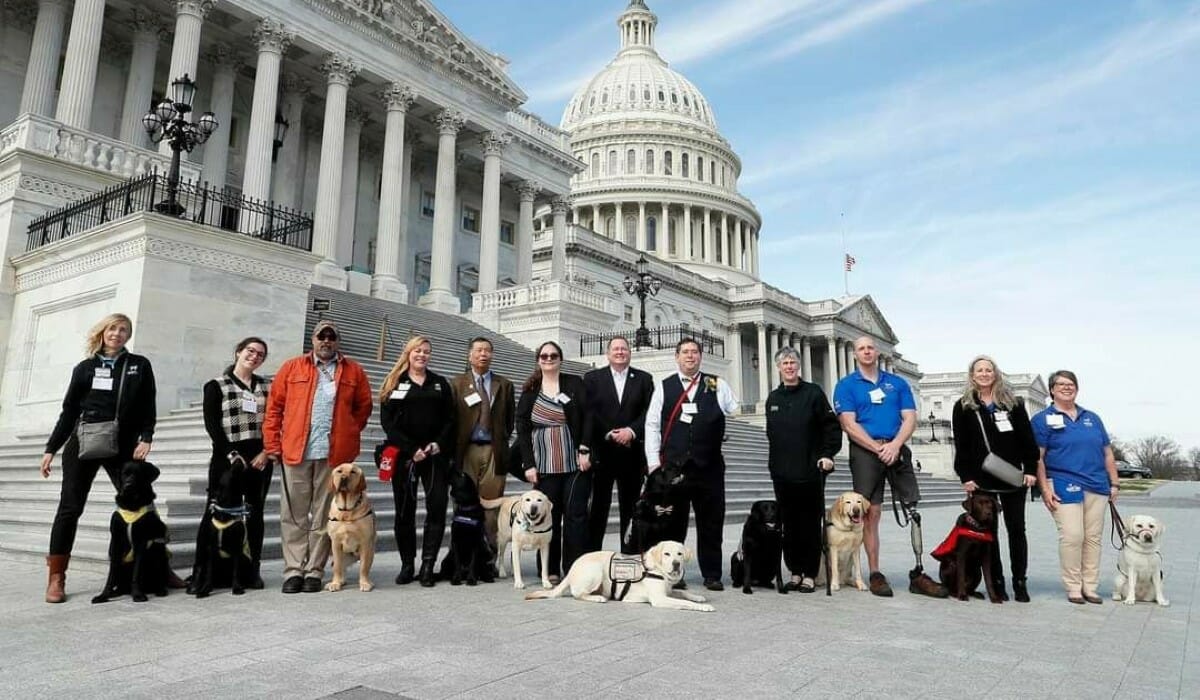 But the job does come with its challenges. "The hardest part about raising a puppy for the program is that you spend 12 to 15 months with a puppy, you bond with them and then you have to go turn them in to the training center," Holly says. "So, the only soothing part is that we walk about 20 feet to the kennel and pick up a new puppy to bring home and start all over."  
Melissa says that Holly has a gift for when other people are getting anxious about returning their puppies to the organization. "When people are nervous or sad about their dog leaving to do their training, she is the one that I always reach out to because she's so empathetic and helps them feel better," Melissa says.  
Eric reflected that volunteering with guide dogs taught him something more than just sit, stay and come. "The majority of my life I've spent on my career and getting better and better at a thing that I've been working at for a very long time," he says. "And doing this volunteering, I kind of started all over again with something I didn't know how to do very well, so I learned a lot about myself, and I learned a lot more about how to be a good learner again." Eric encourages others to use volunteering to learn something new while also giving back to the community.  
Do you want to make a difference in your community like Holly and Eric? Find local volunteer opportunities. 
Share this post