Covering the Cost of Everyday Bills, Nonprofit Brings Relief and Hope to Families Battling Cancer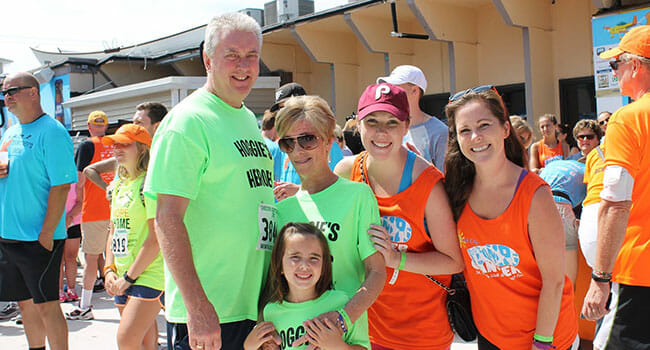 Meet Daily Point of Light Award honoree Bringing Hope Home. Read their story and nominate an outstanding volunteer, family or organization as a Point of Light.
Cancer patients work hard battling the multiplying malignant cells in their bodies. In the meantime, most also face multiplying bills as medical expenses pile on top of ongoing costs for housing, food, utilities and more.
That's why Bringing Hope Home, a growing Philadelphia-based organization, raises money to help cancer patients pay everyday bills that loom over their already stressful lives.
But Bringing Hope Home never calls the people they help "patients."
"You're not allowed to use the 'patient' word in our office," says Paul Isenberg, founder and CEO of Bringing Hope Home. "They are our 'families.' We treat all the people we help as family, because to us they are."
Paul's wife, Nicole, died in 2003 of Hodgkin's lymphoma at age 39. She had battled her cancer for six years, undergoing bone marrow transplants and extensive chemotherapy. Paul and Nicole, who had two young children, experienced an outpouring of support; however, they couldn't help but notice that others with cancer didn't always have that.
"We were thankful that we had such an unbelievable support system, from family to neighbors to friends, to friends from church to our employers," said Paul. The couple often referred to the men and women who helped them as "great guys," and wondered if they'd be willing to help others, too. In 2001, Paul and Nicole had the idea to host a dinner to raise money to help people who are fighting cancer.
Paul called his friend Tim Sherry, for help organizing the event – and the Great Guys Dinner was born.
"We were both into corporate sales so we had a lot of contacts," said Paul. "The first Great Guys Dinner drew 100 'guys' and raised $13,000. This year, we had almost 550 attendees and raised almost $350,000."
For the first 7 years, funds were donated to the American Cancer Society.
But then, one of the "guys" who'd been coming to the dinners passed away, and Paul learned that his wife and children were struggling financially. He began thinking about the financial burden that often accompanies a cancer diagnosis.
"We did some research and found that if you're diagnosed with cancer, even with health care benefits, your out-of-pocket fees can be $10,000 to $25,000," said Paul.
By 2012, the Great Guys Dinner had evolved into Bringing Hope Home, with the core mission of helping families pay bills. "We pay for rent, mortgage, utilities, car payments, food – whatever that family needs," said Paul. "A lot of times, there are car repairs or a roof that needs repair. We don't give the money to the family – we pay the bills directly. We find contractors to do repairs, and they give us a good price."
Bringing Hope Home has helped 4,000 families – upwards of 12,000 to 13,000 people – since its inception in 2008. It has served families throughout the Philadelphia area, as well as in southern New Jersey and Delaware.
"But there's tens of thousands of people we haven't helped yet," said Paul. "We want to get to them."
This year, Bringing Hope Home is hosting a Great Guys Dinner in Baltimore for the first time. The June 7 event is expected to raise $25,000 to $50,000.
"All that money will stay in Baltimore to help families there," said Paul.
He plans to also expand Bringing Hope Home's mission to northern New Jersey and New York.
Paul, who has remarried and added two more children to his family, is one of six full-time employees of Bringing Hope Home. The organization also has two part-time staff and "an army of volunteers" who run a variety of fund-raising events and educational programs.
Fran Blanchette, a retired schoolteacher, has been volunteering with the organization three days a week for the past 2 years. She processes applications for help.
"It's heartbreaking what you see in their stories," said Fran. "People will tell about how their life was going fine and then all of a sudden they found a lump or developed a cough. Then they will write about needing help with bills because they're going for treatment and are out of work. I look for immediate need: Is anyone facing a shut-off notice? Will anyone be without heat? We can help them work out a payment plan or help with that bill."
Deb Yamashita, another volunteer, often gets to be the one to inform families that they have been approved for a Light of Hope grant to pay household bills.
"It's humbling to hear the gratitude and relief in people's voices when they share how difficult battling cancer and worrying about paying their bills has been," said Deb. "As a breast cancer survivor, I remember how scared I was through all of my chemo and radiation treatments. But I had the best health care coverage and never ever worried about how to pay my bills for the month. I know the tremendous impact Bringing Hope Home has on the families they help."
Maureen Walsh is one of those recipients.
"I was fine and healthy; I rode my bike and went to the gym," said Maureen. "My face started to fall on one side – I thought I had a stroke or Bell's Palsy."
But it was an aggressive skin cancer that soon invaded Maureen's ear, neck and upper back.
"Our life turned upside down," Maureen said. She and her husband were real estate investors who were struggling to recover from the economic downturn during the Great Recession. "We had been financially secure. We lost everything," she said. After getting sick, "My stubborn Irish husband found it hard to accept any help. Bringing Hope Home paid our mortgage one month and it came right when we needed it. We were trying to navigate insurance, co-pays, out-of-network fees."
Maureen says Bringing Hope Home staff sent notes and a feeling of inclusion, "so it didn't make you feel as if you're simply getting a handout." She and her husband, Chuck, were even invited to participate in a fashion show – which they accepted, though Walsh lost a third of her face to cancer surgery. "I think they make people feel part of a community. They do it right," Maureen said.
Share this post
---