Through ServiceWorks Program, Citi Employee Finds the Perfect Opportunity to Serve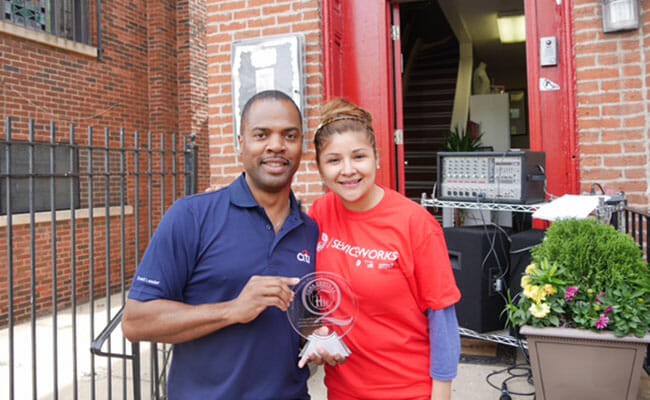 Robert McGhee, vice president of community development at Citi, has been a part of the Chicago banking community for more than two decades, with roles in retail banking, mortgage banking and community affairs. He supports the Citi Foundation's partnership with Points of Light and the Corporation for National and Community Service to bring a groundbreaking initiative, ServiceWorks, to help underserved youth in U.S. cities where the economic downturn has intensified their struggles.
ServiceWorks was launched in 2014 as part of the Citi Foundation's Pathways to Progress youth empowerment initiative, to harness community engagement and volunteer service to help underserved youth develop the skills they need to prepare for college and careers. Since then, the ServiceWorks program has expanded to 21 cities. In the past year alone, more than 9,000 youth and young adults ages 16 to 24 have participated nationwide.
One of the programs supported by ServiceWorks is Casa Central – a Chicago-based agency that focuses on helping Hispanic families. Casa Central's Youth Opportunities Unlimited program offers participants year-round academic help, workplace readiness and college preparedness coaching. ServiceWorks volunteers support a 5- to 10-week program, offered at both Casa Central and at participating high schools, with more than 700 Chicago youth and young adults participating during the past year.
Volunteer service is a key component of ServiceWorks, with each cohort completing at least one project by the end of their term – while learning college and job preparedness skills. Students are paired with corporate mentors who help them create service projects, such as reading to children and older adults, shoveling snow for neighbors physically unable to do so, school beautification and knitting hats for premature babies. Participants also receive one-on-one mentoring and valuable career advice from the corporate volunteers.
Robert McGhee has been one such role model and mentor for the students participating in the ServiceWorks program. Through his work with Casa Central, he's held mock job interviews to give the young people an idea of what employers expect and will ask, and has shared important lessons in financial literacy.
We asked Robert to tell us more about his service story and dedication to volunteering:
What inspires you to continue to devote your unpaid time to help others?
It may be a bit of a cliché, but I'm a firm believer in "paying it forward." Citi does a tremendous job of encouraging its employees to "give back" to the communities in which we serve. I personally feel it's important to volunteer to help strengthen the communities in which we live and work. We all have a talent or skill to offer, and we should share those talents and resources with those that are under-resourced and less fortunate.
How do you use your individual skills, strengths and trainings to best suit this organization?
My colleagues at Citi have been very supportive of the volunteer efforts that I've organized with the wonderful staff at Casa Central, so first and foremost, I see myself as a convener and coordinator of talent.
I've enjoyed a great career in banking, working in retail banking, mortgage banking, multi-cultural marketing and community development. I've taken experiences at my various roles including managing teams, collaborating with internal and external partners, and training staff members to support Casa Central by providing mock interview training sessions, financial literacy training sessions, and hands-on volunteer engagement activities.
What's been the most rewarding part of your volunteer work? Can you describe some specific situations or people you've helped that showed how your efforts made a difference?
The most rewarding part of my volunteer work is simply having the opportunity and the ability to share knowledge and the resources and tools that I have access to. In the case of Casa Central, I conducted mock interviews with participants who were part of their employment training program. Walking through both the resume critiquing and mock interview process with these students was both humbling and rewarding. Most importantly, I was pleased to find out that all of the participants eventually secured full-time employment and they provided feedback that the mock interview exercises helped them during their actual interview process. Knowing I was able to support them brought it all full circle for me!
What have you learned from your experiences as a volunteer?
One of the biggest lessons I've learned as a volunteer is that most people are not necessarily looking for a handout; instead, they are simply looking for an opportunity – and many times that opportunity comes from exposure to available resources. I volunteer in neighborhoods that look and feel similar to the neighborhood where I grew up – on the west side of Chicago – and as I previously mentioned, to me, it's a natural obligation to be selfless in sharing whatever knowledge or resources that I have with those that are not as fortunate.
What's the next step for you? Will you continue your role with this agency?
I'm certain I'll have some sort of connection with Casa Central – they haven't gotten rid of me yet. I currently serve on three nonprofit boards, in addition to being involved in my local neighborhood association, so I'll always be busy providing my time to and for others. I've also taken on more involved roles with each of the boards I serve, and I'm excited about the work that lies ahead.
Share this post