Daughter of Holocaust Survivors Volunteers to Save Lives in Syria
Meet Daily Point of Light Award honoree Georgette Bennett. Read her story and nominate an outstanding volunteer or family as a Daily Point of Light.
Born in Budapest, Hungary the year after World War II ended, Georgette Bennett was a child when she arrived in the U.S., her parents fleeing from the horrors of the Holocaust and violence they faced as Hungarian Jews. Just 6-years-old, a ship manifest classified the family as refugees with no home.
"Next to our names on the passenger manifest for the ship on which we arrived in Manhattan, there was a column to enter nationality. For my parents and me, it said 'stateless'. We arrived in the U.S. in the middle of the McCarthy era….whenever I went to a post office there would be big signs about alien registration. That was me. I was an alien. I lost my roots."
Growing up in near poverty after her father's death shortly after the family fled to the U.S., the now 73-year-old New York City resident says she lived in terror of also losing her mother, and living in a strange country with no support system. Against all odds, Georgette says her mother still managed to seek out a living to support the two, and each year, she would go door to door collecting money for the National Council of Jewish Women. That sense of service even in the face of adversity left a lasting impression on Georgette, and several years ago, when she discovered a burgeoning crisis that wasn't being addressed, Georgette took matters into her own hands.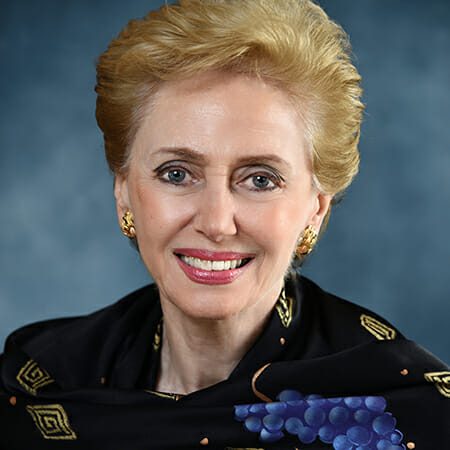 Georgette's late husband, Rabbi Marc Tanenbaum, a pioneer in interreligious relations and a prominent human rights activist, had served as a board member of the International Rescue Committee (IRC), and following his death, Georgette joined the board, deeply committed to supporting refugees. "In January 2013 the IRC issued a report on the Syrian crisis, and being a typical overextended New Yorker, that report sat on my desk for a few months before I had the time to read it. I was absolutely stunned by the magnitude of the crisis and the silence of the world in the face of the crisis. Leviticus 19:16 kept reverberating in my head: 'Thou shalt not stand by idly while the blood of your neighbor cries out from the earth.'"
Feeling commanded to take action, Georgette founded Multifaith Alliance for Syrian Refugees (MFA) in 2013, the largest U.S. multifaith response to the Syrian crisis, comprising more than 100 faith-based and secular organizations committed to aiding Syrian war victims. Working with partners in the region, MFA brings desperately needed relief through essential supplies delivered to difficult-to-access villages in Syria. To date, MFA has facilitated the delivery of more than $150 million in relief, including clothing, blankets, food, sanitary items, medications, medical equipment and supplies. Describing recent attacks in Idlib, in northwestern Syria, Georgette says conditions were nearing unliveable for those in the region.
"It was in the middle of a bitter, bitter, cold winter. These people had absolutely no shelter. Mothers were waking up finding their babies frozen to death. That's how bad it was. We immediately partnered with one of our local partners in Syria to get hundreds of tents so that they at least had some kind of shelter, and our partner provided infrastructure including water lines and electricity."
For Georgette, a sociologist by training, providing humanitarian aid for Syrians, historically regarded by Israel as an enemy state, was never a question. According to Shadi Martini, executive director at MFA and a native Syrian, by uniting many faiths, Georgette's service has fundamentally changed the future for Syrians.
"There was a lot of friction between Muslims and Jews, Israelis and Syria," says Shadi. "She succeeded on the first level by joining Muslims, Jews, Christians, everyone in this adventure to help Syrian war victims. (Also), she kept pushing for the Israel authority to open borders for outbound humanitarian aid into Syria. This shifted the landscape tremendously…people who have no connection to Syria now have Syria on their radar."
Georgette says that as a refugee herself, she was gripped by the extent of the gender violence occurring in Syria, women and children making up 80% of Syrian refugees, and says her ability to unify opposing groups to alleviate terrible suffering that all Syrian refugees face has been rewarding.
"As a volunteer, it's also important to know that I've been able to inspire others to join me in this work, because I don't think I could have done any of this myself. I was able to carry a message to my community which is seemingly counterintuitive: Why should Jews be supportive of sworn enemies? I get enormous joy from people being able to rise above politics, Syrians and Israelis coming together, and beginning to trust each other."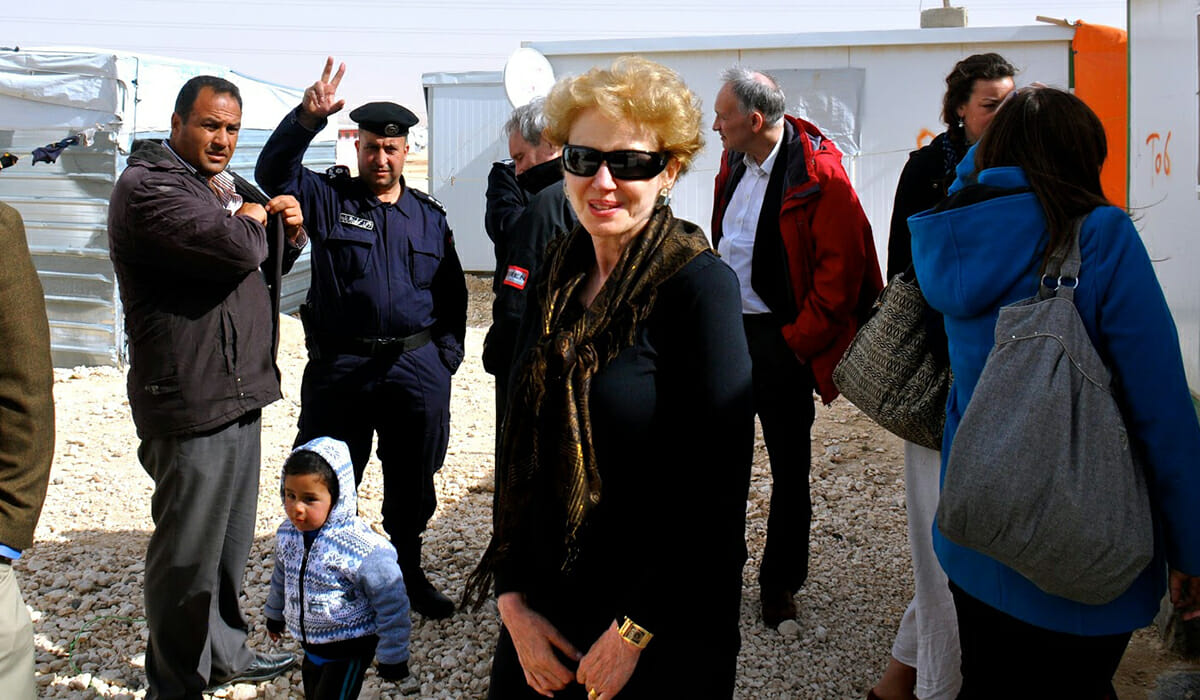 Described as both "passionate and compassionate," Shadi praises Georgette's drive to create change for a place that she has no personal ties to. "I've heard a lot of children of Holocaust survivors have this stamina, and they have an ability to work much more than other people. She's always trying to do the maximum good that is possible in one lifetime."
For Georgette, who launched MFA assuming the civil war would be over in a few years, the work continues. Scaling up humanitarian aid deliveries and supporting education in the country are her top priorities, saying there is a "lost generation" due to the years of schooling that Syrian children have missed. Her mission, to help plant seeds for future stability in the region with partnerships between Syria and Israel being key, Georgette says that her volunteerism has demonstrated that sworn enemies are capable of working together and partnering for a positive outcome.
"Everybody wants to help, everybody wants to be able to do something, but when you're confronting a crisis of this magnitude, you have to be able to find the niche, the entry point where you can do something that is relevant. What gives me gratification is having found that entry point and knowing that along with the people who did this with me, that we were relevant and we are having an impact."
Do you want to make a difference in your community like Georgette Bennett? Find local volunteer opportunities.
Share this post