Vermont Teen Connects Rural and Migrant Youth through Storytelling
Meet Daily Point of Light Award honoree Lena Ashooh. Read her story and nominate an outstanding volunteer or family as a Daily Point of Light.
Growing up down the street from Shelburne Farms in Shelburne, Vermont, Lena Ashooh loved visiting the farm's Brown Swiss calves, and when she finally got the chance as a teenager to show the calves at agricultural fairs, the 16-year-old relished the chance to meet like-minded teens.
Discovering the benefit of connecting with other rural youth with different perspectives, Lena founded Mi Vida, Mi Voz, a program dedicated to using art and culture as drivers of a more just community, inclusive of all young people. Lena believes it is particularly important to spotlight the need for support of minority groups, including migrant youth who are sometimes forced to relocate to obtain seasonal or temporary employment in agriculture.
By working to unite young people as an essential force in creating positive social change, Lena is providing opportunities for youth to make meaningful connections and truly have their voices heard.
What inspires you to volunteer?
It's really easy to look at national headlines and hear about issues that people are facing across the globe. We as young people face some of the globe's most pressing issues. I'm inspired by the power in really small, community-based efforts. By providing tremendous support to rural youth across the state of Vermont, I've learned that these connections do have the power to transform lives.
Why did you name your organization 'Mi Vida, Mi Voz'?
Translated to English, the organization's name means, 'my life, my voice'. As a 4-H volunteer, I love the community I find myself a part of, and I realized that the big youth migrant population within the Vermont agricultural community, many of them LatinX, could benefit by connecting with other youth through educational programs. By empowering these different groups to share the challenges they face as being part of the agricultural industry, I decided our organization's name should describe how these individuals are reclaiming their own voice through storytelling to share their different perspectives and put their truth out there to connect with other people.
Describe your role with Mi Vida, Mi Voz.
As founder and director, I hosted our first conference in summer 2019, and I am now gathering presenters for our second annual conference this summer. We've been thrown off a little bit by coronavirus, but we're hoping our conference will take place this summer as planned. The conference holds workshops, open-mics and powerful storytelling across youth, artists, activists, musicians, writers and educators. We are currently working on creating an online space for our youth advisory board so that we can virtually meet and share our experiences year-round.
Share one personal story with me from your volunteerism.
At our conference last summer, an attendee shared a story about poverty within his community back at home, and his recollections of a red toy truck that his parents couldn't afford to buy him as a child. After working in Vermont, this teen was able to save up enough money to send back to his mother and buy that toy truck, and he's hoping to save it for his children so that they can play with it together. Watching this person speak about his life, family, and aspirations was transformative, and I felt very lucky to be a part of this community where we could speak openly about our pasts and aspirations.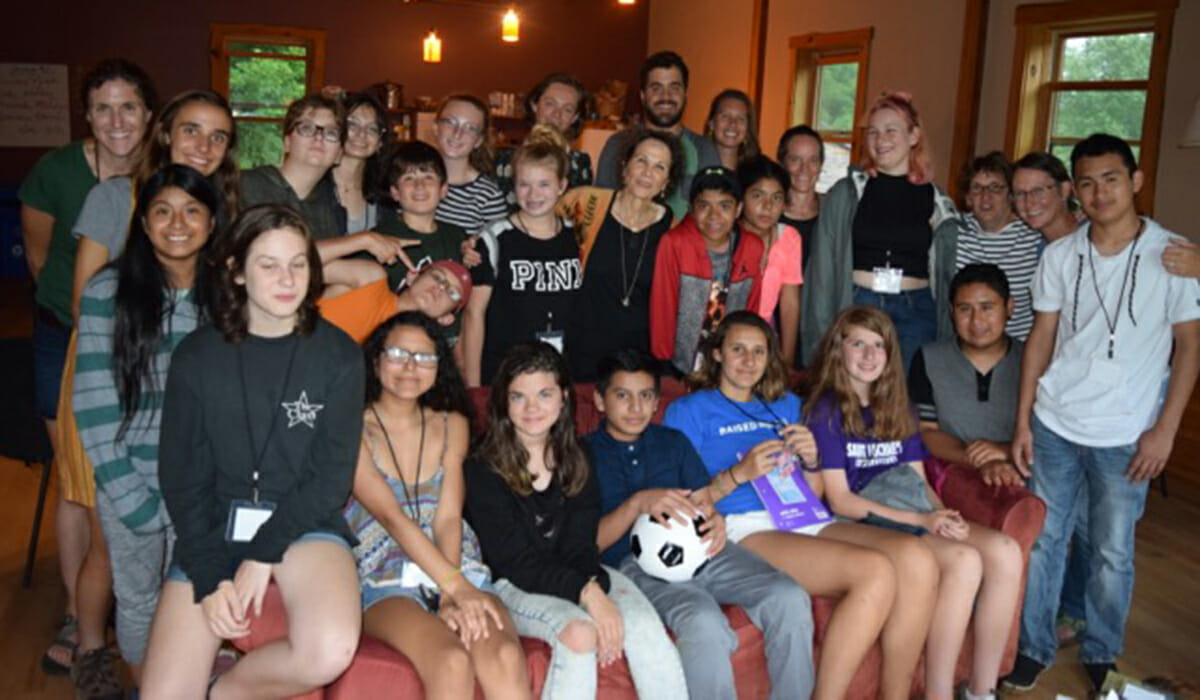 What's one way you hope to inspire others in your service?
Our program serves as a liaison between two influential organizations, the Vermont Migrant Education Program (VMEP) and the Middlebury Bread Loaf NextGeneration Leadership Network (BLTN NextGen). Because of the success we've had using storytelling to share experiences and connect with others, BLTN NextGen has begun using storytelling at all their sites nationwide to bring voice to members of the community who otherwise wouldn't have a chance to do so. Whether it be storytelling or community-based events, it would be awesome to see even more youth and populations across the country engage and connect with other members of the community.
You are a junior in high school. When you are not busy with school and volunteering, what do you do for fun?
I really like showing cows. I also play field hockey and lacrosse, and do art projects.
In one word, what does volunteering mean to you?
Engagement.
How can readers help?
We're always looking for more partners and organizations who are interested in sharing their story or participating in joint events to collaborate and fundraise. Please visit our website for more information.
Do you want to make a difference in your community like Lena Ashooh? Find local volunteer opportunities.
Share this post