Delivering Hope and Compassion, California Volunteer Serves At-Risk Population Amid Pandemic
Meet Daily Point of Light Award honoree Paige Wheeler Fleury. Read her story and nominate an outstanding volunteer or family as a Daily Point of Light.
In mid-March, with her state's mandated shelter in place looming, Paige Wheeler Fleury says she realized there were at-risk individuals in her community that were going to need assistance obtaining essentials during the COVID-19 pandemic. The busy working mom of two is now leading life-saving efforts to help connect seniors and other vulnerable populations with critical resources.
As a co-founder of Oakland At Risk, the Oakland, California resident is helping her neighbors in the greater Oakland area to cope by coordinating delivery of supplies, such as groceries and prescriptions, and oftentimes, going above and beyond to help those most in need. Serving hundreds of households including seniors, low-income, individuals with disabilities or otherwise immunocompromised, Paige is offering hope, compassion and a meaningful connection to the outside world during a time of increased isolation.
What inspires you to volunteer?
The pandemic has revealed a lack of a security net for so many. There was no one stepping in to fill that void, it needed to be done.
Describe your volunteerism with Oakland at Risk.
As co-founder, I manage communications and marketing for the program, in addition to connecting with other organizations across the country who are doing similar services. I take in referrals from family members, medical case workers and social workers, and even the individuals themselves will sign up for help. I connect them to volunteers who speak their language. We are primarily helping seniors to stay safe by shopping for them and picking up food bank boxes and prescriptions, but we will help anyone at-risk. In some cases, this means  connecting them to other services, including for food stamps, social services and in-home assistance. We've paid for and delivered groceries to elders and high-risk households who suddenly found themselves quarantined, COVID-19 positive, sheltering in place, or suddenly without any access to food or any means to pay for it. Our volunteerism helps people navigate the spectrum of services available. We've had 1,500 volunteers since March, who help with grocery store shopping, medication pickups and other essential errands.
Share one personal story with me from your volunteerism.
I work with a woman who was recently widowed and feeling overwhelmed. Because of our volunteerism, she now feels a connection. She says we're her guardian angel. She has someone to call to help her navigate services, but also, she has someone who can listen to her. This woman has a lot of anxiety and fear, as many of us do. It fills my bucket knowing there is someone who would be otherwise alone and because of our volunteerism, now isn't.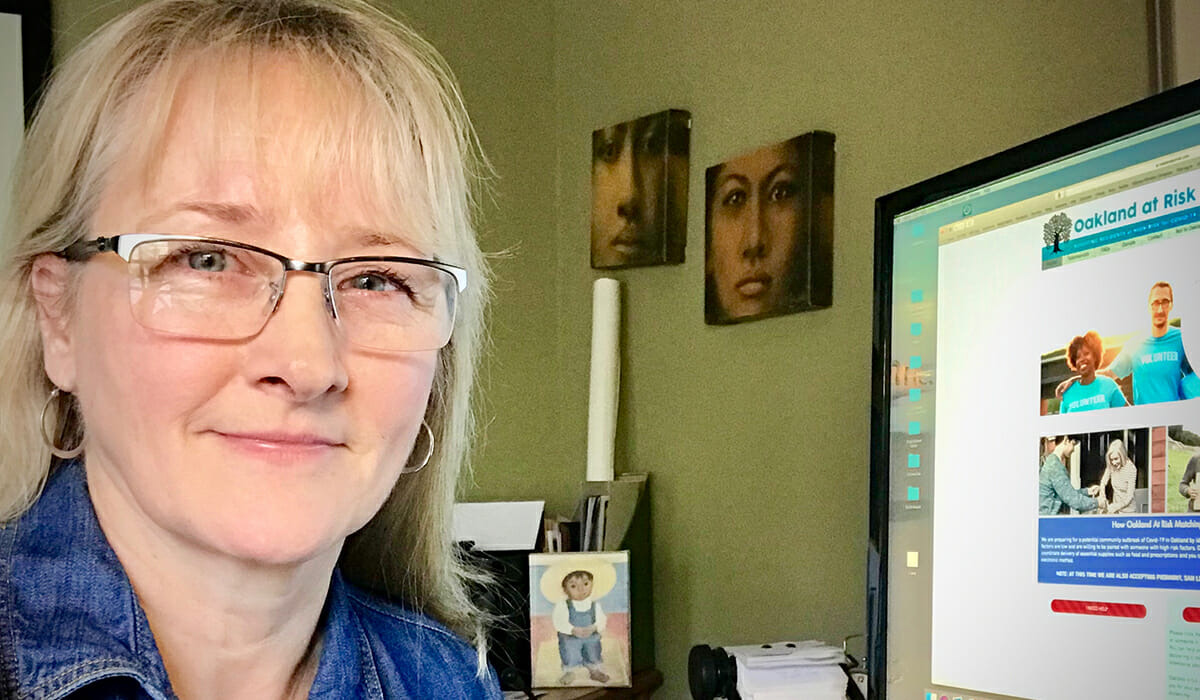 Why do you think it's important for others to give back?
Giving back not only helps the recipient, but it is a way for all of us to manage our own anxiety and emotion during what is an unprecedented time in our country and around the globe.
What's been the most rewarding part of your service?
It's rewarding knowing that we're helping hundreds of people avoid having to choose  – whether to put themselves in danger or to have medication and food. We help a lot of low-income people. Because of our assistance and the donations we receive to purchase food, we are making sure they don't have to choose between starving or having life-saving medication.
You're being recognized for going above and beyond. How does that make you feel?
It's incredibly meaningful to receive the recognition, primarily because I hope it encourages others to take a step forward and find what will give them fulfillment in volunteering. In addition to my volunteerism with Oakland At Risk, I also volunteer with Mercy Brown Bag Program and Soccer Without Borders.
What's in the future for your volunteerism?
Our service currently includes helping people with essentials, but  it also extends beyond that – from replacing a toilet to helping with electricity, car repair to taking out the trash. We are hoping to continue our services beyond the end of the pandemic. We want to evolve to make sure we are serving the most vulnerable in our population who face income or health inequities.
In one word, what does volunteering mean to you?
Love. That's how I feel. I feel like I am giving and receiving love. Everytime I am able to serve someone who is in need of help, that's what it feels like.
How can readers help?
Oakland at Risk relies on donations to buy food for our low-income population. We are also in need of volunteers. Please visit our website for more information about how you can help.
Do you want to make a difference in your community like Paige Wheeler Fleury? Find local volunteer opportunities.
Share this post