Teen Supports Dreams of Others through Health and Education Volunteerism
Meet Daily Point of Light Award honoree Christine Mao. Read her story and nominate an outstanding volunteer or family as a Daily Point of Light.
17-year-old Christine Mao was traveling in Xinjiang, China with her family when they visited children in a small town who shared the challenges they faced accessing resources for reading and writing. Realizing the happiness she felt in helping others, the South Pasadena, California teen decided she would dedicate her volunteerism to supporting the dreams of these students and others like them.
Launching Crescent Gateway Association in 2018 to advance charity and education globally, Christine is offering lasting and meaningful impact through her volunteerism. Offering education and health resources and programs including tutoring and book donations, the high school senior has helped hundreds of children and adults in need within her community and internationally, lighting the path to success and helping others to achieve their dreams.
What inspires you to volunteer?
I'm inspired to volunteer to apply the skills we acquire to make an impact. It's meaningful to give back impactfully and memorably to the community with your time.
What does the name "Crescent Gateway" come from?
The name "Crescent" in our organization's name signifies the vast, starry night that holds our dreams and wishes for the future. Our organization, in that manner, strives to live up to its name and be a doorway to achieving our dreams. We hope to leave a lasting, meaningful impact, as well as to bring these opportunities of finding and giving happiness to you.
Describe your volunteerism with Crescent Gateway Association.
As founder, president and CEO, I coordinate our approximately 50 youth and adult volunteers. We also look for community sponsors to work with. We host different events, including our biannual health fair, and I manage our various projects including tutoring in our community and collecting donations for books to donate to people in need.
Share one personal story with me from your volunteerism.
During our free biannual health fair which was held in partnership with the city of Monterey Park, California and the UCLA Asian Pacific Health Corps, we offered flu shots, medical testing and other resources. The day of the fair, we had hundreds of attendees, and as it was really busy, it was hard to keep track of everything and all sorts of issues came up. It was chaotic, but a few minutes into the chaos, I realized how amazing it was to connect with so many people, even amid the challenges. The blend of people who attended were all really different, made up of all ages and races, and in connecting, suddenly all the chaotic workload didn't feel chaotic, and instead, with each issue, we were uniting everyone to work towards better health.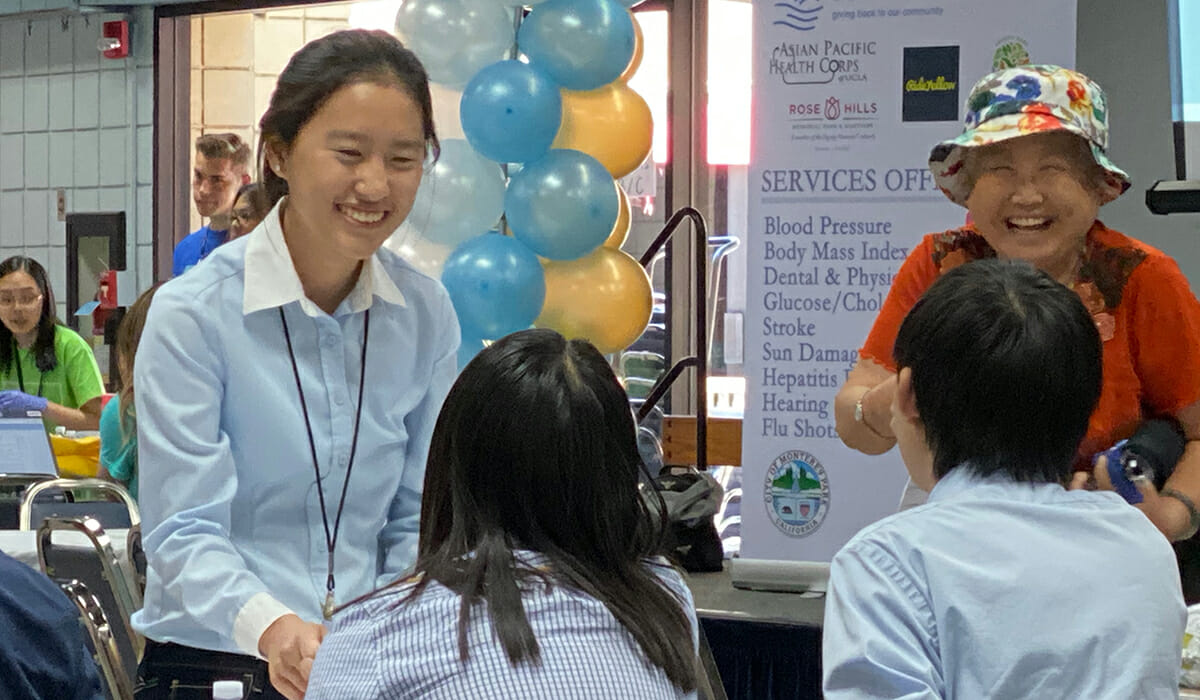 Why do you think it's important for others to give back?
We're always receiving from our community. No matter if it's from our parents, teachers or friends, we're always receiving kindness and learning new knowledge. The point of learning new things is being able to apply those skills in the real world through volunteering.
How have you continued to volunteer throughout the COVID-19 pandemic?
Virtual learning has been a hard adjustment during the pandemic, and when people have difficulty with virtual learning, they may need a tutor, but with financial issues that people are facing, that extra help may be out of reach. Our free online tutoring is offered to financially disadvantaged students in South Pasadena, Los Angeles and New York and includes a range of topics to help students who have fallen behind during remote learning.
In one word, what does volunteering mean to you?
Connecting.
When you're not busy volunteering or in school, what do you do for fun?
I really like to spend time with my family and hang out with my sister.
How can readers help?
Please visit our website for more information about how you can help.
Do you want to make a difference in your community like Christine Mao? Find local volunteer opportunities.
Share this post