Disaster Relief Volunteer Dedicates Time to Feeding Thousands in California
Meet Daily Point of Light Award honoree Danial. Read his story and nominate an outstanding volunteer or family as a Daily Point of Light.
To Danial Peck, volunteerism is all about people, and he does whatever he can to lighten the loads of others around him. Even after serving more than 15,000 volunteer hours in disaster relief efforts, his volunteerism is far from over.
Peck currently serves as the feeding manager for the American Red Cross in Coarsegold, California, to ensure that those who are in need do not go hungry. What started out as an opportunity to lend a hand during a California wildfire has turned into a lifestyle for Peck which includes his entire family. When they're together, you can find them in Red Cross T-shirts with Danial leading the way in feeding thousands in times of crisis.
Describe your volunteerism with the American Red Cross.
Seven years ago, there was a fire here where we live close to Yosemite. We live in a mountain community. The American Red Cross started evacuating near our home and my wife and I were sitting there talking and thought, What could we do to help? We thought that we're in the service of our fellow beings and we're all in the service of our God, and that's kind of a motto we go by.
So we threw a couple of cases in the trunk of the car and drove over to the evacuation center and it was chaos. It was a madhouse and I felt so bad for everyone. But I'm all about food. I'm all about feeding, so I just took over the kitchen and my wife stepped in and started helping the evacuees. I called my daughter who was in Idaho at the time and asked her to start making calls for me for what I needed and she started making connections with businesses, restaurants and stores to get what I needed to feed these people. I signed up with the Red Cross that day and have been with them ever since. I'm now the feeding manager for my territory.
If there's an event going on, my wife and kids put on their Red Cross shirt and go to work and they mostly help me with the feeding because feeding all these people three meals a day is a major responsibility.
What are your daily activities at the American Red Cross?
I like to say my normal day with the Red Cross is the normal eight hour a day. It can also go anywhere from 16 to 24 hours when I get busy because I'm planning most of the meal coordination and vendor work since restaurants and stores give us the foods that we need. Now, I also work with other local organizations that may contact me to assist in providing food to people.
Did your volunteer service shift during the COVID-19 pandemic?
During COVID-19, we had an evacuation for what they call the Creek Fire, which was the biggest fire in the state of California history. We would have normally had what's called a congregate sheltering, but because of COVID, they put everybody in hotels. So I was feeding thousands of people hundreds of miles apart because of where they were located across the city.
Now people are coming back to common shelters. Of course, we still have to abide by the CDC rules and social distancing. So things have changed a little bit, but they're now in a centralized location.
What inspires you to volunteer?
Well it's funny because within my family, we've always been about service. I've always instilled that in my children. I used to be busy with the Boy Scouts of America, which is all about service. I was with them since 1991, but this last year I kind of moved on from the Boy Scouts and tried to dedicate myself strictly to the American Red Cross, and of course, to our churches as well. There's always opportunities for service for individuals or families that may be in need. With us it's kind of a way of life. It's not just a one time thing, It's an everyday thing.
What have you learned through your experience as a volunteer?
People are resilient and people are really generous during times of emergency. Where they may have differences — whether they be political or religious — it doesn't matter. People come together and all those differences go out the door. And that's a real, real joy to see.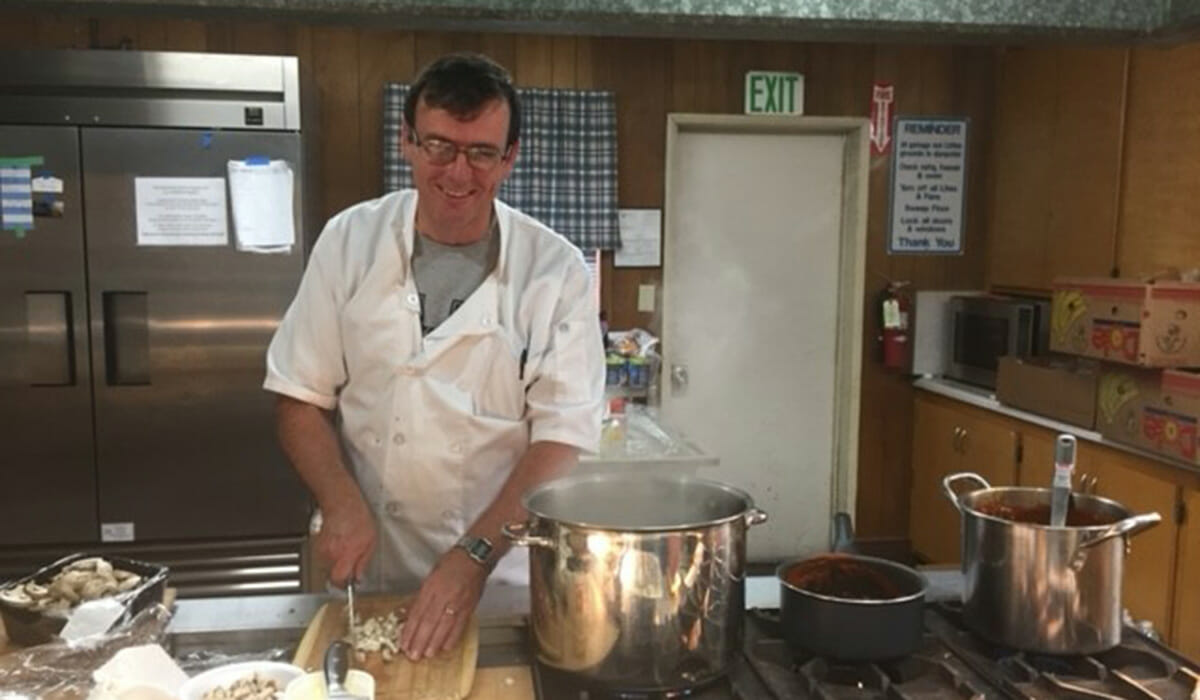 Why is it important for others to give back?
Well, it's kind of an individual thing to begin with, and some people may have limitations on what they can and cannot do. But it goes back to my personal belief that when you're in the service of your fellow beings and in the service of your God, I truly believe in lifting up others along the way. Even if it's just one person, I feel like I'm serving my Heavenly Father.
What would you want others to learn from your service story?
Every little bit helps, regardless of a person's circumstance. It doesn't matter what organization; whatever organization that you can help with, every little bit helps from the youngest person to the oldest person.
What kind of volunteers are needed in disaster relief?
Well I would say any. Any type of volunteer because the work is so varied and it doesn't just amount to the Red Cross. You have the Salvation Army for example, so you have other organizations to respond in times of disasters. Even if it's with their local church, when volunteers respond to disasters, they can help with just about anything. There's logistics, the feeding, the mental health and the medical side so it all amounts to what their abilities are and what they have to offer. It's pretty much just about anything.
Do you want to make a difference in your community like Danial? Find local volunteer opportunities.
Share this post
---