Domestic Violence Survivor Starts Nonprofit to Empower At-Risk Girls
Meet Daily Point of Light Award honoree Ni'cola Mitchell, who was a 2019 L'Oréal Paris Women of Worth Award winner. Each year L'Oréal Paris and Points of Light recognize and celebrate Women of Worth who make a beautiful difference in their communities. Ten honorees each receive a $10,000 grant to support their most cherished cause, and an online vote determines one honoree who will receive an additional $25,000 grant. Nominations for 2020 are open! If you know a woman who works to create lasting and significant change in her community, nominate her to be one of the 2020 Women of Worth.
As a domestic violence survivor and former at-risk youth, Ni'cola Mitchell knew she wanted to do something to help girls who were in a similar position as she once was. In 2016, the Alpharetta, Ga.-based author was at a signing for one of her books when she met a group of girls who had never seen an African-American author before. She said the chance meeting is what spurred her to start her own nonprofit to reach at-risk youth — Girls Who Brunch.
Girls Who Brunch sponsors at-risk and low-income girls, including girls in foster care and who were rescued from the sex trade. The organization does everything it can to empower and educate the girls in order to turn them into leaders and prepare them for a successful future. Girls Who Brunch reaches its participants through mentorship, workshops, events, and Master Classes that train the girls in subjects such as writing, financial literacy, and art. Since its inception, Girls Who Brunch has grown into a 21-city tour that has reached 8,000 girls.
Describe what exactly Girls Who Brunch does.
Girls Who Brunch takes girls ages 9 through 17. We sponsor at-risk and low-income girls and girls who were rescued from the sex trade, girls in group homes, girls in foster care. We put them with girls who run businesses and have a better circumstance. We do a complete empowerment session. We have workshops, we have panels, we have basketball games, we have a gala. We do a lot just to show the girls that they're worth it and they can be more than what their circumstance is.
What inspired you to start this organization?
I started this organization back in 2016 because I was an at-risk kid. At the time my mother had passed away, so I kept putting it off that I was going to do it for the girls. During that time frame, I was super depressed and sad and I needed something to channel my energy to. I met this group of girls in Charleston, South Carolina. They came to my book signing and number one, they had never seen an African-American author until going to my book signing. Number two, some of the girls didn't know pizza came in a box and that was in 2016. That was when I was like, I need to start this organization, and it spiraled into a movement. And now we're here — all from a by-chance situation.
What kind of feedback have you gotten from the girls who have been involved?
There's positive feedback. As of today, we have serviced 8,000 girls nationwide. Our girls are happy. They believe in themselves. We teach them confidence. It's always great. I feel like I'm a parent to a cluster of girls across the country. They reach out to me directly. They help each other. They believe in sisterhood and every one of them said something positive that the person they are today is because of Girls Who Brunch.
Is there any specific event, program or class that is particularly special to you?
Right now the ones that pull at my heart string are two things. Number one is going to the jail facilities. Those girls are always forgotten. Those girls are typically victims of a situation, something going on in the home, rape, abuse. They follow up with crime or just doing stupidity and they wind up in the facilities. That has been what's standing out to me the most, number one. Number two, human trafficking, because every city we go to, between that and bullying, those are the two biggest epidemics in every city. I am on a very huge crusade trying to fight both epidemics. Bullying because that leads to suicide, and human trafficking because you can see by what's going on in the media everyday, what the effects of human trafficking are.
Are there any future partnerships, programs, or events that you are excited about?
Right now, we had to push our gala to September because of the whole Covid situation. We have a virtual conference we're kicking off June 27 in Charlotte. I am excited and nervous at the same time for this virtual conference. We wanted it to stand out more than just a regular virtual conference, a Zoom call. We wanted to have the girls engaged and interactive. I've been working with web designers. We have a production team that we hired. We've just been working with all these different people to make this event work. I'm excited about it, I'm nervous about it, but change is good. It's something that can enhance our program for the future, to be able to have more classes in a particular city, rather than just waiting for us to come back once a quarter or once a year for the main conferences. It would be open to all the girls. Today we service 8,000 girls. It will be free attendance to everybody who wants to attend but if they want a bag, then we will ship the bag to them that will have all the components of what that session is going to entail and that's going to be for ten dollars. I think because we're still going to keep it free for everybody, we have better chances of reaching a couple thousand at a time virtually, rather than a couple hundred we do in person.
We have an ambassador fundraiser challenge right now and our goal is to raise $7,500. That is for our operational costs for the year. We're breaking it down to smaller fundraisers because of Covid, because we had to push our gala back. We have 16 of our ambassadors competing to raise the $7,500 — that's their goal, $500 a piece. They're working really hard and they came up with their prizes. We have a Zoom call focus group on what the prizes should be, to see who should participate. Everything was decided by the girls from across the country. It was so cute. They're our leaders of the future.
What's been the most rewarding part of your work?
Seeing their smiles. Hearing the 'thank you's.' Being a mother [to them]. Just knowing they appreciate what we do for them and know it's not in vain, that's the best feeling for me. Seeing my success stories. Seeing my girls graduate. Seeing my girls who are modeling or acting or getting NAACP awards. There's all kinds of stuff they're involved in that I touched just a little bit. I sprinkled some magic a little bit to help them move on to the next level. That's more than the world. That's better than any award I can get.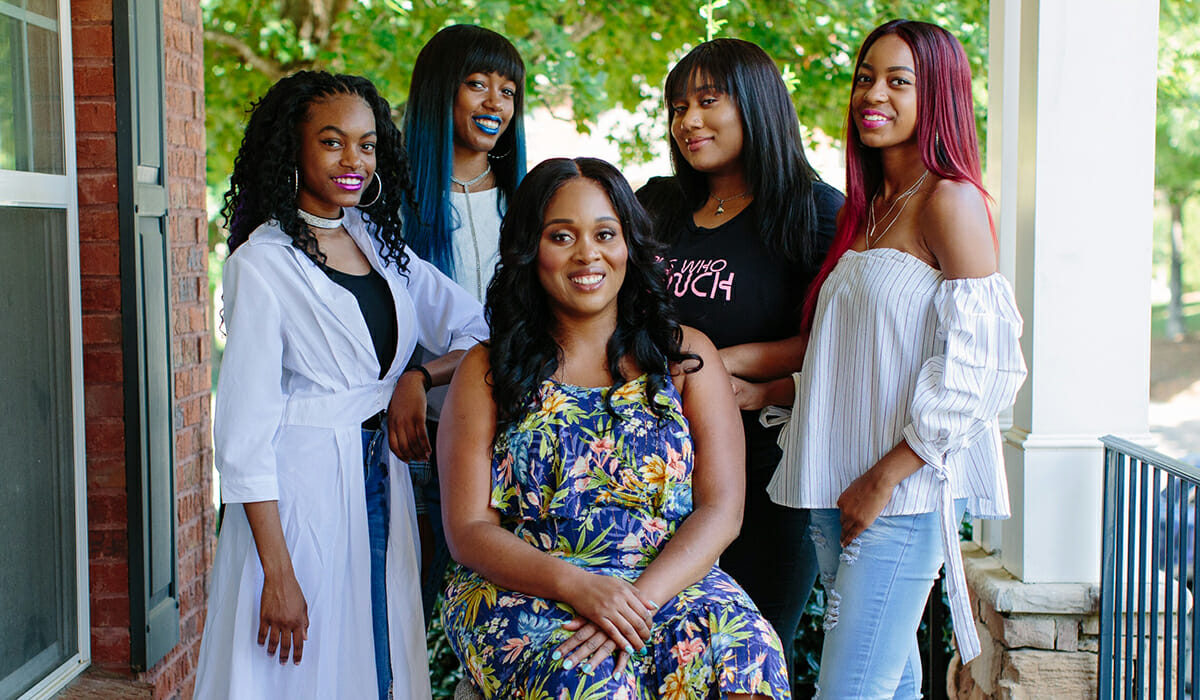 What have you learned through your experiences as a volunteer?
I learned no two girls are alike. You have to approach each girl differently. You have to meet them where they are. Some girls are going to be open and ready to work and do what they got to do, some girls are not. Some girls are going to want help and some girls are going to fight you for it. Some girls are going to demand your attention, some girls you're going to have to coax out of their comfort zone. Either way, I've learned that you have to meet each girl where they are. Once you do, they all love this. It's easy once you figure out what their love language is in regards to communication. Then you'll be able to work it out more and be more effective than just doing the same [for each girl].
Why do you think it's important for others to give back?
It's important because there are so many different needs that people have in the community, that we all need to find our voice and work to provide those needs. Especially with what's going on with the coronavirus — it's shown even more that family and brotherhood and sisterhood within our communities, within our neighbors, is so vital. With feeding programs, with social media education, with everything. We need to give back to our communities because we never know when our communities are going to need us.
Do you want to make a difference in your community like Ni'cola? Find local volunteer opportunities.
Share this post